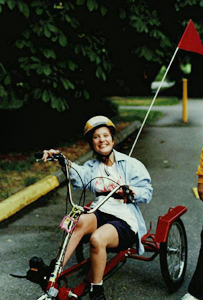 Phase II Scholar Jorja enjoys her ride.
While riding your bike on the Burke Gilman Trail near the University of Washington on August 17, 1995, you might have seen something a little different. You would have seen bikes with special adaptations. These special adaptations were made for people like me. People with various types of disabilities had a chance to ride bikes on the UW campus. It was one of many activities held for DO-IT Scholars. This activity gave us the opportunity to do the unimaginable.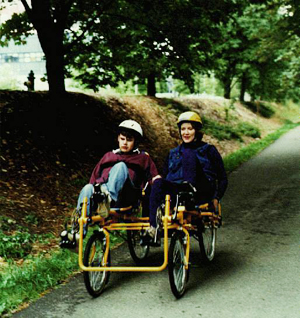 Ambassador Eric rides along the Burke-Gilman Trail.
Ski-For-All made this event possible. They customize their bikes to cater to different abilities. For someone with quadriplegia, they have a two person bike so one person can pedal and the other can enjoy the ride. People with no use of their legs can pedal with their hands. For unsteady people, they gave you a seatbelt. Most of the bikes have three wheels, so you don't have to worry about tipping over.