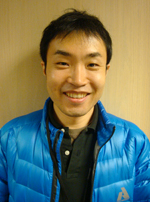 DO-IT Visiting Scholar, Takeo Kondo
Hi, my name is Takeo Kondo. I'm a visiting scholar from the University of Tokyo (UT) in Japan. I am very happy to join DO-IT and live and work in Seattle for a year. While I am here, I plan to conduct a research survey to compare the differences between what is considered a reasonable accommodation in higher education in the United States and Japan. I also will be working on developing international activities for DO-IT.
I earned my Ph.D. in psychology in Japan, and I have been working at UT as an assistant professor since 2006. As some of you already know, DO-IT has been in Japan since 2007, and I have been working for the project since its inception. We already have more than thirty DO-IT Scholars and nearly twenty Scholars, have gone on to attend college. Although the number of students with disabilities in Japan is small, we are challenging educators to create better learning opportunities for students with disabilities and providing resources to do so. For more information about DO-IT Japan, visit www.doit-japan.org.
I came to Seattle with my wife and two-year-old son. We like music, and I sometimes play guitar and sing Japanese pop songs. I also like cars. I have a good-looking sports car built in 1965, the Toyota Sport 800. It's waiting in my garage in Japan for me when I return. In the meantime, I just bought an American SUV. I look forward to driving to the beautiful places around Seattle during my stay.