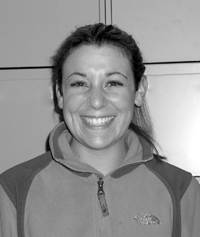 DO-IT Staff member Gina
My name is Gina Massimino, and I have been working as a student assistant here at the DO-IT Center since July of 2004. I am currently in my third year at the University of Washington, and after finding out that my previous major, biochemistry, didn't suit my interest, I recently changed the focus of my studies to pursuing a double-major in psychology and public health. After I earn my Bachelor of Science, I am hoping to attend medical school. Much of my free time is spent playing intramural sports, snowboarding, traveling, and hanging out with the great friends that I have made during my college experience.
I was born in Auburn, Washington, where I have lived in the same house my entire life. I recently moved back to Auburn for the quarter in order to save enough money to fund my exchange program at the University of Western Australia for their winter semester starting in July; I am very excited about this upcoming adventure. I try to seek every opportunity that comes my way and invest everything I have to offer, because eventually you know that your hard work is going to pay off. Sometimes it just takes longer than you expect, but there is always something positive to learn from every experience!