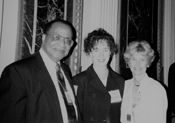 Dr. Roosevelt Carter of the National Science Foundation congratulates Kristin Otis (center) and Sheryl Burgstahler after they received the 1997 Presidential Award for Excellence in Science, Mathematics, and Engineering Mentoring.
The University of Washington's DO-IT project, which has enlisted scientific luminaries such as British physicist Stephen Hawking to encourage teenagers with disabilities to pursue careers in technical fields, has won a 1997 Presidential Award for Excellence in Science, Mathematics and Engineering Mentoring.
Sponsored by the White House Office of Science and Technology Policy and the National Science and Technology Council, the awards recognize outstanding programs for mentoring underrepresented groups in science, math and engineering fields. The award, which included a $10,000 grant, was presented to director Sheryl Burgstahler on September 11, at a White House ceremony.
This award recognizes the contribution of the DO-IT Mentors in the successful transition of program participants to college and careers. Kristin Otis, a mentor and counselor/coordinator with the program also attended. One of the best ways to help students with disabilities understand the tremendous opportunities open to them in science, engineering and math is for them to interact with other students and with professionals who already have overcome barriers to succeed in these fields. Responses DO-IT received via e- mail includes:
"All right! That's great. It's always cool to see that we're doing a good job at what we do and what we're good at."
"Congratulations to everyone on a job well done."
"I'm not surprised. If any one deserved it more than DO-IT then I'm stumped on who! :-) This is awesome news!"
"Congratulations again Sheryl and DO-IT folks for a job well done by running an outstanding program!"
Founded in 1992, DO-IT targets high school students with disabilities who want to pursue careers in science, math or engineering. Each summer, participants spend two weeks at the UW attending labs and lectures to get a feel for college life. They also meet with faculty and students, many with disabilities themselves, to learn how new technology is making it easier for them to pursue degrees and careers in fields once thought out of reach.
Throughout the year, DO-IT Scholars use home computers and e-mail to communicate with one another and with mentors from around the world. These cyber-relationships provide a sense of community and a source of encouragement to the students as they overcome common challenges to pursue their goals. Computers, modems and adaptive technology are provided for participants who don't have their own. DO-IT is sponsored primarily by the National Science Foundation and administered by the UW College of Engineering and UW Computing & Communications.
DO-IT was among nine institutions and 10 individuals to receive a 1997 Presidential Award for Excellence in Science, Mathematics and Engineering Mentoring. Now in its second year, the award is an outgrowth of President Clinton's 1994 science policy blueprint, Science in the National Interest, which outlined two goals: to produce the best trained scientists and engineers for the 21st century and to enhance scientific and technological literacy of all Americans.
In addition to the White House award, DO-IT won first place in the 1995 National Information Infrastructure Champions of Cyberspace awards program for its innovative and practical use of the Internet and was showcased in the President's Summit on National Service earlier this year for its creative use of technology in promoting volunteer mentoring.