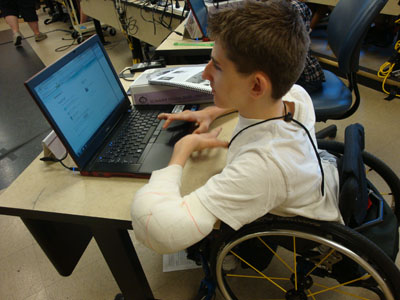 Experiences of Students with Disabilities
Panel members discussed the experiences of students with disabilities in computing fields. Challenges for students with disabilities they identified include the following:
The need to advocate for yourself in college (and in the workforce) whereas in high school this role is taken on by parents, teachers, and advisors or counselors.
Low expectations on the part of the student because of messages they receive from others, as well as on the part of faculty.
The need to educate faculty or employers about your abilities despite having a disability.
Things that panelists suggested as being helpful for students with disabilities include the following:
Providing copies of overhead slides.
Ensuring that videos are captioned.
Having access to reliable interpreters that understand technical language.
Meeting other students with disabilities.
Having cheerleaders and mentors who encourage them to pursue their goals.
Creating a support system around the students.
Assisting students in keeping up with new technology.
Understanding that, depending on their disability and need for accommodations, students may choose to disclose at any point or not to disclose at all.
Panelists made the following suggestions to encourage students with disabilities in learning:
Faculty should help ensure that students support each other during group work. This may mean reading materials aloud rather than everyone reading to themselves, helping students understand how to work with an interpreter, or helping to keep the atmosphere light to avoid the seriousness that comes over the room when there is a person with a disability present.
Faculty should approach the topic of disability by asking a student what, if anything, you can do to help the student be successful, instead of asking about the disability.
Faculty should not discount students' ability in their class or school. Be sure to treat them as you would any other student.
Internships are critical to the transition to the workplace. Faculty and staff should help students identify opportunities and make sure the internship matches the student's skill level.
Engagement of Support Services
How can disabled student services, computing/ IT departments and veterans-serving organizations work together to increase the participation and success of students with disabilities in computing and IT fields? Panelists shared the following suggestions from their experiences working with students, including veterans, with disabilities.
Form partnerships to promote the success of students with disabilities. This can include groups on campus such as disability services, faculty, and teaching assistants, as well as outside organizations such as grant organizations or organizations focused on disability issues.
Look for no or low cost solutions and or grant-funded opportunities. In a time of budget cuts, many universities are limited in terms of having money to spend and faculty are overwhelmed by larger class sizes. Some accessibility solutions have minimal cost to implement.
When engaging with students with disabilities, ask them how you can help them be successful.
Learn about resources that can better help you serve students with disabilities and veterans. Veteran organizations include veterans affairs groups on campus, local military posts, vocational rehab, veterans organizations, and the Department of Veterans Affairs.
Develop focus groups with students with disabilities or with groups of student veterans. Use this time to ask them what would increase accessibility on campus and in the classroom. Be sure to follow up on suggestions.
Engage campus leaders. If a university president supports students with disabilities, that will trickle-down to others. For example, when RIT's president learned to sign for convocation, it sent a message about the institution's commitment to students with disabilities. If there is a problem at the top of an organization, however, it affects everyone.
Develop mentoring relationships. Mentoring groups for students can provide excellent supports and can assist students who may be uncomfortable asking for help. Including faculty in these groups can create rich mentoring as well.
Keep in mind that veterans may be hesitant to use resources for students with disabilities. One institution reported success recruiting veterans with disabilities by advertising a study skills group to veterans without mentioning disabilities; all of the veterans recruited ended up disclosing a disability. Other institutions have had success by publishing articles about veterans who have secured services, using their success stories to get the word out.
Since veterans often have a difficult time transitioning from the structured environment of the military to the unstructured environment of an academic setting, it may be helpful to identify sponsors or mentors who can help them on campus.
Be knowledgeable about services and resources. For example, faculty can refer students, including veterans, with disabilities to the AccessComputing team, which gives them access to internships and e-mentoring.
Speak about disability issues. Discussing these issues at committee and other campus meetings can help faculty and staff learn about the issues and available resources.
Include a disability statement in syllabi to encourage students to talk to them at the beginning of the term. If you notice a student is struggling, ask them what you can do to help rather than asking about a disability. You can also refer them to resources on campus like disability services, the counseling center, or the advising office.
Include resources in the disability services office accommodation letter. Note where faculty can find resources and support in working with students, including veterans, with disabilities.