Carlson Leadership & Public Service Center
Meet our staff
Professional Staff
Rachel Vaughn, Director
Rachel Vaughn
In the Carlson Center, I… have served as the director for five years, and have worked with the Carlson Center for a total of 12 years. My role is to think about the strategic vision for the center, advocate for Carlson and Jumpstart staff, and learn from our students, staff, faculty and community partners to insure our programs are always growing and changing.
I do this work because… I believe deeply in the power of community-campus partnerships to create a more equitable world.
My favorite volunteer experience… is hard to pin down! I have loved my time volunteering in food banks and shelters, being engaged with neighborhood clean ups and trail restoration/urban forest restoration, and fundraising for my son's school. In the coming year I am deeply looking forward to engaging in volunteer work as a family, now that my kids are old enough to be helpful out there in the world!
Kathryn Pursch Cornforth, Associate Director
Kathryn Pursch Cornforth
In the Carlson Center, I… manage the service-learning team, focusing much of my energy on developing and maintaining relationships with departments and individual instructors. I love helping students develop a critical lens on what it means to "do good" and how they can craft a career path that is aligned with their personal and professional goals.
I do this work because… working in/with/for communities has helped me learn who I am, taught me to recognize the privileged positions that I hold, and given me tangible ways to participate in creating justice for all. I want to facilitate other people finding these (or other) gifts through community engagement
My favorite volunteer experience has been… teaching self-defense through an anti-oppression framework through an organization called Home Alive.
Donna Pham, Community Engagement Manager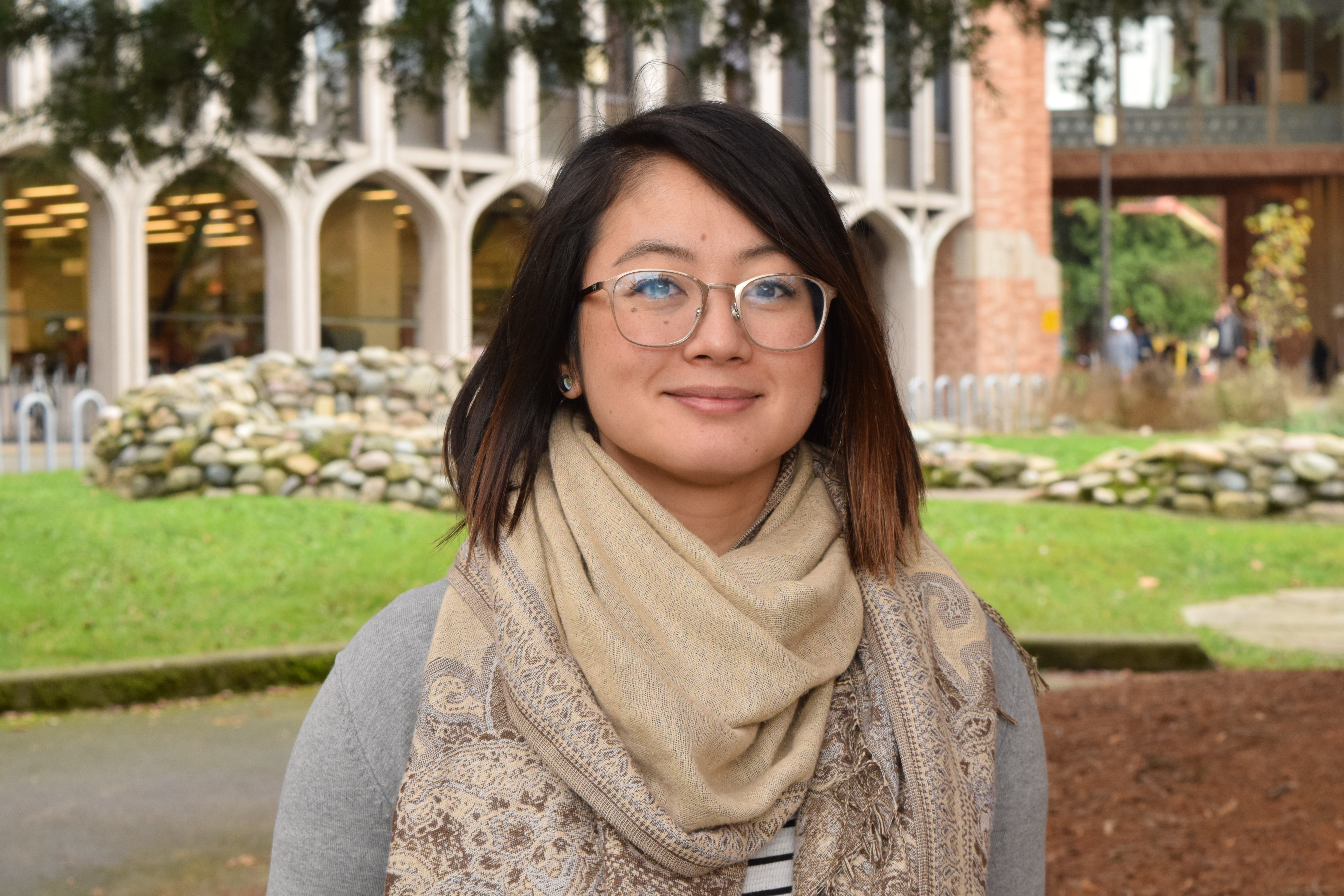 In the Carlson Center, I… lead the day-to-day implementation of our service-learning program as the Community Engagement Manager. My role involves promoting shared progress through developing relationships with and among students, faculty, and community partners.
I do this work because… of the immense growth my service experiences have afforded me. I would not be the person I am today without the opportunities I was provided to critically analyze the contexts of my identity tied to oppressive systems and social change work. I am excited to support students in their identity exploration as they work to empower communities.
My favorite volunteer experience has been… with Vertical Generation where I had the opportunity to co-lead a group of young people through their first experience climbing in a gym.
Connect with me! Schedule a time to talk with me about service-learning challenges, articulating your service-learning experience, and how service can apply to your career trajectory.
Katie Wallace, Community Engagement Manager
In the Carlson Center, I… manage the Undergraduate Community-Based Internship Program (UCBI), as well as foster relationships with new and existing community partners.
I do this work because… it's engaging and challenging! I deeply value relationships, experiential learning and the opportunity to enhance a student's college experience. I love how service-learning allows students to connect with our greater Seattle community, as well as dive into the important and difficult work of exploring power, privilege and identity.
My favorite volunteer experience has been… working with high school student leaders every summer through Mt. Rainier Leadership Camp at the Cispus Learning Center.
Student Staff
Amber Barcel, UCBI Graduate Mentor
Amber Barcel
In the Carlson Center, I…am a Graduate Student Mentor with Undergraduate Community-Based Internships (UCBI). Our team supports undergrad interns and the community partners who host those interns.
I do this work because…I could talk about anti-oppression work all day and this job encourages me to do that. We need to constantly be thinking about our privilege, power, and intentions in non-profit service-based work. I want to continue analyzing this within myself and give space for undergraduate interns to do the same.
My favorite volunteer experience has been…with Omaha Girls Rock in Nebraska! I taught drums and keys to young girls, but also developed beautiful friendships with the other volunteers. Teaching empowerment to young women through music also helped shape my feminist, social-justice lens.
Heaven Tesfamariam, Community Engagement Assistant
Heaven Tesfamariam
In the Carlson Center, I…support service-learning as an undergraduate student assistant, through communication with students, faculty and community partners. I also help coordinate the Gen ST 350 registration process, a way for students to get credits for demonstrating the learning done through their internship.
I do this work because…I have done service-learning in the past and I believe that it is an excellent way for students to connect what they're learning in the classroom to the real world through incredible community experiences. I strongly believe that working in these communities and witnessing firsthand the social issues facing our society today is the first step towards creating a more equitable world.
My favorite volunteer experience has been…working with the kids club at Mary's place. It's been one of the most rewarding experiences of my undergraduate career.
Kriya Velasco, Community Partner Liaison
Kriya Velasco
In the Carlson Center, I… manage faculty, community partner, and student connections. I'm also designing a curriculum for our stakeholders to better integrate the elements of service and learning together.

I do this work because… healthy communities create healthy citizens, and it is the active participation of people that creates stable, flourishing communities. I believe that service is essential to one's growth as a human being and to our society's progress toward equity. Service, to me, is an expression of our love for life.
My favorite volunteer experience has been… teaching yoga classes! Yoga has vast transformative powers–physically, emotionally, mentally, and otherwise and I feel honored to pass this tradition to students.