Letters to the Editor
September 1999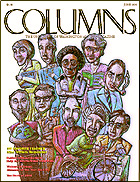 Teachers Are the Guides
I thoroughly enjoyed reading the article entitled "My Favorite Teacher" [June 1999]. It brought to mind vivid memories of two professors who made a profound difference in my world view and whose influence I still appreciate: C. Lewis Hafermehl in the School of Art and Willis Konick in comparative literature.
I don't think there is a single alumnus who can't recall at least one professor that influenced him or her during those four intense, mind-forming undergraduate years, years filled with personal and intellectual growth. These are the years we develop into real citizens, and teachers are the guides.
I only regret that I wasn't able to know the professors written about in the article—they sound like great individuals.
Mary Ann Barron, '81
Seattle
Powerful Stuff
Let's have more on the people who are the University: its teachers. Like Ann Rule, I remember Parrington Hall and Markham Harris (and Grant Redford) and their writing classes I enjoyed as adjuncts to my art major. I still have a letter from Harris to "Lt. Anderson," his reply to my note telling him I'd gotten a prize for a short story I roughed out in his class earlier.
I also enjoyed the poignancy of Beverly Cleary's experience with the obtuse dean—how familiar are those Depression days references. Powerful stuff.
Gordon Anderson, '53, '58
Seattle
A Lesson in Anonymity
The "In Praise of Teaching" piece [Prelude, June 1999] was truly enlightening: You mean those Ph.D.s at the microphone in Kane Hall were teachers? Now you tell me! I thought maybe the teachers were the Middle Eastern graduate students who "taught" my science labs. I was never quite sure about that though, since I was rarely able to overcome the language barrier!
Until reading the "My Favorite Teacher" article, I suffered under the belief that perhaps there were no teachers at the UW, only professors doing research and processing undergraduates to finance their work. Although I attended the UW for five years and earned a biology degree, I somehow experienced a memory blackout of any real teaching, let alone outstanding teaching.
I vividly remember standout teachers from grade school (St. Therese), high school (Lakeside) and graduate school (University of Puget Sound). I even have fond recollections of John Keister's "No More Ducks" cartoon in the Daily, Jimmy Page serenading "Red Square" and the Northlake Tavern pizza from my UW days. But alas, my University of Washington experience was more memorable as a lesson in anonymity than learning. My most vivid memories of the UW learning experience are defined by a hatred of standing in lines and the realization that an academically accomplished individual is not automatically a good teacher. As I embark on my own career as a teacher, I will never forget those lessons.
Jerome M. Polley, '81
Port Orchard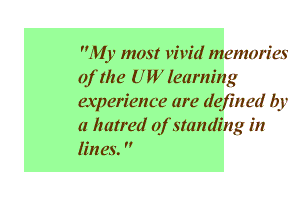 Well-Deserved Designation
I was overjoyed to read the article in the June 1999 issue concerning Jim Ellis ["Visions of Green"] and his well-deserved designation as the UW Alumnus Summa Laude Dignatus. One small addition about his career as an Air Corps meteorologist should be made, since it affects his connection with the University.
Like many of us, Jim was faced with the question of how best to use his capabilities during World War II. Many of us were drafted, enlisted or were called to active duty....In March 1943, Jim and I—and about 175 others—were assigned to the pre-meteorology course at the University of Washington. It was a challenging course, both academically and militarily in terms of molding 19- to 22-year-old college kids into future officers of the Air Corps. Jim was, of course, one of the older and more mature individuals in the group. He and I were in two separate units of about 20 persons each assigned to live in a fraternity house.
... One incident from the 1943 period illustrates Jim's compassionate nature. For many of the younger GI's, our rigorous pre-meteorology course was a traumatic experience—leading a tightly disciplined life while being for the first time away from home. One summer Sunday, Jim arranged for his unit to spend a relaxed day at his family home on the shores of Lake Washington. Although this may not seem like much, it was worthy of being noted in the "yearbook" of our class.
This pre-meteorology course was, I believe, Jim's first academic contact with the University of Washington.
Keith W. Johnson, '48
Berlin, Md.
Choosing Examples of Excesses
Two letters in the June issue of Columns were critical of the costs of hiring our new football coach at a time when the University cannot afford to pay competitive salaries for faculty members.
Concern over budget problems for keeping the University competitive with other great schools is certainly well taken. Although the UW ranks high in many fields, as noted in a letter by Professor Robert Phelps of the mathematics department, loss of fine, underpaid leaders could easily change that situation. However, complaints should be worked out with the state Legislature, which has control over funding, and must accordingly be convinced of where the University should lie in its overall priorities.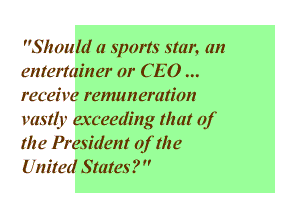 Concern about the athletics department and its choice of expenditures is an entirely different matter. The athletics department is self-supporting, obtaining its funds from ticket sales, contributions and various other sources unrelated to tax supported endeavors. Indeed, it supports many important activities that otherwise would either be dropped or require funding from the University's budget. It may seem unfair and unjust that persons with expertise in one field are rewarded many times more than others who may be leaders in an entirely different field. Should a sports star, an entertainer or the CEO of a corporation receive remuneration vastly exceeding that of the President of the United States? I am afraid that this situation comes with the capitalist system, and we who are not on the receiving end have a tendency to choose our own examples of excesses.
The athletic department, as any other department of the University, is charged with keeping excellence in its program. If highly paid individuals in key positions are required to remain competitive, so be it.
John M. Paterson, '35
Seattle
Ashamed Alumnus
I am very proud of the degree I received from the University of Washington and more so of the wonderful staff who continually challenged me as I progressed. The internships, minor from the graduate school of business, and the core courses, plus my paper were difficult but very enjoyable.
Over the last few years I have become increasingly disappointed in the manner in which the UW athletic department has been run. It is apparent that the Huskies are choosing to follow the path taken by other major institutions toward minor league professional sports. I fear the days of the true student athlete are gone at the UW. Big money sports are bastardizing the games I grew up playing (for fun). I see them polluting the teams and contests I coached for 30 years. Sportsmanship, honor and respect for one's opponent (officials) are being flushed in the name of who is Number One and what it takes to get there.
Whatever happened to doing your very best and letting the cards fall where they may. Isn't that a winner? Does the new million-dollar football coach recently hired understand this? I know some of the professors I had (who sought greener pastures due to a lack of sufficient salary) do.
Please refrain from sending me this magazine until a day when the University of Washington returns to sanity in its sports programs. To a day when the concept of the student athlete is truly a reality. For now, I'm ashamed to be an alumnus.
Lane C. Dowell, '78
Bremerton
New Left Psycho Babble
Thank you for the March 1999 Columns article by Jon Marmor, "The Road Ahead," concerning the effects of Initiative 200, and the follow up article "UW Sees Drop in Freshman Applications; Some Blame I-200" in the June issue. I don't blame I-200 for the drop in minority applications. I blame the propaganda, disinformation and guerrilla theater of the left who spread the nonsense that minorities would be unwelcome at the UW if the initiative passed. Obviously, the scare talk was believed in some quarters.
We need to ask some tough questions. How can one achieve something when one cannot define what they are trying to achieve? Are we to conclude that a 27 percent minority enrollment in a state that is 17 percent minority is not good? If not, why not? What role do other state campuses play in the equation? ...One suspects that the term "diversity" is new left psycho babble which indicates that the goal posts can be moved on whim or the playing field tipped to accommodate the latest trendy social theory.
The UW has an obligation to the citizens of the state to make its enrollment policies clear and unambiguous, and since diversity seems to occupying an area of such importance to our school's administration, they should forthwith define that policy. Secondly, through existing outreach programs, let hopeful Huskies know that the Office of Minority Affairs can still operate and their applications will not be invalidated. ...President McCormick has indicated the UW's commitment to outreach. This program should include the ethnic studies departments involvement with minority dominated schools throughout the state.
...All of these initiatives can be made meaningful by emphasizing what brings us together as a people—common devotion to academic freedom and excellence in all education programs as opposed to political correctness; appreciation of differences of opinion as well as skin pigmentation; and love of country which, even after the implementation of I-200, holds so much promise of opportunity.
Finally, take heart, the minority enrollment news from California is now less distressing. This is, hopefully, a harbinger for the UW. The final California university system admission figures for 1998-1999 indicate that the combined number of blacks, Latinos and Native Americans admitted to the eight undergraduate campuses is near the 1997 level—before Proposition 209.
William H. Fiedler, '56
Peachtree City, Ga.
Correction
The name of the winner of the 1999 Distinguished Teaching Award in the mathematics department is David Collingwood. His name was misspelled in the June issue of Columns.