HUB to Host Holiday Fair
For the first time in its nearly 50-year history, the Alumnae Board's popular Holiday Fair will be held in the HUB Nov. 13-14.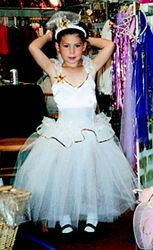 ---

Dress-up clothes are among the items on sale at the Holiday Fair. File photo.

---
More than 70 local artisans will be on hand to sell their arts and crafts, helping raise money for student scholarships. Last year, the Alumnae Board raised enough money to fund 20 full-tuition scholarships. Only the UW athletic department awards more scholarships.

Nearly 5,000 people turn out annually for the fair. This year's fair will be in the HUB's main ballroom instead of its usual home, Hec Edmundson Pavilion, because the sports complex is undergoing a yearlong renovation.

The fair will be held from 10 a.m. to 8 p.m. Saturday, Nov. 13, and from 10 a.m. to 4 p.m. Sunday, Nov. 14. Parking will be available in lot _____. Admission is $6 general with discount coupons available.

For more information about the Holiday Fair, contact the UW Alumni Association at (206) 543-0540 or 1-800-AUW-ALUM.