Although both undergraduates and masters candidates must enter the Business Plan Competition to earn a PEI certificate, "this is not a classroom exercise," says Connie Bourassa-Shaw, managing director of PEI. "They're here to win. They want seed money. They want to start their businesses.
"Some of these companies already have been started. They're up and running."
Besides participating in the Business Plan Competition and several other activities, PEI undergrads and M.B.A.s must complete separate sets of core classes to add a PEI certificate to their regular degrees.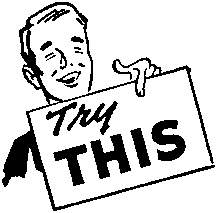 Undergrads start the program as juniors. Many of the companies entered in this year's competition were conceived in their first required class, Creating a Company.
Jerry Ralston, a professor of marketing and internal business, teaches one of the course's four sections.
Or does he?
"We don't try to teach them anything," he explains. "We just try to keep them out of trouble."
The process reverses the normal order of instruction, placing practical experience ahead of lectures and book work.
"The thinking behind it is it will be more beneficial to them to have the experience of starting a company if done totally on their own at the beginning ... rather than at the end," Ralston explains. "Having gone through the exercise, the classes will have a lot more meaning."
---

A student promotes his e-commerce site, fairautorepair.com, during the competition.

---
Students begin by splitting into five teams and then preparing business plans for an in-class competition. The contest's top three teams then spend the rest of the two-quarter sequence forming, launching and operating their businesses.
Along the way, they obtain licenses, incorporate and apply for startup loans from Wells Fargo Bank, a major PEI booster.
"It's sort of understood that they're going to get the loan, but we don't make it easy," says Ralston.
Students from the losing teams must apply for positions with the successful teams. "It's kind of like working really hard on your job and getting fired," says Ralston. "They are absorbed ... not always very smoothly. But that's part of the educational process, too, and a tremendous learning experience."
At the close of the quarter, students must disband the company. If they lost money, they owe Wells Fargo nothing, but if they finished in the black, they must repay their loan. Any additional profit goes toward repaying the loans of less successful classmates and building a reserve to repay loans for future classes.
For many, this isn't the end, but a beginning as numerous students choose to restart their companies at their own expense.
The course's sink-or-swim approach prompts some students to bail out early, but "the students who finish have almost to the last person said what a tremendous leaning experience it was," says Ralston.
You won't get an argument from Findley. He says PEI helped steel him for the real world, where "if you make a mistake, you are the one who has to fix the problem. You learn the best that way. And you learn the fastest."
PEI instructors "really turn you loose," he says. "If you trip, they'll help you sometimes get back on your feet. But it's by and large up to you."
Findley's company is setting a tough standard to follow for future Business Plan Competition champs. Cybercamps conducts weeklong computer courses for children 8-16 years old on college campuses in five western states. The company has 16 full-time employees and 80 seasonal instructors. After earning $1 million in its first year, Cybercamps is on track to triple that this year, running 40 camps and serving 3,500 children.
"The goal is to build the company up to a national brand," Findley says.
If he succeeds, it won't be the first time such a dream became reality for a fresh-faced Seattle entrepreneur (the 20-something Findley declined to state his exact age for fear it might damage his credibility).