Under New Coach, Huskies Face High Expectations
UW Football Coach Rick Neuheisel makes his debut on a Thursday instead of a Saturday as the Huskies open their season at 5 p.m. Pacific Time on Thursday, Sept. 9, at Brigham Young University in Provo, Utah.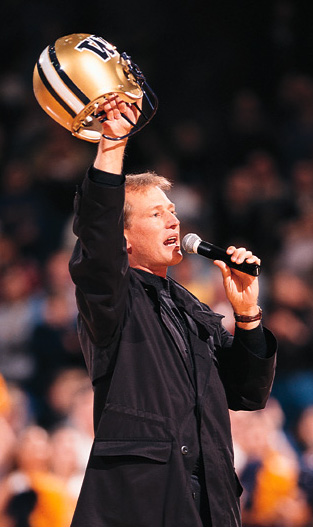 ---

Football Coach Rick Neuheisel. Photo ©1999 Otto Greule.

---
Some sports commentators think the Huskies will face one of the nation's toughest schedules, especially during the first month of the season. After the BYU contest televised by ESPN, the Huskies come home for consecutive dates with Air Force, Colorado and Oregon. Two of these home contests will be "grudge matches." Neuheisel left Colorado for the UW last January. Just a month prior to that departure, his Colorado team beat Oregon 51-43 in the 1998 Aloha Bowl.
Neuheisel took over the Washington program after a four-year run at Colorado that saw his teams produce a 33-14 (.702) record and three bowl game victories. The surprise announcement that Neuheisel was coming to Washington—and his $1 million annual contract—drew both positive and negative reactions among Dawg fans. (See "Sudden Impact," March 1999.)
The Huskies enter the 1999 season with 599 all-time victories and need one win to become the 16th Division I team to reach the 600-win plateau.
Picked to finish in the lower half of the conference race by several preseason publications, the Huskies say they want to reestablish a winning tradition this season after posting a 6-6 record under former Coach Jim Lambright last year.
"They are of the mind that we not treat this season as a rebuilding year," Neuheisel explains. "Nor are we as coaches interested in hiding behind the blanket of rebuilding. The key is that we go in with high expectations, yet create such a resiliency within our makeup that we can take whatever happens. We'll be fine. We'll fight through it."
A total of 47 letterwinners, including five starters on offense and eight starters on defense, will form the foundation of the 1999 team. Among those returning players are quarterback Marques Tuiasosopo; receivers Dane Looker, Chris Juergens and Joe Jarzynka; and defensemen Mac Tuiaea, Lester Towns and Marques Hairston.