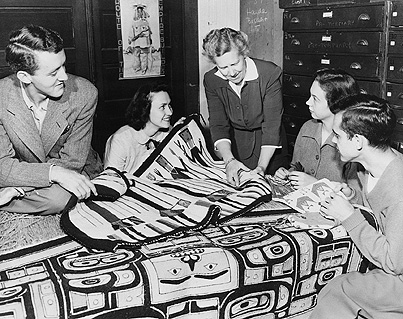 Photo courtesy of the Burke Museum of Natural History and Culture.
Erna Gunther
The Course: Anthropology 411, Indian Culture/Art of the Northwest Coast
The Year: 1951.
The Place: UW campus.
The Setting: The original Washington State Museum from the Yukon Expedition of 1909.
Enter through the pillared front doors, walk by mangy, stuffed animals, go up the creaky, worn wooden staircase, passing the bound Egyptian mummy, viewing the lower floor through a rickety rail, and finally, a small dimly lighted classroom.
Dr. Gunther, regal, arrives to share her expertise, intellect, and enthusiasm, delicately displaying chosen Northwest Coast Indian artifacts. The Kwakiutl spruce root hat with cedar bark cover is shown on her head as carefully as Queen Elizabeth placed the crown jewels of England. This classy lady was a female role model in an obscure subject on a predominately male oriented campus before, "You've come a long way, baby" was commonplace.
Occasionally, brief classroom experiences are remembered for a lifetime. I was lucky. Thank you, Dr. Gunther!
Nancy Meagher Hicks, '52
Seattle