New Facility, E-mail, Career Services Can Boost Alumni Involvement
Asked to envision the UW Alumni Association in the next century, its new president sees Gateway Center, a $24 million facility that would connect the University of Washington to the public.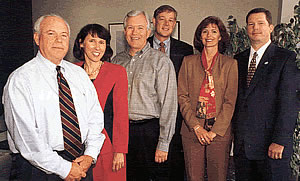 ---

UW Alumni Association officers for 1999-2000 are (left to right) Vice President Jack David; President-Elect Trish Bostrom, '72; President Geoffrey Vernon, '65; Past-President Cory Carlson, '81; Treasurer Dawn Williams, '88; and Secretary David Fagerlie, '81. Photo by Jon Marmor.

---
Built near the UW campus, the building would be "vital to the life of the university," says 1999-2000 UWAA resident Geoffrey Vernon, '65. It would hold meeting rooms and banquet facilities as well as offices for the UWAA, development, the visitors center and student orientation.

"it would be a place where students and parents come for orientation tours, where patrons buy their arts events tickets, where alumni network at a career center and where visitors get campus information," he explains.

Still in the planning stages, the proposed Gateway Center is symbolic of Vernon's desire for the association to serve as a bridge between the University and its key constituencies.

"we are on the threshold of accomplishing some really great things," he says, "as we increase our value to our members, our prospective members and our university."

One of Vernon's goals is to make the 50,000-member association more relevant to the lives of alumni. In addition to planning for a new alumni facility, he says he will focus his energies on the following projects:

Completing an e-mail forwarding service that will give graduating seniors an e-mail address that will work for the rest of their lives. Later the service would be expanded to other UW alumni.
Enhancing the association's abilities to help students and alumni find jobs or change careers.
Helping alumni become more involved in supporting higher education in their communities and in Olympia.
Raising more scholarship funds for UW students.
Making sure that the UWAA encourages diversity in its organization and the UW community.
Though these goals sound ambitious, Vernon says, "i could not be more excited about our prospects." The UWAA is in a strong financial position and enjoys solid volunteer leadership and an enthusiastic, professional staff. Relations between the UWAA and the UW president's office and its fund-raising department are cordial and collaborative, he adds.
Just as important, the organization has a new strategic plan that will chart its course over the next three years and sets some "big, hairy, audacious goals," Vernon says. For example, it states that the UW Alumni Association will be the pre-eminent alumni association in the Pac-10, as measured by alumni participation and donations to the University. "that's a long-term goal, and it will still be a goal a year from now, but i believe it can be done," he declares.
Vernon, chairman emeritus of the Woodinville-based Vernon Publications, retired in 1998 to work on causes he felt were important. He is past president of Seattle Rotary and the Associated Construction Publications, and he just completed his term as chair of Seafair during its 50th anniversary celebration. He serves or has served on the boards of Seattle-King County Red Cross, the Seattle University Board of Regents, YMCA of Greater Seattle and the Hope Heart Institute. His support of the UW Alumni Association includes serving as a trustee from 1989-92 and as one of the founders of the Columns Advisory Committee, which he chaired in 1991-92.
While he realizes that representing the UW's some 250,000 living alumni is almost a full-time job, he welcomes the challenge. "i sincerely believe the uw is one of our region's greatest resources. it is a primary reason we're rated one of the best places to live in america," he says.
Vernon sees the association as a major link between the University and its constituencies and a key resource for UW officials to turn to for advice and counsel.
Joining Vernon as officers for 1999-2000 are Trish Bostrom, '72, president-elect; John W. (Jack) David, vice president; Dawn Williams, '88, treasurer; and David Fagerlie, '81, secretary. New to the UWAA Board of Trustees are Charles Blumenfeld, '66, '69; Erika Meyer Grayson, '95; Ann Moe, '67; Bruce Pozzi, '64; Terryl Ross; and Brandt Westover, '83.
---