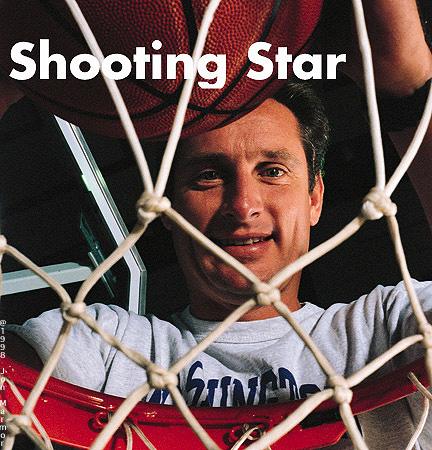 by Jon Marmor
Never in a million years did Bob Bender have any intention of making a living as a coach. He was the son of a coach. When he played basketball, he was a point guard, and was considered a "coach on the floor." Been there, done that. So when he hung up his basketball shoes for good in 1980, after a distinguished playing career, he looked for something else to do with his life--even though his genes were calling out to him and people kept telling him he would be a natural behind the bench.
"I didn't want to do that," he says today. "I had to get away from it."
Which sounds a little hard to believe, since he is saying this from his spacious, second-floor office in the Graves Building with the great view of Lake Washington. The sign on the door says: Bob Bender, Head Men's Basketball Coach.
For the past 16 years--including the past five at the University of Washington--Bender has made a very nice living, not to mention quite a name for himself, as a college basketball coach. He could run from his genes, but he sure couldn't hide.
Now he can't hide from anyone. Though he may occasionally go unrecognized around Seattle, the college basketball world has its radar locked onto Bender. That's only natural for someone who turned a floundering UW program with six consecutive losing seasons, into one that made the NCAA "Sweet 16" in March. During the NCAA tournament, there was just as much talk about which big-time programs would try to hire him away as there was about the upstart Husky team that unexpectedly won two tournament games and came within a rebound of upsetting No. 8 Connecticut and moving into the "Elite Eight."
Virginia wanted him. Texas sent a private plane to bring him out for an interview. Every time a program had an opening, Bender's name immediately shot to the top of the list--even though he kept saying he loved it here and had no intention of leaving.
Seattle suddenly found itself in March sitting on pins and needles wondering if the UW's wunderkind hoops coach would indeed bolt for Texas, which figured to offer a bigger salary, a state with tons of homegrown talent, and a chance to hit the big time in a hurry.
But it wasn't just the thought of losing Bender's coaching ability that made people fret. "He's the first coach I know that people, fans, players, administrators, even the media like," says Marv Harshman, the retired former Husky basketball coach.
"His personality wins everyone over."
Recalls Barbara Hedges, the UW athletic director: "I had a lot of people call and tell me to do whatever it takes to keep Bob. One of the football coaches said, 'Whatever you do, don't let him leave. He's my favorite person.'"
Coaching Break Comes at Duke
Setting His Sights on Montlake
Some Bumps on the Road to Team Building
The Magical Year of 1997-98
Husky Athletics Official Home Page
Send a letter to the editor at columns@u.washington.edu.