To honor his mother, the late Mary Gates, Microsoft Chairman and CEO William Gates III will contribute $10 million to the University, the UW announced May 5. The gift will establish the Mary Gates Endowment for Students, income from which will support outstanding undergraduate students. Mary Gates served on the University's Board of Regents for 18 years (1975-93).

"My mother championed the efforts of the University to enhance undergraduate education," said Bill Gates. "Melinda and I are pleased to make this gift in her honor and in support of an objective that was very important to her."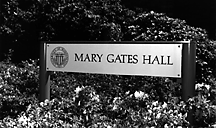 The old Physics Building was renamed Mary Gates Hall May 19 to honor the late regent and UW alumna.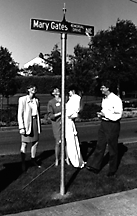 The children of Mary Gates celebrate the renaming of a street in their mother's honor. Left to right are Libby Armintrout; Kristi Blake, '75; and Bill Gates. Both photos by David Opincarne.
At its May 19 meeting, the Board of Regents named one of the University's elegant collegiate Gothic buildings "Mary Gates Hall." The building, which formerly housed the physics department, will undergo extensive renovation and will expand with a new addition. The $35 million project, designed by Washington, D.C., architects Hartman-Cox and Seattle's Bassetti Architects, will have new wings that closely match the original architecture.
When completed, the building will be a center for undergraduate education and will house the Undergraduate Advising Center, the University Honors Program, leadership and public service programs, extensive instructional computing facilities and more than 40 electronic classrooms. A commons area will serve as a central gathering place for students and faculty, providing the focal point for the building.
Of the gift, former President William P. Gerberding said, "This gift and Mary Gates Hall are a perfect match. Mary's interests as a regent were broad-ranging, but at their core was her concern for undergraduates. This magnificent endowment and the central role that Mary Gates Hall will play in the life of undergraduates are ideal reflections of one of the most important regents this University has ever had. We are deeply grateful to Bill and Melinda Gates for their generosity and the wonderful appropriateness of their gift."
Income from the endowment will support, among other things, scholarships for students in the Honors Program; internships that extend learning beyond the classroom; "mentorships" that permit students to work with faculty in teaching and research, or with community leaders in corporate and public service; and "venture fellowships" that allow exceptional students to undertake imaginative endeavors of their own design.
Undergraduate Education Dean Fred Campbell said the gift will create exciting opportunities for students. "The special promise of undergraduate education at a research university is realized when students move from the classroom to working closely with their professors on scholarly, scientific and artistic projects, or with community leaders on societal problems. The Gates gift will make this promise a reality for many more of our students."
Mary Maxwell Gates, who died in June 1994, was well known as a community leader who promoted voluntary service and philanthropy both nationally and in the state of Washington. Among her achievements, she served on the board of United Way of King County (1974-88) and many other nonprofit and corporate boards. Her work with United Way led to national recognition of her leadership. She served as a member of the board of directors of United Way International (1980-1990) and was the first woman to chair the executive committee of that board (1985-87).
A 1950 graduate, Mary Gates had many connections to the University of Washington: Both her parents were graduates, she met her husband when both were UW students, and one of their three children graduated from the University. In addition to her service as a regent of the University, she also served on the University of Washington Foundation Board, the University of Washington Medical Center Board and the School of Business Administration's Advisory Board.
This is the second major gift that Microsoft CEO Bill Gates has given the University. In 1991 he donated $12 million to launch the department of Molecular Biotechnology in the School of Medicine, headed by Leroy Hood.
In another memorial to Mary Gates, the city of Seattle renamed a street leading from the University to the Laurelhurst district in her honor. Union Bay Place NE between NE 41st and 45th Streets is now Mary Gates Memorial Drive. The drive runs past the UW Center for Urban Horticulture. The new name is particularly fitting, says City Councilwoman Sue Donaldson, because it was the route Gates took from home to campus.
Return to September 1995 Table of Contents