The Second Part of Our Retrospective on All the Winners of the UW's Distinguished Teaching Awards.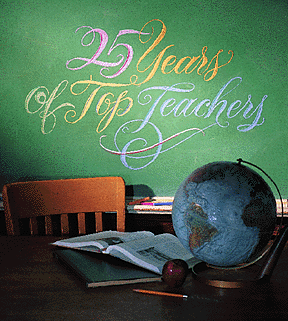 Photo by Mary Levin.
You could call them our own version of the "Oscars." Starting in 1970, the UW has handed out awards each year to top teachers in a highly competitive process. On the silver anniversary of the Distinguished Teaching Awards, we are taking a look at what all our "Oscar-winners" are doing today. We already profiled the winners of the first 15 years--and the 1995 winners--in our June issue Part One. Here' a look at what the rest of your favorite professors are up to.
by Jon Marmor
WINNERS FROM 1986-1994
(in alphabetical order) Click on a name or read them all.

Manfred Bansleben

Lee Roy Beach

Susan Blackburn

P. Dee Boersma

John Campbell

Loveday Conquest

Thomas Daniel

Ingrith Deyrup-Olsen

Sandra Eyres

Daniel Graney

Margaret Heitkemper

David Hodge

John T.S. Keeler

Nancy Kenney

Thomas Koepsell

K. Tsianina Lomawaima

Michael McCann

Gregory Miller

Raimonda Modiano

Ron Moore

William Moody

Paul Pascal

Hermann Pundt

Norm Rose

Cornelius Rosse

Jan Spyridakis

Reinhard Stettler

Philip Trautman

Christopher Viney

Samuel Wineburg

Bonnie Worthington-Roberts

Stephen Woods

Manfred Bansleben

, Germanics, 1993
Currently: On a year-long sabbatical to complete research for a book on Central European history. Heads the department's language program, where he teaches a language course and instructs TAs on how to teach. On the faculty since 1988.
Research Interests: Central European history, especially cultural history. Also, language pedagogy, fin de siecle Europe, literature of East Germany, literature and music, the Austro-Hungarian monarchy, 20th-century Austria, German-Jewish relations. Author of the second-year text Perspektiven, which is in use in more than 140 colleges and universities.
Thoughts on Students: "We do have to convince our students here in the U.S. that it is worthwhile to learn German. We also have to rethink the way we teach cultural texts because cultures take things for granted."
Thoughts on Teaching: "I always wanted to be a teacher when I was growing up. ... I love transmitting knowledge and helping students discover what great things have come before us."
Lee Roy Beach, Psychology, 1986
Currently: Teaching M.B.A. and doctoral students at the University of Arizona, where he is a professor of management .
UW Years: Taught here from 1966 to 1990. For years taught "Introduction to Psychology." Headed up the department's cognition division, served as chair and associate chair, director of the honors program and taught cognition classes.
Hardest Class: "It was `Introduction to Psychology.' It had 700 students. It was a horrifying experience because it was so big. I once gave a ride to a student who said he was going to that class. I asked him how he liked it, and he said, how can he take it seriously because he sits in the balcony and from his vantage point, the professor was only an inch tall."
Thoughts on Teaching: "We seem to be returning to our roots. Teaching was always important, but the payoff system was lopsided towards research. We forgot teaching and the rewards went to the entrepreneurs. ... But we just went astray, and now we are returning to where we should be."
Susan Blackburn, Parent & Child Nursing, 1992
Currently: Teaches "Physiologic Adaptations in Women and Children," as well as courses on neonatology and pregnancy physiology. Came to the UW in 1973.
Research Interests: Wrote the text Maternal, Fetal and Neonatal Physiology: A Clinical Perspective, used in nursing schools throughout the U.S. Also researching the effects of low sound levels and cycling of light on babies in intensive care units.
Thoughts on Teaching: "Technology has made collaborative work with people far away much easier, and made teaching better, too. With things like e-mail, I can communicate with students easier. I can now spend more class time on a dialog with students, instead of just lecturing. Teaching is never static, it is always changing, and that makes it an adventure."
P. Dee Boersma, Zoology, 1993
Currently: Teaches an array of environmental studies classes, including "Conservation Biology and Public Policy," "Conservation Biology" and "Ethology and Ecology Lab." On the faculty since 1974.
Research Interests: Studying Magellanic penguins in Argentina as well as the recovery of the bird population in the Berea Islands in the aftermath of the Exxon Valdez oil spill.
Most Memorable Student Excuse: "One student called to say he couldn't take a test because of mononucleosis. I didn't think anything of it. Then when the final exam came, the student called to say he couldn't take it because he had pneumonia. I talked to a doctor friend of mine and was told that it was impossible to have pneumonia after mononucleosis. It happens the other way around."
Thoughts on Teaching: "Teaching is more than just reaching the masses, it is affecting individual lives. That means class size can't be too large. Students need individual attention from their instructors."
John Campbell, Speech Communication, 1993
Currently: Leaving the UW after 27 years to join the faculty at the University of Memphis. Taught "Introduction to Public Speaking," "Rhetorical Perspectives in Intellectual Revolutions" and courses on American and British public address traditions. Joined the UW in 1968.
Research Interest: Working on a rhetorical biography of Charles Darwin. "He was a conceptual genius with a major cultural problem--no one believed a complex event could happen out of a mindless event (natural selection)."
Most Memorable Students: "Three of my students are on the King County Council. Dorothy Vullitt--an attorney, business person and community leader--wrote an essay on speech preparation that I still use today. Jay Weber, chair of the Washington State Association of Counties, used my classes to understand public life."
Thoughts on Teaching: "Teaching is vastly underappreciated at the University. It isn't rewarded financially. You can be the best teacher and it won't make any difference in salary or promotion. Teaching needs to be recognized as a form of scholarship, not just publications. Teachers need to be public intellectuals and serve the community. I feel when the University gets serious about dealing with the larger community, its financial problems will diminish."
Loveday Conquest, Quantitative Science, 1987
Currently: Serving as associate dean in the College of Ocean and Fishery Sciences since 1991. Teaches two classes, "Elementary Problems in Statistics" and "Intermediate Statistical Methods." Joined the faculty in 1976.
Research Interests: The effects of commercial timber harvest on in-stream habitats, specifically, how large, woody debris affects salmon. Also looking into contaminated sediments. Last year, published the book Biometry Casebook.
Most Memorable Student: "Norma Jean Sands got a job at the Alaska Department of Fish and Game as a biometrician, one of the rare jobs where preference was not given to Alaska residents. She was so good, when she left, they were unable to replace her."
Thoughts on Teaching: "Technology is sure changing the way I teach. In addition to office hours, I can send e-mail to my students. What is great is that I can spend less time telling how students to get through methods and concentrate on more important issues of critical thinking. I don't seem to spend so much time in class slogging through the details. It is wonderful."
Thomas Daniel, Zoology, 1989
Currently: Just back from a two-quarter sabbatical. Teaches Biology 101 for non-science majors as well as "Biomechanics" and a number of graduate courses. Joined the faculty in 1984.
Research Interest: Involved in a collaborative research with Geological Sciences Professor Peter Ward on evolution and the chambered nautilus.
Classroom Memories: "A class I taught at the Friday Harbor lab played a practical joke on me. They rigged the whole room-putting tape at the end of chalk, or molding cream cheese into chalk, so the harder I pressed, the more the "chalk" disintegrated. They had squirt guns, too. I didn't know what was going on. But I got them back. At a later class, I replaced a piece of chalk with a big buttermint, and I wrote on the chalkboard and then took a bite out of it."
Thoughts on Teaching: "The key is the student-to-teacher ratio, and with budget cuts, that is going to be hurt. Students at smaller schools get much more attention than they do here. We are also moving away from the rote approach of memorizing facts and taking a more conceptual approach. It is demanding to have students take on both."
Ingrith Deyrup-Olsen, Zoology, 1988
Currently: Retired from the UW in 1990 at the age of 70 but continues her research on campus into mucus and slugs. "I miss teaching, but I think it is good to have younger people who have the energy."
UW Years: Served on the faculty from 1964-1990, teaching "General and Cell Physiology" and "Animal Physiology." Served as chair of a multidisciplinary science committee to oversee training of high school teachers in science.
Hardest Class: "Zoology 301 was often intimidating for students because it was the first time students did research projects. Many had done `cookbook' labs in the past, but in this class, everyone had to come up with their own project."
Thoughts on Teaching: "When I started my academic career, what the professor said was to be memorized and not questioned by students. The professor had all the information. But now students do so much more on their own, participate to a greater degree, and with the information superhighway, it is much better. Students have a greater role in learning."
Sandra Eyres, Parent & Child Nursing, 1989
Currently: Teaching Parent and Child Nursing 520 and 521, a series on research methods in nursing. Also involved with the undergraduate nursing program. Joined the faculty in 1974.
Research Interests: How doctoral students in nursing learn to write scholarly research articles.
Classroom Memories: "It was the first day of class of Spring Quarter last year and I told the class that the department had changed its policies, and they didn't have to take the class. They looked shocked, until I told them it was April Fool's Day."
Thoughts on Teaching: "It is great that the emphasis on teaching is growing, even at research universities. But the real issue is faculty development. It is too easy to make assumptions that faculty teach well. In reality, we don't always know how to go about it."
Daniel Graney, Biological Structure, 1994
Currently: Teaches head and neck anatomy to medical and dental students, musculoskeletal anatomy for second-year medical students and courses for residents. Joined the faculty in 1966.
Most Memorable Student: "There was one student a while back, who I taught when he was a first-year medical student. He went through medical school, completed his residency, then was chief at Madigan Army Hospital. He is now retired, and I'm still here. That's a long time."
Most Memorable Excuse: "We give out scalpel material to students. One student was in an automobile crash and his scalpel material, including a skull, was broken. But his own wasn't."
Thoughts on Teaching: "In the medical school, traditional subjects are not being perpetuated because students are going into specialty areas. Instead of knowing physiology, students want to specialize in a field like molecular biology. The focus is becoming too narrow, and soon, we won't have anyone who can teach subjects like physiology. Traditional knowledge doesn't seem to be important any more, and that is dangerous."
Margaret Heitkemper, Physiological Nursing, 1994
Currently: Teaches undergraduate courses "Pharmacotherapeutics in Nursing" and "Care in Illness." "Every generic nursing student who has come to the UW has taken classes from me over the past 12 years." On the faculty since 1981.
Classroom Memories: "One time a podium caught fire. Luckily, one of the students was an emergency medical technician, and he took care of it. Another time, I was walking around in class, as I always do, giving a lecture that was being videotaped. I fell into a hole cut out for the cables to pass through."
Thoughts on Teaching: "Things have changed regarding students. When I first came here, senior faculty only taught Ph.D. students. But I love teaching undergraduates and take a lot of pride in it. People see that and value you as well the undergraduates."
David Hodge, Geography, 1990
Currently: Says he is most "infamous" for teaching "Quantitative Methods of Geography." "Students can't wait for it to be over, but I really enjoy it." Came to the UW in 1975.
Research Interest: "Intelligent transportation systems" (safety devices, highways, information services installed in automobiles). Also is editor of the journal Professional Geographer.
Most Memorable Students: "Warren Moon was a student of mine. At the graduate level, I had a student named Lynn Staley, who in her last year in my program, had her second child, published two papers, received her Ph.D. and got hired at the University of Colorado. Beyond her achievements, she really rattled my cage and profoundly changed my thinking. She questioned the things I was teaching, and she energized me with her approach."
Thoughts on Teaching: "There has been a profound shift where teaching is now taken seriously. Our mission should be to better train our teaching assistants and students."
John T.S. Keeler, Political Science, 1992
Currently: Recently went to in Germany as part of an international faculty exchange. Teaches "Europe and World Politics," "Politics in Western Europe," "American Foreign Policy" and several graduate courses. On the faculty since 1980.
Research Interests: The French government and its constitution. Was invited to act as a consultant to the Ukranian Parliament, on the creation of a constitution, which Kiev wants to base on the French model.
Classroom Memories: "A few years ago, I was lecturing to my `American Foreign Policy' class on Valentine's Day. Suddenly, the door swung open, and two fellows clad in tuxedos came in and asked if they could sign a song. I told them I was in the middle of a lecture, but they said it was Valentine's Day, so I let them. They were hired by the girlfriend of a student in class, and when the song was over, he sank very low in his seat."
Thoughts on Teaching: "In recent years, I have felt more frustration that students seem to be here just to get a degree and not learn about the great issues. But there are enough of those students who are here for the right reasons, and that is very rewarding."
Nancy Kenney, Psychology, 1988
Currently: Teaches "Psychology of Sex Differences" and "Psychobiology of Women" "and loving it." She also wrote the text Complexities of Women. On the faculty since 1976.
Most Memorable Student: "A woman business major told me at the end of the quarter that if she had her life to live over again, she would do biology because business bored her. I told her to follow her heart, but she was only a quarter from graduation. I didn't hear from her for four years, but found out she had graduated, then taken a year to get biology prerequisites, and then was in medical school. I was tickled by that."
Classroom Memories: "One student who had been doing poorly asked to take the final exam late due to illness. It was clear from the results that she had found out about the test, but I let it go. A few years later, she called and said she had to see me. She came in tears and confessed that she had cheated. She asked me to fail her. I said anyone this pained for this long is an honest person. She really impressed me because she had so much courage to come forward."
Thoughts on Teaching: "I'm impressed that schools are demanding that job applicants have a lot of experience teaching. As for technology in the classroom, it is a terrific idea, but the UW is not equipped to deal with it. I have yet to have a classroom equipped for computerized presentations."
Thomas Koepsell, Health Services & Epidemiology, 1990
Currently: Chair of epidemiology since 1993 but still team teaches the introductory sequence for graduate students. Joined the faculty in 1979.
Research Interests: Injury epidemiology, the safety of older pedestrians, the prevention of violent behavior of kids, and risk factor identification for ALS (Lou Gehrig's disease).
Classroom Memories: "A few years ago, I was teaching Human Biology 530 when someone came in during class carrying a chair. It was a gift from the students to me for doing a nice job teaching a class that wasn't perceived as being very popular. I now have that chair in my office."
Thoughts on Teaching: "I find teaching a great kick. You will always get that unpredictable question that make you think. It keeps you on your toes and is always stimulating. It is especially fun to teach core courses that every medical student has to take. You are playing a big role in their medical education."
K. Tsianina Lomawaima, Anthropology/American Indian Studies, 1991
Currently: On the faculty of the University of Arizona since 1994, teaching in the American Indian Studies program. Taught at the UW from 1988-1994. Her research interests include the history of Indian education, mainly boarding school experiences.
Most Memorable Student: "I gave students the option to do a research paper or a project, where they had to make something for class. There was a freshman from a small town, overwhelmed by being at a big university, who was determined to make a bent-wood box. He had no experience with wood carving, and I was very skeptical, because making bent-wood boxes isn't easy. But he did it, and it came out beautiful. At a public lecture, his mother came up to me and told me that project made such a big impact on him."
Classroom Memories: "One time, I gave a lecture on history of California, which was a difficult topic because there was a period of Indian slavery after the gold rush. Bounties were on American Indians' heads. It sparked a lot of anger in people. Someone told my TA that it was a very emotional lecture. So the next class, I asked everyone to jot down some comments about what made it emotional for them. I got the most articulate responses. The theme that came through was that students didn't mind emotion, but didn't want to feel manipulated by the instructor. They wanted the teacher and the emotions to be disassociated. I still re-read those comments to this day. Then there was the time on a teacher evaluation, one student wrote `Very even-handed presentation of biased material.' I thought about it for a long time, but decided it was a compliment."
Thoughts on Teaching: "Teaching and research are connected and can't be pulled apart. They are synergistic. For me, the ideal thing is to do both. I wouldn't want to just teach or just do research."
Michael McCann, Political Science, 1988
Currently: Director of the society and justice program, teaching a new class, "Law in Society," and working on curriculum reforms. On the faculty since 1982.
Research Interests: Recently published a book Rights at Work, which deals with pay equity, politics and discrimination in the workplace. He is working on a book on Alaska cannery workers.
Hardest Class: " `Law in Society' because it is brand new. It is a product of what I have thought about for about five or six years, and it is a challenge to boil it down into one quarter."
Thoughts on Teaching: "I think the environment for teaching is declining. The people most demoralized are teacher-researchers. Recent events, the budget cuts, the withdrawal of a research quarter, and the environment are all damaging to teaching. It is all very misunderstood by those outside research universities."
Joel Migdal, International Studies, 1993
Currently: Teaching "Introduction to Political Economy," remaking it as a retrospective of the entire 20th century to help students see it as a historical whole. Joined the faculty in 1980.
Research Interests: Working on a book on the Middle East since the Six-Day War.
Classroom Memories: "On the day a paper is due, historically few students show up for class because they have until 5 p.m. to turn a paper in. So I reward those who do show up by letting them come up with exam questions. I want them to be outrageous. Those who attend know the answers, so they can get extra credit on the final. We get questions like, `What material was Winston Churchill's underwear made of?' or `What did the Maori tribes do when they met the New Zealand prime minister?' "
Thoughts on Teaching: "Technology is allowing us to do more innovatively. People are interacting more, too. Used to be teaching was a private act, and you only talked of your research. You can learn a lot by sharing information and seeing what others are doing. I now require students in one class to form study groups of four to five to meet, study and review each other's papers. I want people sharing."
Gregory Miller, Civil Engineering, 1994
Currently: Teaches the first class that most structural engineering graduate students have taken over the past eight years, "Structural Mechanics." Also teaches a variety of undergraduate courses. On the faculty since 1984.
Classroom Memories: "About halfway through a lecture in a senior-level course on the design of steel structures, there was a tremendous roar outside the window, as if a 747 had just flown by about 100 feet away. Jokingly I said, `There went the new stadium addition.' Then we saw all kinds of commotion on the roof of the building next door, and I decided to take my class onto our own roof to see what had happened. Sure enough, there was the new addition lying in a heap. Quite a lesson for aspiring structural engineers--I think they paid closer attention to me the rest of the quarter."
Most Memorable Student Excuse: "Engineering students are creative in many ways, but not so much in coming up with excuses for late assignments."
Thoughts on Teaching: "I think there is increasing acknowledgment of the worth and significance of good teaching, and more resources are becoming available to encourage and support innovation. Ultimately, though, good teaching is not as important as good learning, and so there is a paradox in teaching: The more successful one is with one's students, the less important one becomes to their learning. There is great significance in the content of what one teaches, but the key is to spark students' minds to burn on their own."
Raimonda Modiano, English/Comparative Literature, 1994
Currently: Teaching "English Romantic Poetry" and "Method, Imagination, and Inquiry." On the faculty since 1978.
Research Interests: Working on a book on gift exchange and sacrifice and the relationship between Coleridge and Wordsworth.
Classroom Memories: "Early in my teaching career, a student who got a very good grade on a paper came in to tell me she was dropping the class. I couldn't understand it. She told me she was upset with the immoral content of the books used in class because they contained too much sex out of wedlock. We were reading Dante, Plato, Marquez. I asked her if she read the Bible, and she said yes. [I told her] the Bible is full of stories of sex out of wedlock. She dropped the class."
Thoughts on Teaching: "You are half a person if you don't teach. Without teaching, research loses its purpose and momentum. And if you have a large teaching load and don't do any research, your mind goes. I always take ideas to class from my research."
Ron Moore, Philosophy, 1987
Currently: Just returning from a year's sabbatical. He is working on a book on natural esthetics. Teaches courses on the philosophy of law and of esthetics. Joined the UW in 1979.
Research Interest: Esthetics, exploring what role art has in the growth of individuals, if art has special rights.
Classroom Memories: "Occasionally, I would invite other professors to class when we would be discussing their writings. In one class, I had Michael McCann, a political science professor, attending, but I didn't introduce him. The class was discussing a paper he wrote, and one student was really attacking his work. I said that was interesting, then I turned to McCann, and said, `What do you think, Mr. McCann?' The student about fell out of her chair."
Thoughts on Teaching: "I think teaching is the most rewarding and endlessly pleasing profession there is. I think my colleagues take it very seriously, too. I am old fashioned. I like to lecture and walk around the class and grab students and get them to opine. I think the classroom is the courtroom for ideas and debate."
William Moody, Zoology, 1986
Currently: Teaches "Introduction to Physiology and Development" which he has taught for the past 12 years. "Science changes every year, the group of students changes, and I love teaching the introductory classes. I don't find it getting stale at all." Also teaches various upper division and graduate seminars. On the faculty since 1982.
Research Interests: Developing electrical properties in frog muscle. Proteins from rat brains are inserted into frog muscle to see how it changes the development of the muscle.
Classroom Memories: "Sometimes students don't know the difference between when I say, `I don't know' and `That isn't known.' Once, while a giving a lecture on cell division and cancer, I said something wasn't known yet and a student asked if I would have the answer by tomorrow. I told him we just didn't have the answer. If I did, I would have $10 million and a Nobel Prize."
Thoughts on Teaching: "People are recognizing the importance of teaching, and that feels good. In our field, we do a lot of teaching. Even if you have a research career, it is part of your mission to share that knowledge."
Paul Pascal, Classics, 1987
Currently: Retired in 1991 after 38 years at the UW. Continuing to lecture for the Washington Commission for the Humanities.
UW Years: Taught "Greek and Roman Comedy in Translation," "The Roman Novel," "Greek Mythology" and team taught "Greek and Roman Classics in English."
Most Memorable Student: "When I first started, one of my students in an elementary Latin class was Norman Maleng, now the King County prosecutor."
Thoughts on the Award: "It was the climax of my teaching career. In teaching, recognition, not fame or wealth, is the greatest satisfaction of all. To have people tell me they learned something useful from me is the best."
Hermann Pundt, Architecture, 1992
Currently: Just returned from a sabbatical in Europe. Teaches Architecture 150 and 151, architecture appreciation classes, as well as historic preservation. Will retire in June 1996. Joined the UW in 1968.
Research Interests: Old and New World architecture. He has written on the Berlin of Karl Friedrich Schinkel and the genius of Frank Lloyd Wright. He has also been involved in the rebuilding and restoration of two architectural masterpieces in the former East Germany: the Dresden Frauenkirche and the royal palace of Sanssouci in Potsdam.
Most Memorable Student: Steven Holl, an award-winning architect and professor at Columbia University.
Thoughts on Teaching: "I try to teach students how to see, not to look, but to see. I tell them that two years from now, if you look up at a building in downtown Seattle and ask the question `Why?', you have earned an `A' in the course."
Norm Rose, Chemistry, 1988
Currently: Dean of UW-Bothell since April 1994. Prior to that, he taught inorganic chemistry. Best-known class was "Introduction to Descriptive and Environmental Chemistry." Served as Faculty Senate chair and was interim provost in 1993. On the faculty since 1966.
Most Memorable Student Excuse: "One year, a student took it upon herself to educate me about cheating in the classroom because she felt I was naive. She told me about `the Hershey bar' syndrome, in which students get Hershey bars, without almonds, carefully unwrap the candy bar, and write their notes into the back of the candy bar using a sharp pencil. Many students bring candy to final exams that last a couple of hours. If they think they are getting caught, they can just eat the evidence. She was taking pity on a green professor who didn't understand the fine points of cheating. Well, I tried to do what she said--writing on the candy bar--but I couldn't make it work. Too difficult."
Classroom Memories: "Showing students how breakfast cereal is a source of iron. I fill a beaker with cereal and milk, and then drop a magnet into the cereal. They are astounded when I pull the magnet out and you can see actual particles of iron in there."
Thoughts on Teaching: "I have been too busy at my new job to miss teaching. It is such a challenge to be helping develop a brand new campus of higher education."
Cornelius Rosse, Biological Structure, 1989
Currently: Stepped down as department chair in 1994 to concentrate on education and research. Teaches the first course in the medical and dental curriculum during the first quarter of training. Came to the UW in 1967.
Research Interests: Cell differentiation in the bone marrow and immune system, particularly as it relates to the production of cells that can recognize and eliminate cancer cells.
Most Memorable Students: "I am surprised and delighted to find how many of my students have chosen careers in medicine in areas that I have taught them and they profess to have done so because of my teaching."
Thoughts on Teaching: "I look on teaching as an opportunity to guide the development of new generations of physicians and other health professionals. I believe teachers have to guide and have to want to create an impact. Their role should rise above the communication of information. "
Jan Spyridakis, Technical Communication, 1990
Currently: Teaches four different classes a year, including "Style in Technical Writing." Also serves as the department's graduate adviser. Joined the UW in 1982.
Research Interests: How people comprehend and use information, whether that information is on paper or on screen.
Most Memorable Student: "One student left his native country to attend a `What Color is Your Parachute' conference in Seattle, a conference that is supposed to help one make mid-life decisions. While here at the conference, he basically jumped ship and decided not to return home but to enter our master's program. He did an excellent job."
Thoughts on Teaching: "I find it exciting to be able to bring real world experiences and research to students. You are in the lucky position of enabling students to take in new information, formalize their thoughts, and express these newly learned and formulated thoughts intelligently. What is most rewarding is seeing students' own amazement at what they have learned."
Reinhard Stettler, Forest Resources, 1990:
Currently: Retiring in September after 32 years at the UW, but will continue international projects on poplar research. Taught "Trees in Our Environment;" "Dendrology/Autecology;" Ecosystems 427, a forest genetics course for graduate students; and for 17 years ran the Silviculture Institute.
Research Interests: Conducting molecular genetic research on poplars to develop trees for pulp and energy. Also involved in international projects in Armenia and China.
Classroom Memories: "My summer class has a lot of field trips into the Cascades, where we camp and spend a week. You always discover a student who is a superb guitar player, and evening entertainment is great. One year, we had these very old school buses that kept breaking down. We brought another bus along with us so we could cannibalize parts to keep the other running."
Thoughts on Teaching: "I have always been of the persuasion that teaching and research go hand in hand. Now there is an obsession with teaching, but it can't come at the expense of research. If you are not in a research mode, you may accept too much information and not question it. Also, if you are a researcher, you can approach your course as an experiment. That keeps it exciting."
Philip Trautman, Law, 1987
Currently: Teaches the basic civil procedure course for first-year law students. Also teaches advanced courses on civil procedure and conflict of laws. Joined the UW in 1956.
Research Interest: The right to jury trial in civil cases in the state of Washington.
Classroom Memories: "My very first class, back in 1957, still stands out for me. I can identify the persons in my class, and what they have done since then. I was tense and concerned about my first class, but I have relaxed since."
Thoughts on Teaching: "There is nothing else I would rather do than teach. Research doesn't compare. Teaching is challenging, and I love meeting with young people. Their abilities and insights keep you young. And it is such a high honor to get the respect of your students."
Christopher Viney, Bioengineering, 1992
Currently: Left the UW in February to become a lecturer at the University of Oxford and a tutorial fellow at St. Catherine's College. He joined the UW in 1987 and taught "Materials Processing: Transport," "Polymeric Materials" and "Liquid Crystals."
Research Interest: Biomolecular materials, specifically learning from nature how to synthesize molecules to produce high-tech materials. For example, the complex way in which spiders organize protein molecules into strong, stiff, tough silk fibers.
Most Memorable Student Excuse: "One student drove an articulated tanker truck for a gasoline company, supplying Amtrak locomotives at Seattle's King Street Station. He went to work on a Thursday afternoon, hoping to service the Coast Starlight train from California at about 6 p.m., which should have left him time afterwards to go home and attempt an assignment that was due the next day. Well, the train finally arrived on Friday morning, but the assignment did not."
Thoughts on Teaching: "Students are right to expect leadership and direction by mentors who know the frontier well. The faculty who are most valuable to students are those who do stimulating research and are appointed/retained on the basis of their ability to communicate their knowledge."
Samuel Wineburg, Education, 1991
Currently: Developing the curriculum for the new teacher education program and teaching the methodology sequence. Teaches "Qualitative Methods of Educational Research" and introduction to educational psychology. On the faculty since 1989.
Research Interests: How teachers form a community in large urban high schools, and exploring the nature of historical consciousness in adolescents.
Most Memorable Student: "Krista Goldstein-Cole went on to become teacher of the year in her first year at Central Kitsap High School. I am honored to have had her for a student. And Rob Notebum did courageous things in a classroom that no one else would try. He had 10th graders debating the aspects of the Reformation."
Thoughts on Teaching: "There is more discussion about teaching now but I think it's somewhat ceremonial. There is a culture of privatism among teachers. People don't solicit help or share much of what they do in the classroom. But I am lucky to have two colleagues in Susan Nolan and Pam Grossman, who are open and lend an attentive ear. We talk about teaching all the time. I think you have to do that or else work becomes like assembly-line work."
Bonnie Worthington-Roberts, Public Health, 1986
Currently: On medical leave since February 1995, but hopes to be back this fall. Teaches "Nutrition for Today," a natural sciences distribution class for undergraduates, as well as classes for nursing and graduate students.
Research Interests: Maternal-child nutrition. Has authored five textbooks, the biggest of which is Nutrition in Pregnancy and Lactation, now in its seventh edition.
Most Memorable Student: "A number of my students now direct public health programs for mothers and children. One student heads up nutrition at Purdue University. But I am most proud of turning on undergraduate students to the concept that nutrition makes a difference in your life."
Classroom Memories: "About 10 years ago, there was a student who was doing very poorly, having failed both midterms. She was a large woman, and she came to me and said if she didn't pass the final, her big brother would get me. She got an incomplete, because she didn't take the final. About five years later, she came back and saw me. I was floored. She thanked me for giving her another chance by not failing her. She was doing well and had turned things around."
Thoughts on Teaching: "I love teaching. It is a challenge to take scientific, boring material and translate it into understandable information for a naive audience. Many of my undergraduates are not taking the class because they want to. So I love being creative, using audio-visual materials, and being entertaining."
Stephen Woods, Psychology, 1991
Currently: Serving as half-time associate dean for academic programs and research in the Graduate School. "My teaching load is reduced, and I don't like that. I love to teach." His main classes are "Introduction to Brain and Behavior," "Human Eating and Disorders," "Surgical Techniques" and graduate seminars. On the faculty since 1972.
Research Interests: Recently received a merit award from the National Institutes of Health to fund his research of how information related to fat in the body gets into the brain and how that gets translated into appetite.
Classroom Memories: "I was halfway through a sentence while lecturing to about 500 students, when a student way in the back yelled, `That's it! I've had enough.' He stood up, slowly walked down the aisle toward the podium, tossing pieces of notepaper in the air as he walked down the aisle. When he got to the podium, where I was, he took out his textbook and slammed it down next to me and walked out. The entire room applauded. Then I continued with my lecture."
Thoughts on Teaching: "I see more discussion by the administration but there really hasn't been much in terms of rewarding the efforts of good teachers. I believe that the reward structure is such that people who are excellent teachers will hear it from the students and not the University."
Send a letter to the editor by clicking griffin@u.washington.edu
Return to September 1995 Table of Contents.