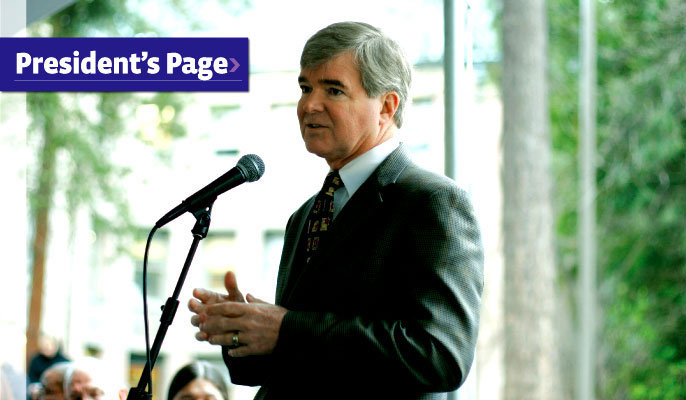 Photo by Anil Kapahi
Transforming Students into Global Citizens
Forecasts of the end of the recession have been anything but conclusive. Every encouraging report seems to be followed by one that is discouraging. In spite of the mixed messages, however, it is perfectly clear that the road to full economic recovery will be both long and bumpy. Many significant challenges remain for our state, our nation and our world as we all try to regain some semblance of financial balance and predictability.
As we go forward in this uncertain climate, it is more important than ever that we stay focused on the things that make a difference over the long term. At the University of Washington, our people have found countless ways to improve our lives, but I can think of none so critical as educating the next generation to become responsible global citizens.
Students don't come to the UW for a collection of credits; they come for the whole educational experience, an experience that looks quite different for each student. For some, the hallmark of their time at the UW may be studying abroad and being introduced to a new culture. For others, it may be learning how to conduct cutting-edge research in the lab of one of our renowned scientists or honing their creative talents in one of our many fine arts programs. And for still others, it may be completing a public service internship or participating in any of the variety of social and recreational programs available to students on our three campuses.
The opportunities for learning and growth at the UW are endless. But no matter which opportunities our students choose to explore, they are assured that they will leave our University with much more than a degree—they will have a life transformed by knowledge and exposure to new ideas. They will be aware of the wider world and their role in it, and they will be prepared to contribute in unique and meaningful ways to their communities, local and global.
Generations of UW students have undergone this transformation, resulting in a remarkable alumni community that has given back to our region and our world in many wonderful and diverse ways, some of which you can read about in these pages. We owe it to future generations of UW students to ensure that they have the same opportunities to discover their passions, to engage important issues and, ultimately, to make a difference.
No matter how the economy is doing, focusing our energies on giving our students the best possible educational experience is always a good investment, one that will power everyone forward through good times and bad. And that is exactly what we are going to do at the UW during this difficult period and beyond.


Mark A. Emmert, '75, President