Towering Figures From A Turbulent Time
Two iconic figures who played key roles during the University of Washington's turbulent 1960s died a month apart this past summer. Jim Owens was a no-nonsense Husky football coach who won three Rose Bowls but was also known for the 1969 suspension of four black players. Samuel E. Kelly, '71, brought a passionate, almost defiant attitude to the fight for diversity when he was named the UW's first vice president of minority affairs in 1970. Both were driven men who left indelible marks on the UW.
Samuel E. Kelly, 1926–2009
His work in diversity put the UW on the map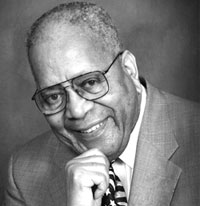 Courtesy of Kelly Family
Higher education lost a friend and champion of diversity with the July 6 death of Samuel E. Kelly, '71, from congestive heart failure at his Redmond home. Kelly, who passed away at 83, was the founder and first vice president of the Office of Minority Affairs (OMA) at the UW.
President Charles Odegaard tapped Kelly to take the post in 1970 after the Black Student Union occupied Odegaard's office and presented a list of demands including greater access to the UW for faculty, staff and students of color.
"Dr. Kelly's vision for how universities should recruit and support students from diverse backgrounds was groundbreaking," says Sheila Edwards Lange, '00, '06, the current vice president for minority affairs and vice provost for diversity. "His initial work on higher education diversity put UW on the map nationally, a position that we continue to hold due to the structures he put in place 40 years ago."
Kelly developed innovative programs to recruit and retain minority and economically disadvantaged students at a time when diversity
programs were not popular.
Today, the Office of Minority Affairs & Diversity continues to offer programs that carry on Kelly's legacy, including: Outreach and Recruitment Program, Educational Opportunity Program Counseling Center, Instructional Center, Ethnic Cultural Center/Theater and Friends of the Educational Opportunity Program. In 2005, an annual lecture series was begun to honor Kelly, showcasing nationally recognized faculty research focusing on diversity and social justice.
In lieu of flowers, the family has requested that contributions be made to the Samuel E. Kelly Endowed Scholarship Fund at the UW. —Julie Garner
Jim Owens, 1927-2009
The Controversial Father of Husky Football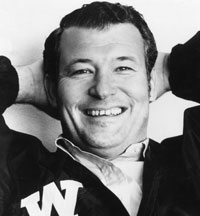 Courty of Owens Family
One of the most iconic figures in Husky football history, Jim Owens, died June 6 at his home in Bigfork, Mont. He was 82.
Just 29 years old when he took over a UW program in 1957 still stinging from scandal and probation, Owens was the fourth Husky football coach in six years. But he spent 18 years at Washington, winning three Rose Bowls in five seasons and putting West Coast football back on the map.
Owens was charismatic and, as one former player told The Seattle Times, "looked more like John Wayne than John Wayne." An All-American receiver at Oklahoma who was mentored by Paul "Bear" Bryant at Texas A&M, Owens was disciplined, detailed and brought a vigorous training and conditioning program to Washington. His players were tough, his teams even tougher.
But his career was not without controversy. As racial tensions and anti-war protests swept the nation in the mid- to late-1960s, Owens suspended four black players late in the 1969 season for a perceived lack of loyalty. Nine other black players boycotted the UW's upcoming game at UCLA, and the Huskies lost 57-14 en route to a 1-9 finish that year. Owens never coached after leaving Washington in 1974, instead finding success as an oil executive.
Owens, known to many as "the father of Husky football," retired as the winningest coach in UW history. In 2003, he was honored with a giant bronze statue of his likeness outside Husky Stadium. Owens, then 76, met with a small group of former players before the game and apologized, according to The Seattle Post-Intelligencer, for what he called "a painful time." —Derek Belt