Honoring Heroes
Eight Alumni to be Recognized at Nov. 11 Medal of Honor Memorial Ceremony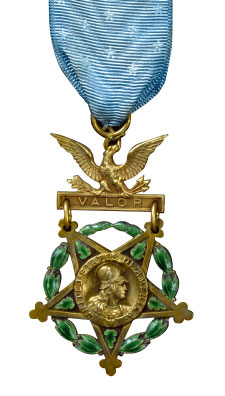 On Veterans Day, Nov. 11, 2009, the University of Washington will dedicate a Medal of Honor memorial, recognizing eight alumni recipients. The Medal of Honor is the nation's highest award for military valor. The UW has the largest number of awardees outside of the service academies.
The memorial is being built in a traffic circle in the center of campus. It's reached from Memorial Way, which begins at the 17th Avenue N.E. entrance to campus and is lined with 58 sycamore trees planted in honor of UW students and faculty who died in World War I. South of the circle is a flagpole bearing the names of UW students, alumni, faculty and staff who gave their lives in World War II.
"This monument honors those who fought not for medals but to save the lives of their comrades. Their courage and selflessness reflects the American spirit," says David J. McIntire Jr., president and chief executive officer of TriWest Healthcare Alliance, a contributor to the memorial.
Heidi Wastweet, a Seattle sculptor, and Mike Magrath, '04, a UW instructor who teaches sculpture and public art, collaborated on the design. They also worked together on the Nobel Prize plaques in Suzzallo Library.
The Medal of Honor memorial will consist of a five-point star anchored by rock sculpture in a center circle. At the north point of the circle is the book stone, a column of serpentine rock common to Washington State which had sat outside the UW art building for many years. The stone will be split open like a book and polished.
"We want to inspire students who walk around and through the memorial," Wastweet said. "We want them to think that if these alumni could do extraordinary feats, then they can, too."
The UW memorial grew out of a student senate motion that set aside the idea of a memorial to UW alumnus Gregory "Pappy" Boyington, '34. He was a Marine fighter pilot who downed 28 enemy planes before the Japanese captured and sent him to a prisoner of war camp. Instead of a memorial to a single individual, the senate favored a memorial that recognizes all eight Medal recipients.
The $152,000 memorial and the dedication ceremony have been paid for with private contributions and a match program with TriWest Healthcare Alliance and the Bruce and Jolene McCaw Family Foundation. For more information, go to http://valor.washington.edu.
| | | | |
| --- | --- | --- | --- |
| Deming Bronson, '16. Honored for heroism in World War I. | Gregory "Pappy" Boyington, '34. World War II ace shot down 28 enemy planes. | Robert Galer, '35. World War II ace recorded 11 kills. | Bruce Crandall. Inspired helicopter landings that saved soldiers in Vietnam. |
| John "Bud" Hawk, '51, '52. Stopped two German offensives in World War II. | William Nakamura. Singlehandedly destroyed enemy machine gun emplacement in World War II. (Killed in action.) | Archie Van Winkle, '61. Led attack against Koreans while seriously wounded. | Robert Leisy, '68. Saved lives with heroic actions in Vietnam. Gave his life for his platoon. |