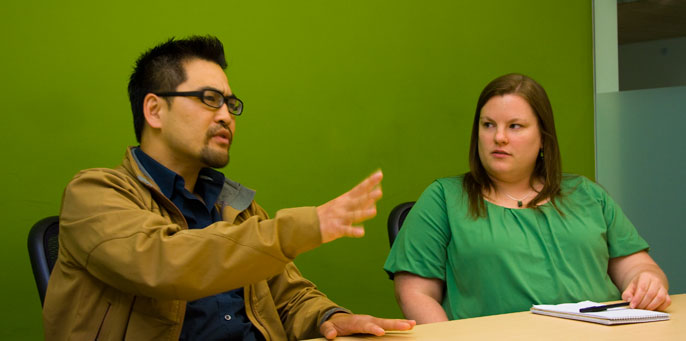 Craig Nakagawa partners with the UW to mentor students and provide insights into his international work with VillageReach. Former research assistant Leah Hasselbeck Barrett now works alongside Nakagawa as a project manager for the organization.
Working Globally, Sharing Locally
Craig Nakawaga, '89, knows the value of collaboration. After spending much of his career in investment banking and technology, he now enjoys the open culture of partnership that permeates the international development field.
With a desire to show students the personal and professional rewards of social entrepreneurship and work that helps improve the quality of life for people around the world, Nakagawa now mentors UW students about this growing field. "I've met and worked with great quality people at the UW," says Nakagawa, a Jackson School of International Studies graduate. "I'm always learning about new ways our organization can tap into the expertise available on campus."
As a cofounder of Seattle-based VillageReach, an organization working to improve the health of people living in poor countries, Nakagawa values the UW as a resource for partnering on research and reaching talented students with internship and learning opportunities. "Our region possesses the perfect concentration of people, ideas and a collective consciousness about how global issues affect all of us."
Jackson School and Evans School graduate Leah Hasselbeck Barrett, '07, remembers hearing Nakagawa speak during her early days in graduate school. "It was incredibly meaningful to see and hear about a fresh new way of working in international development," she said. Inspired by his talk, Barrett accepted a research assistantship with VillageReach that she later leveraged into a full-time position.
Personal and professional benefits aside, Nakagawa sees the bigger picture. "Having these connections to the UW reminds me that that we're all doing something great for a lot of people," he says.
To support programs, students or faculty at the Jackson School, visit jsis.washington.edu