When the UW's Center for Digital Arts and Experimental Media (DXARTS) started four years ago, it set the standard for digital arts education and became the envy of other institutions around the world. By bringing artists, engineers and scholars together in a research-heavy, creative environment, DXARTS blurs the lines that traditionally separate creative arts disciplines from science and engineering. Led by UW Professors Richard Karpen and Shawn Brixey, DXARTS offers both B.F.A. and Ph.D. degrees in digital and experimental arts, with concentrations ranging from digital cinema to computer animation to sonic arts to robotics.
WHAT
An undergraduate and doctoral program for artists conducting advanced exploration and creation of digital arts, including works in music, visual art, film, dance and video. Its Ph.D. program is the first of its kind in the world.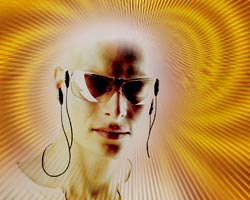 "Altamira"
To understand just how out-there the concept behind Shawn Brixey's "Altamira" is, it helps to first know it was created for an exclusive 2004 exhibition called "Hyper-runt" in Philadelphia. Artists working in science and new technologies were given full rein to create and exhibit their cast-off projects, those far-reaching artworks nobody wanted (read: understands) and that are therefore unable to find a home in traditional museums and gallleries. "Altamira," a neuro-prosthetic, uses radio waves recorded from pulsars (collapsed stars) in outer space to create a code that stimulates viewers' retinas. That stimulation, in turn, triggers phosphenes (those patterns of colored light we see when we squeeze our eyes shut), which create a "cosmologically scaled experimental work of art in the 'mind's eye.'" (Imaginge, perhaps, seeing dazzling constellation patterns in your mind.) As yet unrealized, "Altamira" cannot currently be viewed by the public pending a safety review by the FDA.
WHO
DXARTS is the brainchild of computer-music composer and musician Richard Karpen, who is the center's director, and experimental-media artist Shawn Brixey, who is the associate director.
WHEN
Founded in 2001, DXARTS was a longtime pet project of Karpen. Its seed money came from a special University initiatives fund, but the $1.4 million center also depends on public and private grants.
WHERE
Located on the first two floors of a remodeled Raitt Hall, the oldest building on the Quad, DXARTS is the newest department within the College of Arts and Sciences. In the past, students dined in the Commons in Raitt Hall's basement—now young students feast on revolutionary art forms in the same space.
HOW IT WORKS
The program covers a wide range of computer-based arts practice, theory and research across multiple disciplines. Artists working in all genres learn various forms of science, mathematics and humanities. Students also apprentice under scholars in their fields.
WHY
New technology has always had an impact on the arts, whether it is the advent of the photograph, recorded music or oil-based paint in tubes. "I am committed to the exploration and development of new and experimental art forms," says Brixey. "What we're about," adds Karpen, "is a synergy between artists and technologists working together to invent new ways to experiencing ourselves in the universe."
Go To: Page 1 | Page 2 | Page 3