Briefings
Huskies Face Great Expectations Despite Coaching Change
Winning the Pac-10 title and earning the right to play in the Rose Bowl usually takes the leadership of a senior quarterback — just ask nine of the past 11 conference champions. And in Cody Pickett, the Washington Huskies not only have a senior quarterback at the helm, but one of the best in the country and a legitimate Heisman Trophy candidate.
Last season, Pickett (4,458 yards, 28 TDs) set a single-season Pac-10 passing record after becoming the first quarterback in conference history to eclipse the 4,000-yard mark. His record-setting season wouldn't have been possible without a talented receiving corps that returns juniors Reggie Williams (a first-team All-American who caught 94 passes for 1,454 yards as a sophomore) and Charles Frederick (45 receptions, 651 yards).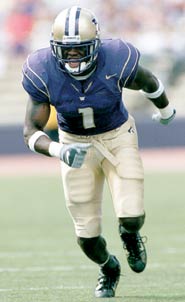 ---

Junior wide receiver Reggie Wiliams. Photo courtesy Husky Media Relations.

---
That is why major sports rankings such as ESPN/USA Today Coaches' Poll have named the Huskies to finish near the top of the Pac-10, despite the recent coaching turnover (see "Bouncing Back").
Washington's running game averaged an all-time low 74.5 yards per game last year — a huge reason the Huskies finished with a 7-6 record. How much success running backs Rich Alexis, Chris Singleton, Kenny James and Shelton Sampson will enjoy relies heavily on an offensive line that returns four starters — Khalif Barnes, Todd Bachert, Nick Newton and Dan Dicks.
Defense will once again be a question mark for the Huskies. However, a late-season sweep of the so-called Northwest championship last year is proof Washington has the makings of a solid defense.
Terry Johnson, Jerome Stevens and Manase Hopoi all return to a defensive line that helped Washington rank 11th nationally against the run last year, allowing just 97.7 yards per game. Roc Alexander and Jimmy Newell return after missing parts of last season with injuries and will team up with Derrick Johnson and Evan Benjamin in the secondary.
The Pac-10 will likely be among the most competitive conferences in the country this season. USC is the front-runner in the polls, but it may be the leadership and poise of Pickett that will determine who gets to play in Pasadena on New Year's Day.
If the Huskies go to a major bowl game, the UW Alumni Association will host a Washington Warm Up prior to the game at a site near the stadium. An alumni event held the night before the game is also possible. See the UWAA's football info section for the season schedule and the latest information on Husky bowl game plans.