Briefings
State Funding Falls Short; UW Raises Tuition, Cuts Budget
The University of Washington is facing a "significant budget deficit" of $25 million, says its chief budget officer, despite raising tuition to its maximum level for undergraduates.
To cover the funding gap, the UW must impose a 2 percent budget cut on all units and is contemplating an energy surcharge for students. "The UW will also have to draw at least $9 million from its reserves," warns Harlan Patterson, '81, the UW vice provost for planning and budgeting.
Because of uncertainty in state funding, the Board of Regents took the unprecedented step of passing only a one-year budget on July 20. These financial problems come out of a weak higher education budget, passed by the Washington State Legislature June 22.

On paper the state funded portion of the UW's total operating budget rose by 7.5 percent to $716 million for 2001-03. (The UW originally asked for $772.4 million.) But lawmakers scrimped on many UW needs, including faculty pay raises, and the UW was forced to raise student tuition and cut budgets to make up the difference.
"I'd call it a C-plus budget," says UW Government Relations Director Dick Thompson, '68. The House was divided 49-49 between Republicans and Democrats and it took two special sessions to get a state operating budget passed. "It was the most frustrating experience I've had in Olympia," says Thompson.
UW initiatives—more access and innovation for students, increased competitiveness against peer institutions and investment in the new economy—were lost in the legislative scramble to balance the budget, Thompson explains. For example, the UW asked for 700 new enrollments for its three campuses over the next two years, but it got only 359 slots, plus 99 new students for a UW Tacoma technical institute that starts in 2002.
While lawmakers voted for a 3.7 percent pay increase for faculty and professional staff, the Legislature did not fully fund the increase over the entire salary base. The amount would cover only a 2.5 percent increase for all faculty and professional staff salaries, Thompson says. Legislators implied that if it wanted more, the UW would have to raise the rest from tuition.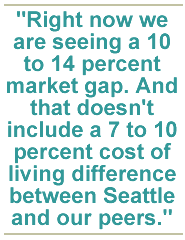 On July 5 the UW Board of Regents authorized a 6.7 percent increase in resident undergraduate tuition, as well as increases in graduate and professional school tuition (see chart below). Resident undergraduate tuition rose from $3,368 to $3,593. Anticipating the increase, the state appropriated financial aid to cover the extra costs.
The tuition revenue will help fund a 4 percent, merit-based salary increase for faculty, professional staff, TAs and librarians retroactive to July 1. Classified staff receive a 3.7 percent, across-the-board pay hike.
The 4 percent increase may keep up with the pace of inflation but does nothing to close the faculty pay gap with peer institutions, says Patterson. "Right now we are seeing a 10 to 14 percent market gap," he told the regents. "And that doesn't include a 7 to 10 percent cost of living difference between Seattle and our peers."
Patterson also told the board that the Legislature failed to set aside any funds for recruiting and retaining top faculty, even though it appropriated $4.6 million for the same purpose in its last state budget. Instead, the UW will create a one-year, $1.8 million recruitment reserve from tuition funds.
Looking over the implications of the state budget, Thompson says lawmakers were eager to fund new enrollments but did not cover inflation costs for existing operations. In fact, they mandated a 2 percent cut in the UW's non-instructional state budget—which amounts to $7.5 million.
Even worse, lawmakers did not cover the astronomical increase in energy costs at the UW, estimated at $24 million for the biennium. Research grants, dorm rates, patients fees and other non-instructional revenue must rise to cover their units' share of energy costs, but that still leaves a $7 million annual deficit for instructional units.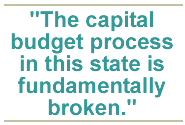 As Columns went to press in mid-August, the Board of Regents was considering a $5- per-credit, temporary energy surcharge to cover spiraling energy costs. Patterson says the UW has saved about 20 percent in energy costs since 1994, so the impact could have been much worse. Surcharges will drop if the cost of energy returns to previous levels and the surcharge would cover the 2001-02 academic year only. Students, including ASUW President Danica You, have gone on record opposing the surcharge.
Because of the budget squeeze, UW officials are considering other sources of revenue for the future, including a library fee added to tuition and higher overhead charges for self-sustaining units. Some professional master's degree programs might see higher tuition and some academic units could face restructuring.
The UW took the unprecedented step of writing a one-year budget instead of its usual two-year plan. The UW will have to use about $9.4 million from its reserves to balance the budget, warns Provost Lee Huntsman. Fortunately, existing revenue streams will grow in the following year to put the budget back in balance, he adds.
For construction and maintenance, the UW's capital budget was an extreme disappointment, the provost says. "The capital budget process in this state is fundamentally broken," he told the regents. In the budget, only $16.7 million in state funds is dedicated to Seattle campus projects. For Seattle, most capital projects are funded by local revenue, such as Metropolitan Tract income, student building fees, timber sales and research overhead charges.
The Seattle campus got some state funds to add to previous appropriations and private gifts for an addition to the Computer Science/Electrical Engineering Building and about $7 million for minor repairs and deferred renewal to existing structures. Tacoma received about $41 million for a new construction phase on its downtown campus and Bothell received $2.5 million to plan for a freeway off-ramp to its campus.
UW officials were particularly frustrated by a lack of funds to repair and maintain the UW's facilities—a 10-year, $1 billion project—as well as no start-up money for a new biosciences building on the Seattle campus.
UW Tuition Rates*
Undergraduate
2000-01
2001-02
Resident
$3,368
$3,593
Non-Resident
$12,060
$12,868
Graduate
Resident
$5,352
$5,539
Non-Resident
$13,890
$14,376
M.B.A.
Resident
$5,466
$6,285
Non-Resident
$14,186
$15,604
Law
Resident
$5,823
$6,521
Non-Resident
$14,933
$16,724
*Does not include student fees and energy surcharge.