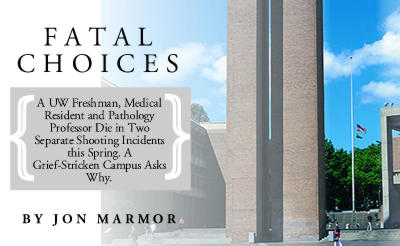 ---

Above, flags fly at halfmast in "Red Square" as the campus mourns Pathology Professor Rodger C. Haggitt, who died June 28 in his office when a distraught medical resident shot him and then committed suicide. Photo by Mary Levin.

---
During the lazy, warm summer days of early July, a sobering sight could be seen at the University of Washington: flags flying at half-staff.
It was a gesture of mourning and shock at a tragedy that rocked the campus a week earlier. On Wednesday, June 28, Jian Chen, a second-year pathology resident, distraught at being terminated, walked into the private UW Medical Center office of his mentor, Pathology Professor Rodger Haggitt. Chen locked the door behind him. A discussion turned into yelling and shouting. Then, five shots rang out. Chen had fatally shot Haggitt, a world-renowned gastrointestinal pathologist, four times. Then he turned the gun on himself.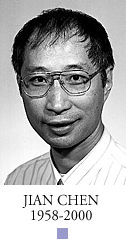 ---

Jian Chen, a native of Shanghai, studied in China, New York, Iowa, Texas and Mississippi before coming to Seattle. His medical residency at the UW was plagued by struggles with English and work that did not meet expectations.

---
Trying to come to grips with this tragedy was difficult enough. But it was not the only killing to hit the campus community this year. Exactly two months earlier, James Hunter Sanderson, a happy-go-lucky freshman from Bellingham, was shot and killed just before midnight after he walked across the hood of a pizza delivery driver's car in the University District.
Friends say the 19-year-old Sanderson was under the influence of LSD (toxicology reports have not come back yet), which could explain his behavior that night. Sanderson was yelling and hugging strangers on the street as he walked along the Ave. But witnesses' accounts vary when they describe the shooting. Some told police Sanderson opened the car door and tried to grab the driver, who defended himself by shooting Sanderson in the neck. Others say Sanderson got off the car hood and was walking away when the driver yelled at him, causing Sanderson to turn. The driver then pulled out a handgun and shot him. (The 22-year-old driver, who had been robbed before, had a concealed weapons permit.) As Columns went to press, the King County Prosecutor's Office had not yet decided whether to charge the driver, whose identity is protected unless he is charged with a crime.
While unrelated, the two fatal incidents left many in the campus community wondering: was this the start of a trend? Have the University of Washington and the University District become dangerous places? Or were these incidents just awful aberrations?
"It was a fluke, just happenstance," says Joe Weis, a UW sociology professor who is an expert on crime and teaches a class on murder. "There is no connection at all. There's nothing you can read into these beyond the incidents themselves."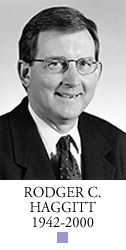 ---

Despite his reputation as a world-class scientist and teacher, Pathology Professor Rodger Haggitt was described as "a fairly humble guy." He grew up in Tennessee and liked to tell funny Southern anecdotes.

---
What makes these two tragedies stand out is how rare they are, and that they both occurred so close to each other in time and distance. In all of 1999, there were just two murders in the Seattle Police Department's North Precinct,—all of Seattle north of the Ship Canal, including the University District. The killing of faculty is even more rare. It was the first time a UW faculty member had been killed on campus and the only time a shooting had ever occurred at the UW Medical Center.
"It is highly unusual to have a shooting at a hospital, especially here," adds Weis, whose daughter works in the medical center. "At a university, we're supposed to be more civilized. You will always find crime rates much higher in a downtown or other urban areas than in a university."
The last known incident of a faculty member being killed on a U.S. college campus occurred in 1996, when a graduate engineering student at San Diego State University, agitated because his master's thesis was failing, shot and killed three faculty members during a routine meeting to defend his work.
"The UW campus is actually a quite safe place," notes Vicky Peltzer, the chief of the UW Police Department. While the campus does have crime problems, most center around property crimes such as theft and car prowling. The last murder on campus occurred in 1990, when Azizolla Mazooni of Iran, was convicted of shooting his 18-year-old girlfriend, Marjan Mohseninia, and a male friend of hers, Ebrahim Sharif-Kashani, in front of Denny Hall. He told police he shot her in a jealous rage after tracking her down with the help of a private detective.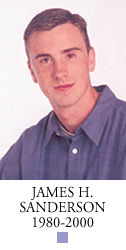 ---

An energetic, outgoing freshman, James Sanderson was one of the most popular residents in Lander Hall. A native of Bellingham, he counseled sixth graders when he was in high school and was part of a Christian youth group.

---
"The biggest element to crime on campus comes from outsiders," Peltzer says. "It's like any university when it is in a big urban center. Transients, runaway children and other people with no funding source or place to live usually cause the problems. It's highly unusual for this type of incident to happen here."
A recent survey by the Chronicle of Higher Education showed disturbing increases in the number of alcohol and drug arrests and in violent crimes at the nation's colleges, but the UW's statistics placed it in the middle of the pack compared to its academic brethren. For example, in 1998, the UW (enrollment 35,367) reported 221 liquor law violations, 72 drug violations and six weapons arrests. Washington State University, with a much smaller enrollment (20,243) reported 355 liquor law violations and 88 drug offenses, the survey shows. Other major urban schools with similar enrollments reported much higher numbers than the UW. The University of Wisconsin (792 alcohol arrests), Cal-Berkeley (280 drug offenses) and Michigan State University (49 weapons arrests) all reported much higher numbers than the UW.
As for workplace violence, it is incredibly rare on college campuses, but academic medical centers (the UW has two, UW Medical Center and Harborview) could be seen at risk. The Washington Department of Labor and Industries conducted a 1999 survey and found that health care employees face the highest rate of workplace violence in the state of Washington. Weis explains that this is significant because most episodes of violence in the workplace are not really related to work. "It is usually someone with a personal problem, taking it to work," he says. "An estranged spouse comes looking for his partner where she works. It isn't often that the violence is related to the workplace."
Go To: Page 1 | Page 2 | Page 3