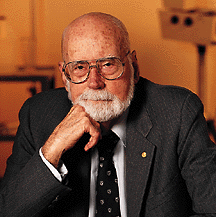 E. Donnall Thomas
E. Donnall Thomas never expected to win the Nobel Prize for physiology or medicine. The prize usually goes to scientists doing basic research with test tubes, not doctors doing hands-on clinical research with patients.
As a member of the Fred Hutchinson Cancer Research Center and a professor of medicine at the UW, he pioneered bone marrow transplantation. In 1956 he was the first to show that marrow could be safely infused into a human patient. Later he was the first to treat acute leukemia patients with marrow transplantation.
When the phone rang at 2 a.m. in October 1990, he thought "a fellow at the `Hutch' was playing a practical joke on me."
Eventually, though, the reporter from New York convinced Thomas that he'd won the prize and got him to answer a slew of questions about bone marrow transplantation.
"When he hung up, I really lit into him," says Dottie Thomas, his wife and lab technician "since the beginning of time" (her words). "I said, `What are you doing, giving an interview at 2 a.m.?' "
He replied: "Well, this reporter said I won the Nobel Prize."
Dottie Thomas was so tired, she said, "That's nice," and pulled the covers up over her head to try to go back to sleep.
A second later, she sat up and shouted, "What?"
Then the phone started ringing off the hook. NBC News called from New York, arranging a live interview with both Thomas and his co-winner, organ transplant surgeon Joseph E. Murray of Harvard Medical School. "But because the phone kept ringing, we couldn't call them back for the conference call," says Thomas, in a Texas drawl laced with dry humor.
Eventually, lights flashing, sirens blaring, the Bellevue police showed up at the door, saying NBC News had called them from New York to find out why Thomas hadn't called back. Eventually he was connected to New York and made the interview.
For the trip to Stockholm, the Thomases invited not only their three children but also several colleagues from the "Hutch" and their spouses. "It was a lovely time," says Thomas. He gave his prize money to the Fred Hutchinson Cancer Research Center, refusing to earmark it for any particular use.
At the center Thomas has stepped down from his administrative duties. But he still does research and consulting, and serves as a mentor. He chooses to speak in his field, at conferences on hematology and oncology, rather than giving more general commencement-style addresses.
Along with "nice letters from former patients and colleagues," Thomas says, the prize announcement also spurred "odd letters, including appeals for money" and come-ons from car salesmen and real estate agents.
Strangers weren't shy about sharing their notions about what's suitable for Nobel laureates. Once reporter sniffed at Dottie Thomas' 13-year-old, red Datsun pickup truck and said, "I hope you'll get a better car now."
In another post-Nobel scene worthy of the Theater of the Absurd, a reporter at a press conference asked Thomas, "When will you be able to do a brain transplant?"--as if his work had logically been moving in that direction all along.
" `Tell her she needs one,' Dottie whispered in my ear," recalls Thomas. "But I answered it straight, and just said bone marrow had nothing to do with the brain."
George Hitchings, 1988 Prize in Medicine
Hans Dehmelt, 1989 Prize in Physics
Edwin Krebs, 1992 Prize in Medicine
Edmond Fischer, 1992 Prize in Medicine
Martin Rodbell, 1994 Prize in Medicine
Return to the Beginning of "After the Prize"
Send a letter to the editor at columns@u.washington.edu.