Leslianne Shedd, who fulfilled a lifelong ambition to work in foreign service by joining the U.S. State Department right after graduating from the Jackson School of International Studies, died Nov. 24, 1996, in the crash of a hijacked Ethiopian Airlines jet, which fell into the Indian Ocean off the Comoros Islands.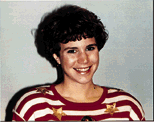 Shedd, 28, was working for the State Department's foreign service corps at the U.S. Embassy at Addis Ababa, Ethiopia, at the time of her death. She was among 123 people who died in the crash, which occurred when the drunken hijackers flew the plane until it ran out of fuel. The plane crashed in the small island chain between Madagascar and east Africa.
Shedd was a commercial officer, charged with helping U.S. companies do business in the region. She was traveling to Nairobi, Kenya, to meet friends for Thanksgiving when the hijacking occurred.
"From the time she was a teen-ager, she had hoped and looked forward to a career in foreign service," said Frank Mendizabal, a spokesman at the Weyerhauser Co., where Shedd's father is vice president of the real estate division.
Shedd was born in Binghamton, N.Y., and moved to Washington with her family when she was 2. She graduated from Puyallup High School in 1986 in the top 3 percent of her class and was active in the school's American Field Service program for students interested in working with students from foreign countries.
"She was outgoing and vivacious," said Dale Mitchell, her high school principal.
After graduating from the UW in 1990, Shedd spent two years in Washington, D.C., before being transferred overseas. Her first assignment was in Abidjan, the capital of Ivory Coast, in west Africa, where she spent two years. She later volunteered for the position in Addis Ababa and spent 16 months there before her death.
In her honor, her parents, Robert and Ruth, are establishing a memorial scholarship fund for students at the Jackson School in her name.
"I personally think it is one of the most appropriate ways to honor an individual person, especially a student: to help other students," says Jere Bacharach, the Jackson School director. "I'm sorry that we must honor such a young person. It's very generous of the Shedds to think this way about future students."
Memorials can be made to the University of Washington Foundation in care of Tracey Hinkle, Box 353765, Seattle, WA 98195-3765.--Jon Marmor
Send a letter to the editor at columns@u.washington.edu.