Extras
HOWIE ODELL, 1910-2000
Howie Odell, who coached the Husky football program from 1948-1952, died Oct. 30 of natural causes in a Portland, Ore., nursing home. He was 90.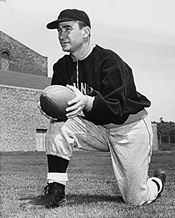 ---

Howie Odell in 1959. File photo.

---
Odell, an Iowa farm boy, compiled a 23-25-2 record at Washington. His best season was in 1950, when he guided the Huskies to an 8-2 record and a second-place finish in the Pacific Coast Conference. During his tenure, he coached two of Washington's greatest players in running back Hugh McElhenny and quarterback Don Heinrich. Heinrich was the nation's leading passer in 1950, while McElhenny set a then school record by scoring 125 points in 1951.
A 1934 graduate of the University of Pittsburgh, Odell spent two seasons with the Panthers as an assistant coach before coaching at Harvard, Penn and Wisconsin. His first head coaching job was at Yale, where he guided the school to a 35-15-2 record from 1942-1947. In 1945, he led Yale to its 500th victory.
After getting out of coaching, Odell opened a used car lot. In 1957, he was elected to the King County Commission and served until 1962. He then retired and moved to Southern California. He spent his post-football years teaching ballroom dancing, working on hydroplanes and playing golf, among other things.
Odell is survived by his wife, Margaret; children Gary Odell, Gayle Leach, Wes Odell, Heather Odell and Jim Rose, as well as four grandchildren. —Jon Marmor