June 1998 Columns
Latest update: August 31, 1998.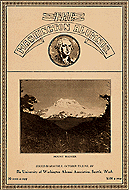 Columns Turns 90--A Celebration: Homecomings, hazings, happenings, hearings--even Hemingway-- we've seen it all in the pages of this magazine. Here is a retrospective of the history of the UW--and of the United States-- seen through the pages of this alumni magazine. All decades from 1908 to 1998 are now on line, and this Web version has twice the information of the version printed in Columns.


The World of 2088: Looking Ahead, UW Experts Envision Internet Implants, a Colony on Mars, Obsolete Books and the End of the United States.


Coming Off the Bench: Minorities and Women Are Often Left Out of the Science Talent Pool, Says the UW's Alumna of the Year. It's Time for a Different Game Plan. Now on-line


The Best of 1998: From a Professor of "Dead" Languages to One Who Explains Computer Languages, the UW Is Honoring the Best Teachers, Staff Members and Volunteers of the Year. Now on-line
News & Departments
9,000 to Graduate Using Husky Stadium for First Time in UW History
Helicopter CEO's Gifts Aids Scholarship Funds
President McCormick on "The Power of the Question"
Letters to the Editor on the March 1998 Columns: Undergrads and Research, Husky Surcharge Protest, The 1948 Witch Hunt at UW
---
Alumni News
Under construction.