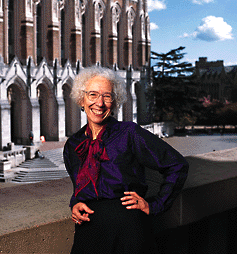 It's been nearly 25 years since Ann Streissguth evaluated eight children born to alcoholic mothers. She'd been asked to see the group by her colleagues in the Department of Pediatrics, David Smith and Kenneth Jones.

"I still remember being just absolutely stunned by the damage these kids showed. I'd been evaluating kids for years--kids who had been born into poverty, kids with physical disabilities, normal kids--but this kind of damage was more organic.

"I went back and said: `Do you really think this damage is from alcohol? Surely there must be something in the literature.' And then I conducted a painstaking literature search, in the days before computers were used, and came up with nothing."

In 1973, pediatricians Jones, Smith and Christy Ulleland, along with Streissguth, published the first widely circulated paper identifying fetal alcohol syndrome and linking it to alcohol abuse by women during pregnancy.

Ever since, Streissguth has been working on the problem: conducting research, trying to find effective means of prevention, and campaigning for better understanding and services for people affected by the condition.

This year, her work will be honored with the 1997 UW Outstanding Public Service Award.

Although she is internationally known for her research on fetal alcohol syndrome and fetal alcohol effects (less well-defined results of prenatal alcohol exposure), Streissguth is being honored primarily for her dedication to public service and her compassionate work with families and individuals.

Her colleagues in the Fetal Drug and Alcohol Unit, part of the Department of Psychiatry and Behavioral Sciences, estimate that she contributes more than 1,000 hours every year in uncompensated public service activities. She is director of the unit and professor of psychiatry and behavioral sciences.

"She has become friend and mentor to many patients and parents who suffer with the daily practical problems associated with fetal alcohol syndrome. ... She makes herself generously available to them when they need her help. She consults with their health care providers, teachers, case managers, attorneys and parents. She advocates tirelessly for the myriad services they require without compensation," her colleagues wrote in their nomination letter.

Streissguth returns the compliment. "This whole group should be getting this award," she says. "We have a passionate, dedicated team here. We are particularly grateful to Sterling Clarren, a colleague in pediatrics, for his continuing efforts to make diagnostic evaluations available locally through our clinic."

After years of work on prevention and public policies supporting prevention, she has turned her attention to the long-term development of affected children as they moved into young adulthood.

In a four-year study completed last year, researchers found that only seven of the 90 subjects lived independently and had steady employment. Half or more of the study subjects had trouble with school (suspended, expelled or dropped out); trouble with the law; confinement in jail or treatment facilities; or inappropriate sexual behavior.

Streissguth noted that in the year before she saw the first group of alcohol-damaged children nearly a quarter-century ago, she had been thinking that she wanted to find a way to make her work as a clinical psychologist more socially relevant. As it happened, what she found was a problem that still engages not only her professional efforts, but much of her personal energy.--Claire Dietz, Health Sciences News and Community Relations

National Organization on Fetal Alcohol Syndrome
Return to "Best of 1997" Title Page

Send a letter to the editor at columns@u.washington.edu.