GREGORY A. FALLS, 1922-1997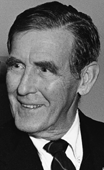 Gregory A. Falls, a former chair of the UW School of Drama who is credited with creating Seattle's vibrant theater scene, died April 3, 1997. He was 75 when he died unexpectedly of pneumonia.
More than any other individual, Falls was "most responsible for the theater boom in this town," says Arne Zaslove, artistic director of the Bathhouse Theatre at Green Lake. "He was the impressario of bringing it all together."
Falls founded one of Seattle's mainstays, A Contemporary Theatre, more than three decades ago. He was ACT's artistic director for 23 years until his retirement in 1987 due to early indications of Alzheimer's disease.
Falls, who founded theaters wherever he went--he started Ohio's Mad Anthony Players and ran the University of Vermont's drama program and Champlain Shakespeare Festival before coming to Seattle in 1961--decided to create ACT in 1965 because he saw that the two-year-old Seattle Repertory Theater as mostly committed to classics. He wanted ACT to produce plays that then were revitalizing the American theater.
And he didn't stop there. He was instrumental in helping other theaters get their start, includng the Empty Space and Intiman.
"He was a gentle gentleman, a gifted theater man and a theater teacher," says Peter Donnelly, president of the Corporate Council of the Arts.
A native of Russellville, Ark., Falls was always interested in theater. He was active in high school plays, and his mother was known to complain about him loaning out their furniture for theater productions.
A Fulbright scholar, Falls came to Seattle in 1961 to head up the UW School of Drama. He founded the highly acclaimed Professional Actor Training Program and the school's doctoral program. In addition, he actively engaged as a playwright and play director in the UW comprehensive child drama/theater program.
Under his leadership, the UW drama school became one of the best in the nation. Among the students to come through the Professional Actor Training Program are Patrick Duffy, '71; Jean Smart, '74; Pamela Reed, '75; Kyle MacLachlan, '82; and Richard Karn, '79.
Falls left the UW in 1971 to devote more time to ACT, though he stayed on as a part-time faculty member until 1976. He earned a long list of awards for his work in the theater. A former president of the National Theater Conference and Washington Association of Theater Artists, Falls was inducted into the prestigious College of Fellows of the American Theatre in 1994. He is survived by his wife, two sons and two daughters.--Jon Marmor
Send a letter to the editor at columns@u.washington.edu.