In the years after Rodbell's breakthrough, he continued to work on the nature of G protein action in cells and membranes. In the early 1980s he was offered a position at Tufts University in Boston and almost took it. "My colleagues at NIH kept telling me, `We need you.' There was a job opening as scientific director at the National Institute of Environmental Health Sciences in North Carolina. There was a cabal. `Just go down there,' they told me. So I did."

He took the job at the Chapel Hill, N.C. research center. Rodbell's mission was to strengthen the basic research side of the institute, known then for its work in toxicology. "I worked very hard at it and recruited many fine people," he says.

The institute's basic research activity is now highly respected. "People are impressed with how much good basic research is going on here," says James Putney, chief of the institute's cellular and molecular pharmocology lab, "and that's due mainly to Marty's service as scientific director."

But NIH was suffering from budget cuts and Rodbell's area was not immune. In frustration, he resigned as scientific director and went back to his lab. In June 1994, he retired from the institute and was named scientist emeritus, a rare distinction in the world of NIH. "I was very happy about that," he says. "I still have a budget and a lab and we go on in our research."

Retirement was hardly the end of the road, however. Only four months later came the call from Sweden, and his life has been in turmoil ever since. "The day of the award was just bedlam," he recalls. "I was amazed that I got through it."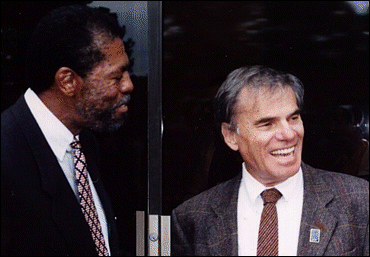 ---
Martin Rodbell (right) is congratulated on the day of the Nobel announcement by Kenneth Olden, director of the National Institute for Environmental Health Sciences in North Carolina. Image courtesy NIEHS.
---
It hasn't stopped. This month he flies to Seattle to become the UW Alumnus Summa Laude Dignatus and two days later, he must be in Geneva, Switzerland, to receive an honorary degree from the University of Geneva.

Despite all the accolades, Rodbell retains the same likable personality he had as a grocery delivery boy. "There is not a whit of snobbishness in him. That's just the way he is," says Putney.

The Nobel prize winner has taken the occasion to preach an important sermon--the value of basic scientific research. "Knowledge is the greatest gift to humanity," he says. "The role of science in human society is knowing. It is the culmination of human development and evolution. We should take pride in that."

He decries the tendency to look at practical outcomes and the bottom line. "Knowledge is eternal. It reminds people of who they are and what they can accomplish," he says.

Rodbell's own life is a reminder of what we all can accomplish. As he explained so clearly in his Nobel address, "My career and my experiences with people and events have been seamless in that I cannot separate one from another. Without doubt, the thread of one's life should be within the matrix of the total human experience." *

Science Brief:
Turning It On: How G Proteins Communicate in the Cell

Return to Rodbell Opening Page

Send a letter to the editor at columns@u.washington.edu.

.