Robert and Virginia Bolcom weren't sure what to do with their son William. Here he was, 4 years old, not yet old enough for kindergarten, yet he played the piano like a maestro. And he composed, too-a Mozart in the making.
Young William grew up in a cocoon of music. His grandfather was a flamboyant Seattle lumber baron who thought nothing of smoking 20 cigars and downing two quarts of Scotch a day. He built an entire wing on his mansion overlooking Golden Gardens Park to accommodate famous musicians (such as renowned pianist Ignace Paderewski) who visited Seattle to play with the symphony.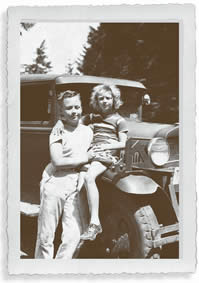 ---

William Bolcom with his younger sister Robin, July 1950. Photo courtesy John Pollock.

---
Bolcom's mother, an elementary school teacher, played classical music records to him when he was still in utero. His father, an industrial light bulb salesman, grew up rubbing elbows with music's elite who dropped by his home all the time. Although no one in the Bolcom household was an accomplished musician (his mom did play a mean "I Love You Truly" on the piano, however), William Bolcom grew up with music in his veins and talent many compared to the masters.
But what do you do with a prodigy? The Bolcoms didn't know, so they telephoned the University of Washington School of Music, looking for some advice. (Enroll him for private piano lessons at the UW when he turns 11, they were told.)
Bolcom's parents were sure about one thing, however. They paid no attention to those who told them their kid could be a star if only they'd push him out on stage. "I am so thankful my parents put their foot down," Bolcom says today. "Most child prodigies never really survive after that. They are all miserable because they have been exploited."
Growing up in Western Washington, Bolcom faced enough challenges as it was. His dad, who was being groomed to take over the Bolcom Canal Lumber Co., just wasn't suited for the grind. He ran a saw mill in Snoqualmie before it went bust, and had to move the family up and down the Puget Sound area looking for work. Living in rough-and-tumble timber towns like Snoqualmie and Everett wasn't the best environment for a clumsy boy who preferred to spend his time playing music instead of sports. "People called me a sissy," Bolcom recalls. "But I learned how to stay out of fights. I was glad when I was old enough for college and I didn't have to put up with that any more."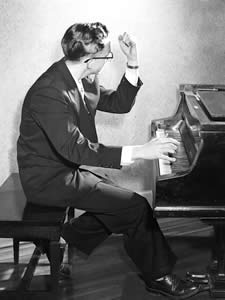 ---

Bolcom puts his heart into his work in this photo from 1955, when he was a UW student. Photo courtesy John Pollock.

---
When Bolcom was 11, he started a routine that would last him for the next seven years. He'd board a Greyhound bus in Everett (where his family lived then) and ride to the UW by himself, where he would take private piano lessons with the late John Verrall, a longtime UW music professor. He did that until he turned 18, when he enrolled as a full-time student at the UW and earned his bachelor's degree in music in 1958-in just three years.
By then, everyone recognized the genius that resided in the affable youngster. After graduating from the UW, Bolcom studied with the legendary Darius Milhaud in California and Paris. Earning a master's degree from Mills College and a doctor of music degree from Stanford, he honed his rare ability to compose everything from opera to American Ragtime-and do it better than anyone.
Over the past four decades, he has forged a distinguished international career with a musical voice that expresses a broad array of forms and a remarkable melding of traditional classical compositional styles with more populist idioms in American music, from ragtime to cabaret to Rodgers and Hart. His remarkable eclecticism has earned him world renown.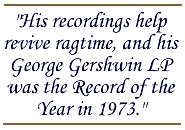 His works are performed throughout the world by world-class orchestras, opera houses, chamber musicians and soloists. Bolcom himself has recorded more than 40 albums as a piano soloist, accompanist and chamber music performer. His recordings helped revive ragtime, and his George Gershwin LP was the Record of the Year in 1973. He won the Pulitzer Prize in music in 1988 for his "Twelve New Etudes for Piano" and his compositions have been recorded by many illustrious artists and first-rate orchestras. Today, he is considered one of America's greatest living composer.
For his stunning career, the University of Washington and the UW Alumni Association have bestowed upon Bolcom their highest honor: the 2003 Alumnus Summa Laude Dignatus Award. He joins a distinguished list of alumni who have been honored as the alumnus of the year. Started in 1938, the award is the most prestigious honor the UW bestows upon its graduates.
Go To: Page 1 | Page 2 | Page 3