When Donald Baker was 13 years old, he wanted to build a railroad on his family's nine-acre property in Rochester, Wash., to carry the trees he helped his father cut down.
Every weekend during his childhood, Baker's father, a civil engineer, gave Don and his siblings heavy-duty projects, like helping log trees from their land. The Baker kids also helped landscape their yard, lay the foundation for their home, build their own toys, milk their own cows, raise their own meat, grow their own vegetables, even winch out tree stumps.
"And we did everything by hand," Baker recalls of his years growing up in the 1940s in the tiny southwestern Washington town. "I thought having a railroad would be a good solution."
If anyone knows a thing or two about finding solutions, it's Baker. At the age of 22, shortly before he graduated with a degree in electrical engineering from the University of Washington, he took a part-time job in the UW's bioengineering research lab. His task: employing engineering methods to assess the cardiovascular workings of animals.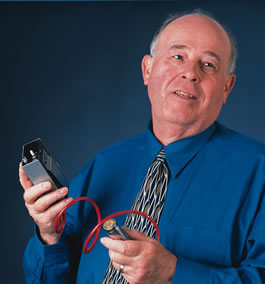 ---

Don Baker, '60, shows off the ultrasound prototype he developed in the UW bioengineering lab in the early 1960s. The unit was the first in a series of bioengineering achievements that revolutionized medical ultrasound. Photo by Kathy Sauber.
---
Baker, who as a kid wanted to be an architect before falling in love with electrical engineering, knew absolutely nothing about bioengineering. In fact, "I had never even heard of it," he recalls.
But engineers were put on earth to find answers. And over the course of the next 30 years, Baker, armed with an insatiable curiosity, ravenous desire to learn, and problem-solving smarts he learned as a kid, turned his assignment into a lifetime quest that revolutionized the field of medicine. By refining ultrasound into the most vital, cost-effective diagnostic tool available today, Baker—and legions of followers, many in the bioengineering lab at the UW—developed the tools that can do everything from take a first look at a fetus in the womb of an expectant mom to search for the cause of mysterious abdominal pain to measure the speed blood travels through the heart in order to detect damage and disease in the heart.
Ultrasound first appeared on the medical front in 1953, when a Swedish cardiologist and nuclear physics grad student used an industrial ultrasound machine to see if it would improve the ways to diagnose heart disease, but it was only a start. Early ultrasound provided small, fuzzy, black and white images. It wasn't until Baker came up with the idea of adding Doppler technology that medical ultrasound became the diagnostic and commercial marvel it is today.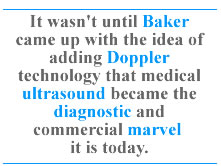 The Doppler effect, first explained in 1842 by Christian Doppler, is the shift in frequency and wavelength of waves that results from a source moving with respect to the medium, a receiver moving with respect to the medium or even a moving medium. We experience it when we hear a horn change its pitch as a car passes by on the street, or in the pitch of a boom box on the sidewalk as you drive by in your car. By taking advantage of the Doppler effect, Baker was able to achieve unheard-of, high-resolution, crystal-clear, real-time imaging that showed anatomical structures and delivered precise information about the inside of the body.
But Baker's quest didn't stop with the ingenuity he used in the lab of the late pioneering UW bioengineering professor, Robert Rushmer. Employing a natural entrepreneurial zeal, Baker also transformed the field of technology transfer, commercializing his breakthrough in medical imaging to the great benefit of millions of people worldwide.
His work, first published in 1967, led directly to the booming success of a Bothell company called Advanced Technology Laboratories (ATL), one of the world's main suppliers of ultrasound equipment. His innate knack for medical marketing made ATL (sales: $1 billion annually)—and five spin-off companies—a major player in the healthcare industry. Soon the quiet Puget Sound region became an international healthcare technology powerhouse. This was long before the age of venture capital and over the objections of academic purists.