Part Two: Sutter's Idea Revolutionized Air Travel
But he earned jaw-dropping, worldwide admiration when he developed the 747, which revolutionized air travel for the masses and became the world's most recognized plane. Today, more than 1,300 of the big planes have been built, with more than 11 billion miles flown and an enviable safety record over its 31-year history. "This remarkable machine is one of the great engineering wonders of the world, like the pyramids of Egypt, the Eiffel Tower or the Panama Canal," declares Adam Bruckner, chair of the UW Department of Aeronautics and Astronautics.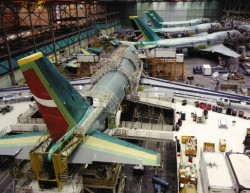 ---

747s under construction at Boeing's Everett plant.

---
Sutter, 80, ultimately rose to executive vice president in charge of all engineering and new product development at Boeing before retiring in 1986. The honors that have come his way could fill a 747: the first American Institute of Aeronautics and Astronautics Aircraft Award for his work on the 747; the Wright Brothers Memorial Trophy; election to the National Academy of Engineering; and the U.S. Medal of Technology, presented to him by President Ronald Reagan in 1985, just to name a few.
And now the University of Washington and the UW Alumni Association have bestowed upon him their highest honor: the 2001 Alumnus Summa Laude Dignatus Award. He joins a distinguished list of alumni who have been honored as the alumnus of the year. Started in 1938, it is the highest honor the UW bestows upon its graduates.
Not too shabby for a one-time second-class citizen.
"I wasn't considered too elite back when I started," he says.
Sutter was definitely the elite of the UW aeronautical engineering program in the early '40s, however. "He was a very bright guy who was obviously the head of his class," recalls classmate Dale Myers, '43, now a retired NASA administrator. Sutter always got the best grades, except for the time Myers bested him in an advanced aeronautics class. Sutter's reaction? "He and a few classmates threw me in Frosh Pond," Myers says.
"He was impressive right away because he always came up with the answers to problems," says Fred Eastman, a retired UW engineering professor who had Sutter as a student. "He hardly said a word. He did lots of studying on his own, and always came up with the right answer. Always."
Recalls former professor Robert Hage, who had Sutter as a student in 1941-42: "Here I was, his professor fresh out of MIT, and it was all I could do to stay one to two pages ahead of him."
Sutter always had his hands full, too. He worked summers as a mechanic in Boeing's sub-assembly area. In addition to his college studies, he had NROTC training (for which he was paid 25 cents a day) and, among other things, he learned about celestial navigation—something that would serve him immensely during his career.
His senior year was a bittersweet, hectic time. In the span of two days in the spring of 1943, he graduated with his B.S. in aeronautical engineering (graduation was moved up because of the war), got married (he met his wife, Nancy, '42, while she was a home economics student) and received his orders that would send him to serve on a Navy destroyer. That last step was a letdown.
"I wanted to fly," he says. Given his interest in aviation, and being attracted to the glamour of flying, he fired off an application for pilot training even though he was told not to. "The NROTC commander called me in and read me the riot act," Sutter recalls. "He said we trained you to be a deck officer, and you are going to serve on the deck of a destroyer." Guess who won.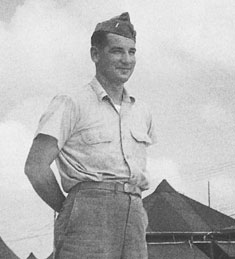 ---

Sutter served as an aviation engineer in the Navy during the closing days of World War II at Eniwetok in the South Pacific. Photo courtesy Joe Sutter.

---
But during the war, the Navy finally relented and sent him to aviation engineering school. He ended his military stint in the South Pacific, when he received letters from Douglas Aircraft and Boeing, which were recruiting employees. Douglas offered him $210 a month to move to Southern California. Boeing offered $200. Sutter wanted to take the money and try Southern California living, but his wife, Nancy, was about to deliver their first child. "We decided to stay in Seattle," Sutter says. "I asked Douglas for a deferment and took the job at Boeing, thinking it would be temporary. It lasted 40 years."
Go To: Page 1 | Page 2 | Page 3