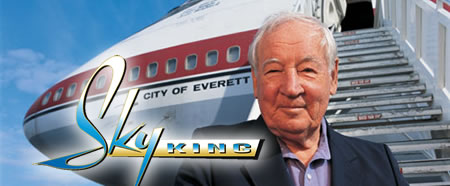 The UW honors an immigrant's son who looked to the skies and became the father of the 747.
by Jon Marmor
He played a critical role in the development of three generations of commercial jet aircraft, helped create the nation's transportation system and is often referred to as "the father of the 747." He invented the concept of the "wide body" aircraft. His contributions to safe air and space travel (he served on the presidential commission that investigated the Space Shuttle Challenger explosion) are the stuff of legends.
Yet when Joseph Sutter first started working at Boeing as a just-out-of-the-Navy 24-year-old at the end of World War II, he wasn't considered anything special.
Not that he wasn't primed for the career he was about to embark on. A whiz at math and physics as a kid growing up on Beacon Hill, Sutter, the son of a Slovenian immigrant turned Seattle meat cutter, was an airplane nut. He always stopped to watch the planes flying out of Boeing Field as he did his afternoon Georgetown paper route and knew that one day, he would design airplanes.
But the lanky Seattle native came from very humble beginnings. Money was always tight for Sutter, his parents and three brothers. The first in his family to go to college, Sutter, a graduate of Cleveland High School, scraped together what little money he could to enroll at the University of Washington in 1939 to pursue aeronautical engineering. His dreams might have been in the clouds, but his reality meant living at home, carpooling to campus and working summers.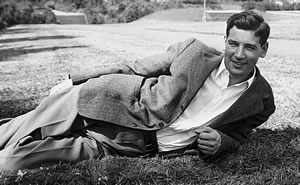 ---

Joe Sutter takes a break on the UW campus shortly after he graduated in the spring of 1943 with his degree in aeronautical engineering. Photo courtesy Joe Sutter.

---
Later at Boeing, where he worked as an entry-level aerodynamicist for the grand total of $50 a week, some of his older, more experienced colleagues ribbed him for getting his degree from the UW. They had gone to prestigious, big-time engineering schools like MIT, Caltech and Michigan and thought anyone who went any place else—such as the UW—was just a second-class citizen.
But that never bothered Sutter. He was fulfilling his dream. And he was good at what he did.
He did such a great job with his first assignment—ironing out the problems with Boeing's prop-driven Stratocruiser's flight controls and clunky engines that couldn't be cooled—that he was given prominent roles on design teams on the planes that would establish Boeing as a world leader in the embryonic field of commercial aviation—the 707, 727 and 737.
Go To: Page 1 | Page 2 | Page 3