Extras
Samuel J. Stroum, 1921-2001
Samuel J. Stroum, a self-made Seattle businessman and philanthropist who provided generous financial support for the University of Washington and served 13 years on the UW Board of Regents, died March 9 after an 11-month battle with pancreatic cancer. He was 79.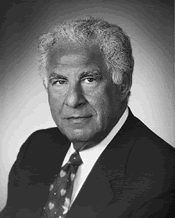 ---

Samuel Stroum.
Photo courtesy UW Regents.

---
Stroum received the UW Recognition Award in 1985 in honor of the tremendous support he and his wife, Althea, provided the University over the years. The South Gallery of the Henry Art Gallery is named in honor of the Stroums for their $1 million pledge to the gallery's endowment fund. They also endowed the Samuel and Althea Stroum Lectures in Jewish Studies and the Samuel and Althea Stroum Books, which support publication of works of lasting significance concerned with all aspects of humanities.
And that was in addition to his voluminous philanthropy that benefited health and educational institutions, arts companies and other cultural institutions, as well as individuals. Some accounts said he gave away $2 million or more a year since his retirement from the business world in the mid-1980s.
"(Sam) takes vast pleasure in giving away money," President Emeritus William P. Gerberding told The Seattle Times in 1990. Stroum himself was often heard to say, "I don't want to wait until I'm dead. It's too much fun giving while I am alive, and I can see the results."
Stroum was appointed to the Board of Regents in 1985 and served until 1998. He also was a longtime board member and two-term former chairman of the UW Medical Center board.
Born on April 14, 1921 in the Boston suburb of Waltham, Mass., Stroum was the sixth of seven children born to Russian immigrant parents. Growing up in the Great Depression, he graduated from high school in 1939 but had no money to pay for college. He enlisted in the U.S. Army Air Corps and eventually came to Seattle to ferry planes out of Boeing Field. He met his wife, Althea, during his time in Seattle, and was so broke, his wife paid for the $3 marriage license for their 1942 wedding.
He was the principal of Samuel Stroum Enterprises, a personal investment firm, and former owner of Almac Stroum Electronics and Schuck's Auto Supply. He went on to serve on the boards of many community agencies and corporations, was given numerous awards and was named a Northwest legend by the Puget Sound Business Journal for his community service, business success and philanthropy. The UW School of Business Administration honored him with a leadership award in 1992.
Donations may be made to the Swedish Hospital Tumor Institute, Stroum Jewish Community Center or the Pancreatic Cancer Action Network.
—Jon Marmor