From the President
'The Envelope, Please?'
Commencement signals ends and beginnings, pride, hopes, fears—and celebrations. One of my favorite celebrations is the UW Recognition Ceremony, held every year the Thursday before commencement. This is the time we honor faculty, staff, students and alumni who have done wonderful things at and for the University of Washington. You can read about the award winners in this issue of Columns. Those of you in the Seattle area are also most cordially invited to come to the ceremony itself (June 7th at 3 p.m. in Meany Hall) and help us celebrate these inspirational achievements.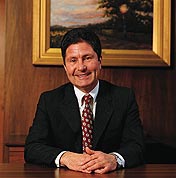 ---

UW President Richard L. McCormick. Photo by Mary Levin.

---
In the Recognition Ceremony, we pay tribute to our own. We reaffirm deep values and paint a living picture of the important work—in teaching, research and service—that goes on at the University. For award recipients, this validation by close colleagues and students carries special weight and emotion. The highlight of the ceremony, always, is the remarks of the recipients. If this all sounds a little like the Oscars, be assured that we present a far more thoughtful and articulate (if less strikingly attired) group of people.
Of course, patting ourselves on the back isn't an entirely objective way of sizing ourselves up. For this we must rely on external validation—on the kinds of recognition given by national scholarly and professional societies, granting agencies, scholarship awards, and so on. In this arena, the University of Washington does exceedingly well. Just as a sample, let me tell you about three honors that have come our way since last year's commencement.
This past fall, the University received the first national award ever bestowed by EDUCAUSE, a consortium of more than 1,750 universities and more than 180 corporations. The award was created to recognize "replicable, scalable, and transformational programs that have helped move institutions toward enterprise-wide instructional systems." In our case, the award honored broad achievements in bringing information technology into teaching and learning. Specifically, it recognized the UWired program, a collaboration of Undergraduate Education, University Libraries, Computing & Communications, and the Office of Educational Partnerships. "UWired," said one EDUCAUSE member, "is the healthiest strategy for the development of undergraduate learning communities I have seen in the country."
The Gairdner Foundation International Award for outstanding discoveries in medical science is one of the most prestigious in the world. In February, UW Professor Bertil Hille learned that he would receive a Gairdner Award next October at ceremonies in Toronto—the third UW faculty member to do so. Professor Hille, of the department of physiology and biophysics, has for three decades been in the forefront of research on the basic mechanisms of cell signaling. The Gairdner Award is the latest of many such honors won by his brilliant and definitive work on ion channels.
And then there's our Rhodes Scholar. Just before Christmas, during her first term as an MIT graduate student, recent UW alumna Emma Brunskill was named a Rhodes Scholar on the basis of her undergraduate career at the UW. Emma came to the UW at age 15 via the Early Entrance Program. She graduated last June with a magna cum laude degree in computer engineering, experience in six different UW research projects, leadership of the campus Amnesty International chapter, and a slew of awards. We are tremendously proud of Emma's achievement—and of the UW's, in providing an educational environment in which she could so splendidly thrive.
So there are three ways in which the University, its faculty, and its students have scored very high against national benchmarks over the past year. Needless to say, we are always delighted to receive external honors and awards. But the greatest benefit, once the excitement has died down, may be to strengthen our institutional convictions—to reinforce our sense that the University of Washington is doing the right things and doing them well. Then, when we give our own "Oscars" at the Recognition Ceremony, we all know how much they really mean.

Richard L. McCormick, President