Letters to the Editor
June 2001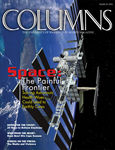 ---

Cover of March 2001 Columns

---
Star Trek Science Slandered
Having been the research consultant for a show that ran on the Sci-Fi Channel for seven years, Sci-Fi Buzz, the sloshy writing of Walter Neary pushed a few buttons ("Space: The Painful Frontier," March 2001). I know; he's trying to be cute and funny and write that grabber of an intro. However, first off, he's comparing apples and oranges by linking Star Trek to actual space exploration. There's a good book called The Physics of Star Trek by Lawrence M. Krauss which pretty well explains why most of the Trek technology wouldn't actually work, at least as described on the show. However, if we take the fiction as presented, Kirk would certainly not start vomiting when he landed. The Enterprise has full artificial gravity. The ship is also fully shielded from radiation. Kirk has enough fist fights to stay in shape. So the analogies presented just don't compute.
Neary makes little effort to define his terms. For example, he quotes Professor Martin Kushmerick citing Arthur C. Clarke about "artificial gravity" and it being costly. The "artificial gravity" is simply putting spin on a ship. More important, it isn't gravity at all, rather inertial force. Whether it would work physiologically and/or psychologically as a gravity substitute for humans spending long periods of time on space is unknown. This article should have been written by someone who actually knew something about the subject matter-or could fake it with better quality research.
Elliott Swanson, '72
Bremerton
Impostor Exposed
For Husky football fans, particularly those in the west end "Fun Zone" of Husky Stadium, I couldn't help but point out one glaring error in your March 2001 issue.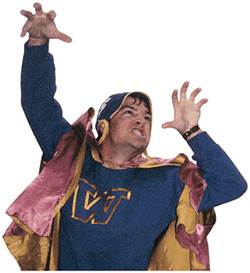 ---

[Editor's Note: The photo at left shows the real Captain Husky in action. Our apologies to Barry Erickson for crediting an impostor as Captain Husky in the March 2001 issue.]

---
Page 34 shows a picture of someone dressed in costume similar to Barry Erickson, "The Real Captain Husky," but this unknown person is clearly an impostor. The real Captain Husky can be unmistakably identified by: a Husky "hummer hat" dating back to the early '80s, a satin purple cape, less face paint, a heftier girth (I can attest to this from holding Barry during several H-U-S-K-Y spellouts), and most often, a dismembered stuffed animal resembling our opponents' mascot.

Todd Meadows, '87
Freeland
Election Travesty
Regarding "Down for the Count" (March 2001), I believe that a proportional system of selecting electors would be better than what we have now. As a Republican, I felt like my vote in Washington state counted for nothing in that all the electoral votes went to Al Gore. A direct popular vote would be ludicrous with small states being totally left out. As Professor David Olson stated, why pay attention to North Dakota or Idaho when California and New York will give you more votes? Unfortunately, most liberals have no understanding of this (or, as I think, they don't care because such states are often Republican). The travesty of such a vote was illustrated in our election of Maria Cantwell, who carried only 5 of 39 counties.
Marina Anna Baker, '83
Seattle
Democrat Disinformation
I want to try to help alleviate Associate Professor Lis Weihl's ignorance, and now the ignorance of her readers, with the reality in Florida as to which counties have the "antiquated" voting equipment.
"Right now the poorer voting districts get the antiquated voting machines and the affluent districts get the good equipment. It's just wrong." So says the former chief deputy counsel for the Democrats on the House Judiciary Committee for the Clinton impeachment hearings and a UW law faculty member. This was one of the "victimization modules" floated by the Democratic Party during the recent presidential election, and mindlessly repeated by the media.
Bright, educated faculty members owe their readers a higher standard of veracity than to repeat the disinformation of their political party. … The facts are that Palm Beach and Sarasota counties are two of the richest counties in Florida by far. Both use "antiquated" punch ballot equipment. Many of the poorest counties in the panhandle and central Florida use modern, light scanning equipment.
I hope Columns will find a way to relieve its readers of the ignorance foisted onto them by Wiehl.
Gregory P. Hetter, '63
Sarasota, Fla.
Know-It-All Elitism
Scary, scary! "UW experts offer 25 cures for the body politic." These "experts" base their arguments on a false premise. I am not impressed.
Law Professor Lies Wiehl bares her liberal muscle in repeating the same Democratic mantra we've heard since the election. Reading her credentials fully exposes her political leaning and lack of objectivity. Those who objectively followed this issue have discovered a few facts.
Al Gore did not lose the election because he ran out of time. The Miami Herald recently reported the recount of the controversial chads was finished after the election, and Gore still did not gain enough votes to win. This negates any rational and reasoned claim of an "illegitimate" win for Bush. … How amazing that this has not been widely reported, as it would have if Gore had been declared the victor of the "post-election."
A study completed after the election also has shown that just as many affluent districts as poor districts utilized antiquated voting machines. I'm surprised that Weihl did not hear about this as this was widely cited on the TV.
As for voters being too busy to vote correctly, give me a break! As a school teacher and mother of four, don't tell me that I can't stop my frantic life for one moment to punch or mark a voting ballot properly. Rich or poor or in between, we are all busy.
… A final comment for President Gerberding. I'm sorry that you feel that a common citizen cannot rise up in protest of government practices by utilizing the initiative process (inferred by your disapproval of Tim Eyman), but this was the legacy our founding fathers intended to leave for us in their experience of the heavy hand of government. The initiative process was left as a legacy for recourse for the common citizen. If our representative government can only produce a small selection of candidates who wish to perpetuate the status quo, it is our right as citizens to try to initiate change and that is why we were left with the initiative process in the first place.
These attitudes printed in Columns smack of a know-it-all elitism, which presumes that we should use these people of political and societal stature to form our opinions in the presumption that they hold more knowledge than we common citizens. My hope is that the American people continue to think for themselves and use their ample common sense discernment. Listening to "spin" from any pundit to form one's personal opinion perpetuates the propaganda we are fed by the popular media. Whatever our personal and political leanings, let's have discourse based on facts, not spin.
Kelly E. Rath, '85
Snohomish
[Editor's Note: As President Gerberding noted in his comments, the idea for voter initiatives came out of the Progressive movement of the late 19th and early 20th century. The founders of our government made no provision for them in the U.S. Constitution.]
Emotions and Learning
Thank you for your article "Stress on the Press" featuring Professor Roger Simpson from the School of Communications (March 2001). I was a student of Professor Simpson's nearly 15 years ago. While I was a senior in communications, he put together a panel of professional journalists, people from the police department and crime victims. They all spoke about the impact of violent crime on their personal lives and the responsibility of the press in the face of it. I remember writing an impassioned article (an assignment) for Professor Simpson afterwards. He had me rewrite it a number of times. I couldn't seem to keep my emotions out of what I was hearing.
I never did become a journalist. But I did become a Rape and Trauma Victim's Advocate in San Diego. I was a SART (Sexual Assault Response Team) member, working with the police department and survivors of assault. It was gratifying work. I am glad to see Professor Simpson continuing in his endeavor to sensitize the press and public to these issues. Thanks professor, for the positive impact you had on my life.
Susan Thompson Walker, '85
San Diego
Unfounded Faith in Diversity
The March 2001 issue of Columns includes a letter from Tony Granillo, a member of the "visiting committee advising the vice president of minority affairs." It repeats once again the litany of unfounded faith in diversity for its own sake, without, as usual, any examination of whether diversity in a student body has any educational benefit.
The University of Michigan, in a desperate effort to justify affirmative action in admissions, requested from its professor of psychology and women's studies, Patricia Gurin, a report on the relationship of racial diversity to learning. Avoiding any hard science, and employing terms like "automaticity" and "minded thought," Gurin was unable to come up with any justification for diversity in admissions policies. … Another Michigan effort quotes UCLA's Alexander Astin: "diversity activities" (again, not actual diversity) may have "beneficial effects on a student's cognitive … development." Astin found after extensive study that none of the 82 student outcomes he studied bore any relationship whatsoever to racial diversity, i.e., ethnic composition of the student body. But Astin gives one clue to the persistence of the diversity efforts: "One other student outcome that is positively associated with individual diversity activities … is political liberalism." Add to this the consideration that Chinese, Japanese, Thai and Vietnamese ancestries don't, oddly enough, count as "diverse."
It seems counter-academic to expend so many resources on an activity which only twisted social pseudoscience can connect with learning. Aren't there in the academic community any rigorous thinkers left who will question this parade featuring the naked emperor?
Elizabeth Lonon Erickson, '55
Sunnyvale, Calif.
A Political Sham
Most voters agree it is time for a change. However, the change may not necessarily be changes in "an antiquated ballot system," but the ethics of TV networks, politicians and the general public/electorate. Columns apparently perceives the Florida recount as a failure of the political process, rather than a breakdown in the ethics, morality and public education. Thus the article "Down for the Count," March 2001, is … part of the problem, rather than part of the solution.
The Florida recount shouldn't be perceived as a failure of our political process. Rather, it should be hailed as a success for our unique political process, for it worked, as it was intended, in spite of political meddling.
If one reflects on the chronology and the details, it should become apparent that the Florida recount was a well orchestrated attempt to not let the political process work, and a deliberate effort to affect a false result, i.e., a political sham. The "final count," along with the fallaciousness of the allegations advanced, are the proof of the pudding.
The fact that the media-including Columns-does not acknowledge the sham aspect of the Florida recount fiasco, since it treats it as a "problem" rather than as a "solution," seems to prove my point. Most voters agree that it's time for a change, as nationally we voted for such. Hopefully, such will come to pass, and we shall become a nation under our rule of law, and not political rhetoric.
Roger Pederson, '56
Mount Vernon
A Husky Win for the Ages
My friends and I graduated from the UW in the mid-80s and reluctantly moved out of Beta Theta Pi fraternity and into life outside college. However, over the past 15 years we have remained die-hard Husky fans and are season ticket holders for both football and basketball. The past few years, unlike Husky Stadium, there has not been much to cheer about in Hec Edmundson Pavilion. On March 10 my friends and I arrived at Hec Ed as the Huskies took on 12th ranked UCLA. What transpired was a Husky win for the ages. Our much maligned Husky men's basketball team-led by seniors Thalo Green, Michael Johnson, Bryon Brown, Will Perkins and Greg Clark and our Coach Bob Bender-showed the fans at Hec Edmundson Pavilion what sport is all about and taught us a lesson in life we should all emulate: "Believe in yourself and never, never, never give up!"
The Huskies were carrying an eight game losing streak into Saturday's game. Earlier in the season the Huskies played the Bruins and were down by 33 points at halftime. In addition the Dawgs were already assured of finishing last in the Pac-10 Conference. Our team had every reason to just go through the motions and add another loss to a disappointing season. However that is not what Husky basketball is all about. In the first half Thalo Green dove after a loose ball. Two other Huskies quickly followed suit and were on the floor chasing the ball. The crowd at Hec Ed erupted in cheers. This play set the tone for the remainder of the game. Husky pride and enthusiasm swept through the stadium attaching itself to the players, coaches and fans alike. Our guys were not going out without a fight.
The crowd was on its feet cheering throughout the game as every Husky player gave his best effort of the season. Suddenly the offense executed like it hadn't been all season. Michael Johnson was draining jumpers like he did at Ballard High School. Greg Clark and Will Perkins were playing tough defense and going hard to the "hoop on" offense. Bryan Brown was the point guard we remembered at Mercer Island High School. Thalo Green, the inspirational leader all year, all he did was throw in 21 points and rip down nine rebounds against the taller, stronger Bruins. In addition several times Thalo brought the ball up court against the Bruin press. I would be remiss not to mention the great play of junior David Dixon. David played with such inspiration and heart. He was a force in the middle on both offense and defense.
The last minute of the game-with the Huskies behind by 2-saw Bryan Brown hit an NBA 3-pointer and a follow-up foul shot to put the Huskies up by 2. UCLA's Billy Knight then drained a 3-pointer of his own to put the Bruins up by 1. After a blocked shot by the Bruins the Huskies had one last chance with 3.6 seconds left. The Dawgs took possession of the ball out of bounds under the Bruin hoop. Greg Clark looked for a teammate and threw to Michael Johnson in the deep corner near the Husky bench. Johnson elevated, faded backwards and let the shot fly. As the ball swished through the net the entire stadium erupted in cheers I haven't heard since Steve Emtman used to wreck havoc over in the Husky Stadium. There was still 1.1 seconds remaining and the Bruins had the ball under their own hoop. I turned to my buddy and said I would have Will Perkins guarding the inbounds pass and doing everything he could to wreck havoc. This is exactly what happened as the athletic Perkins deflected the inbounds pass and secured the unlikely 96-94 Husky victory over the Bruins.
This was truly one of the great Husky hoop wins where the Husky seniors dug down deep and, on the 3-pointer by Michael Johnson, pulled out the most improbable of victories and treated all who were there to a most memorable day in Husky sports. Maybe the most maligned Husky of all was Michael Johnson who finished with the game with a career high 29 points and 7 assists. Michael we are so proud of you and the other seniors, players and Husky coaches for teaching us that life is about believing in yourself and never giving up.
Thanks for all your efforts and always remember "It's great to be a Husky!"
Jason Craig, '86
Issaquah
Correction
In the March 2001 issue of Columns, we incorrectly identified the head of the UW's Professional Actor Training Program. It is Drama Professor Steve Pearson.