Briefings
Dempsey, '64, Receives UW Recognition Award
Neal Dempsey, '64, has a reputation for throwing himself head first into an endeavor—from climbing some of the world's highest peaks to forging a spectacular career as a partner in the venture capital firm Bay Partners. He is equally passionate about supporting education, and has generously donated millions of dollars and hundreds of volunteer hours to his alma mater. For his unwavering commitment and service to the University and to the community, Dempsey will receive the 2001 University of Washington Recognition Award.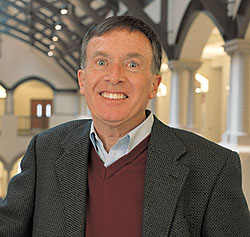 ---

Neal Dempsey, '64, and his wife, Jan, gave the UW a record gift from an alumnus—$10 million. Photo by Kathy Sauber.

---
"Neal's philosophy is one of 'active philanthropy,'" says David Wu, acting vice president for development and alumni relations. "He is present not only in University board rooms, but also on the sidelines at Husky football games and other places where he can demonstrate his support and see the effects of his giving at work."

Over the past 23 years, the Tacoma native and his wife, Jan, have contributed more than $13 million to the University. In February 2000 they gave $3 million to jump start the business school's Program in Entrepreneurship and Innovation (PEI). Most recently they donated $10 million to the UW, the largest gift ever made to the University by an alumnus. The gift will be divided equally between the PEI program and Husky athletics.

The PEI program provides students the education, experience and contacts needed to launch new products and businesses. Dempsey—no stranger to entrepreneurial challenges—helps shape the program by sitting on the PEI Board as well as the Business School Advisory Board.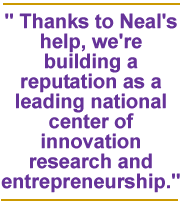 "Thanks to Neal's help, we're building a reputation as a leading national center of innovation research and entrepreneurship," says Yash Gupta, dean of the School of Business Administration.
Dempsey is equally dedicated to the success of Husky athletics, and is a member of the Tyee Board, which advises the athletics department. Serving on the National Committee for the Campaign for the Student Athlete, Dempsey's leadership helped generate much of the $84 million raised so far toward the campaign's $100 million goal. The Dempseys directed $5 million of their recent $10 million gift to fund scholarships for student-athletes, refurbish the Conibear Shellhouse, and help finance a multi-sport indoor practice facility.
Dempsey also currently serves on the UW Foundation Board and is involved with children's charities near his current home, south of San Francisco.
In addition to their support for the business school and for athletics, Neal and Jan Dempsey have made generous financial contributions to the School of Law, the Daniel J. Evans School of Public Affairs, the Department of Economics and the Henry Art Gallery.