Marketing Executive John Buller Is New Alumni Leader
John Buller, '69, '71, is a man on the move. From his days as a forward on the Husky men's basketball team; to his 21 years in training, marketing and communications for the Bon Marché department store chain; to today, as the new leader of the UW's 300,000 living alumni; he is constantly in motion.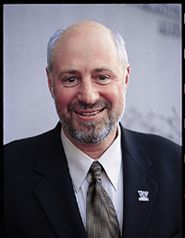 ---

New UWAA Executive Director John Buller. Photo by Jon Marmor

---
His latest challenge is to move the alumni association into the top ranks of U.S. alumni organizations. "I see us as the connection point between alumni and the University," he says. "My first goal will be to articulate who and what the UWAA is, and why it is of value to both communities."

Buller became the executive director of the UW Alumni Association and the UW's associate vice president for alumni relations on March 5, replacing interim alumni director Sheila Manus Vortman, '69, '85. A six-month search drew more than 100 candidates before President Richard L. McCormick and UWAA Board of Trustees President Patricia Bostrom, '72, chose the 54-year-old marketing executive.

Buller's UW connections are deep and strong. In addition to his three years on the UW basketball team in the late '60s, he served as a UW assistant basketball coach under Tex Winter in 1970-71. He earned a bachelor's degree in finance in 1969, an M.B.A. in 1971 and was a member of the Phi Gamma Delta fraternity. In the years since he graduated, he has served on the Tyee Board, the UWAA Board of Trustees, UW School of Business advisory board and the board for the $45 million Campaign for the Student Athlete. In 1995 he co-hosted the NCAA Final Four Tournament with UW Athletics Director Barbara Hedges when it was held in Seattle's Kingdome.

"His deep commitment and passion for the University is infectious. Under his leadership, I know the alumni association will thrive and prosper. It's a great match," says President McCormick. "His substantial strength in marketing, public service experience and connections with the corporate community will tremendously enhance the association and the University," adds Bostrom.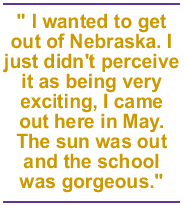 Buller got his first look at the University of Washington campus on a 1965 recruiting trip. A star on his Omaha, Neb., high school basketball team, several Midwest schools-Nebraska, Creighton, Macalester-tried to recruit him. But one trip with UW Basketball Coach Mac Duckworth was all it took. "I wanted to get out of Nebraska. I just didn't perceive it as being very exciting," Buller says of his home state. "I came out here in May. The sun was out and the school was gorgeous."
The 6-foot-5 basketball player faced some hardships before college and while he was on campus. His father, a home builder and landscaper, died of a heart attack when Buller was 14, and his mother went back to work to support the family. A few years later, while Buller was a UW student athlete, he suffered from a viral heart disease and had to sit out an entire season.
But his memories of his student years are golden, even if the Huskies only had one winning season and had to play against John Wooden's legendary UCLA team, featuring Kareem Abdul-Jabbar. "The whole basketball team ended up pledging at the Fiji house. I just wanted to go to college and play ball, but the Fijis forced me to study. My roommate was brutal," he says.
Buller's strength in math led him to a business degree and then an M.B.A.-long before those three initials became so popular. The Bon was hiring just one M.B.A. each year, and Buller turned down other offers to join the local department store chain.
During the next quarter century, a retail revolution led to the collapse of many department store legends, including Gimbel's in New York and Seattle's Frederick and Nelson. Buller was part of two management changes that helped the Bon become the leading chain in the Pacific Northwest.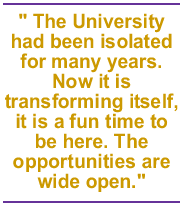 He was responsible for training 6,000 employees who had been cash register clerks, transforming them into "sales associates" on the floor who served their customers and earned commissions. He also helped guide the Bon's transition from being a budget store to being an upper-market "fashion leader." In the middle of his Bon years, he took time off to start Treats, a Capitol Hill café that featured one of the first espresso machines in Seattle.
Balancing his work life is his volunteer work and his family. He currently serves on the boards of Seafair, the Washington Athletic Club and the Seattle Center Advisory Board. He is also the chair of SAFE, an oversight committee for Seattle Public Schools athletic programs. His two children both live in Seattle. Jodie, 26, is a 1995 UW alumna currently studying massage therapy. Lindsey, 24, holds a drama internship at the Seattle Repertory Theatre.
At the end of his Bon career, Buller was a senior vice president in sales promotion, marketing and public relations. He was in charge of all external and internal communications, including advertising, as well as public relations and events. "I had to do everything from the Christmas parade to product launches to catalogs," he says.
His strengths in branding and identity work came out of that experience, and after leaving the Bon in 1996 ("They wanted to transfer me to Macy's in New York"), he was a brand/identity consultant for four years, assisting more than 25 Puget Sound-area organizations, including the Seattle Community College District.
But he found the work frustrating. "Consultants never get to see anything completed. You create an identity over five or six months, and then you are out," he says.
A basic motivator for this man in motion is education. "As long as I am learning, I am very engaged. Learning is the energy that keeps you alive," he remarks.
Which is why taking the reins at the alumni association was so appealing. "The University had been isolated for many years. Now it is transforming itself," he says. "It is a fun time to be here. The opportunities are wide open."
Shortly after he arrived, Buller drew up a list of 22 tasks for himself and the organization-everything from examining the UWAA brand to increasing membership to planning for a new Alumni Gateway Center. It could be a daunting list, but Buller says the association is up to these many tasks. "It's a tremendous organization with a long history of making a difference in the lives of students and alumni," he says. "This is a wonderful opportunity to be involved with outstanding people and a great organization."