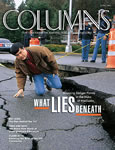 What Lies Beneath: Seattle Geology · Sky King: 747 Designer · Then and Now: Classroom Transformation · Class Acts: Great Teaching, Outstanding Service
June issue
---
Links to UW News Sites
Arsonists Target Tree Research, Merrill Hall Lost in $5 Million Blaze
Arsonists burned down Merrill Hall, part of the UW Center for Urban Horticulture, May 21, causing $5 million in damages and destroying offices, research facilities and the center's library. It was the most costly attack on UW facilities since the Vietnam War protest era. An "eco-terrorist" group called the Earth Liberation Front (ELF) took credit for the attack.

TA Strike Ends for Spring Quarter, Impact Uncertain
The Graduate Student Employee Action Coalition/United Auto Workers suspended their strike against the UW June 15 as the academic quarter came to and end and TA contracts expired. The extent of the strike has not yet been determined, says UW spokesman Bob Roseth.

Law School Returns to Heart of Campus in William H. Gates Hall
A May 4th groundbreaking ceremony marked the symbolic start of construction on the new $75 million UW School of Law. The 196,000-square-foot building will bring all the school's programs under one roof for the first time in 30 years.

Ranking Puts 41 UW Programs Among Top 10 in the Nation
U.S. News & World Report has released its annual rankings of graduate programs and professional schools. Among the more than 40 UW programs that appear in the top ten are the School of Medicine's primary care program, the School of Nursing, Nuclear Physics, Social Work, Drama/Theater, Computer Science and Geophysics.

Research Brief: Phone Calls, E-Mail May Stem Depression Relapse
Several brief office visits accompanied by continuing phone calls and correspondence such as e-mail may help prevent a relapse of depression in patients undergoing clinical treatment, according to a new study by UW professor Wayne Katon. Simple follow-up communication can also improve patient adherence to treatment plans for such diseases as diabetes and asthma.

Gray Eminence
William H. Gray III, president and CEO of the United Negro College Fund, will speak at the 126th UW Commencement exercises held at 2 p.m. Saturday, June 9 at Husky Stadium. UW Tacoma exercises will feature mountaineer Lou Whittaker, while Bothell ceremonies will highlight Yolanda T. Moses, president of the American Association for Higher Education.

Professor's Gift Aids 'Cultural Competence'
Howard Nostrand, professor emeritus of Romance Languages and Literature, and his wife, Frances, have given $500,000 toward an endowed professorship in the Department of Linguistics. The gift is intended to further the Nostrands' work emphasizing the importance of learning cultural competence along with language skills.

Dempsey, '64, Receives UW Recognition Award
Neal Dempsey, '64, will be recognized for his unwavering commitment and service to UW and the community. Dempsey and his wife have given millions of dollars to the School of Business, Husky athletics, the law school, the Henry Art Gallery, and other campus units. Dempsey has also contributed hundreds of volunteer hours on university boards and committees.