Moving at 'Breakneck Speed,' Says Bostrom
You might be catching your breath this summer, but I can guarantee you no one is resting here at the UW Alumni Association. During my first six months as UWAA president, we have been moving forward at breakneck speed, surpassing almost all the goals we set for ourselves-with plenty more to come.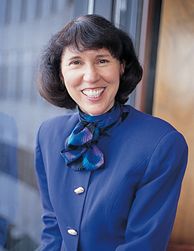 ---

UWAA President Trish Bostrom. Photo by Jon Marmor

---
Intent on creating stronger relationships with the campus, we established partnerships with the athletic department and the School of Business Administration and are exploring partnerships with other departments. Modeled after the successful partnership we have had in place with the College of Arts and Sciences for some time, these new arrangements provide us better resources to help alumni develop deeper ties to the various departments and programs that were such a large part of their lives while attending the UW.

I am very proud that we met our goal of enriching our academic lecture series. We experienced record-breaking attendance this year - more than 1,300 alumni and friends interested in their lifelong learning opportunities. In addition to History Professor Emeritus Jon Bridgman's perennially sold-out winter lectures (this year's was "The Movie Generation"), we produced a fall lecture series on American politics and government ("We the People"), and this spring we partnered with arts and sciences and with engineering to present the Science Forum, three exciting lectures on new developments in science and technology. This summer, we plan to stage an alumni event as part of the UW Summer Arts Festival. You won't want to miss it.

In addition, Husky Career Advantage really exploded this year with the establishment of 2001: A Career Odyssey, an event produced by the UWAA with campus partners. Headlined by NASA astronaut Bonnie Dunbar, '71, '75, this was a week-long program dedicated to helping students investigate career options.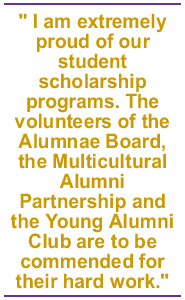 We continue to strengthen our Career Connections and Career Mentor programs, but we need more of you to join the effort and serve as a mentor to a student or alumnus in career transition. The time commitment is minimal, but the return is bountiful - not only are you giving back to your alma mater, but you are also making a real difference in someone's life.
I am extremely proud of our student scholarship programs. The volunteers of the Alumnae Board, the Multicultural Alumni Partnership and the Young Alumni Club are to be commended for their hard work. Due to their tireless efforts and incredible enthusiasm, the UWAA's clubs have raised more than $100,000, and we have several more large programs to come this year.
Another key goal established last September was to increase our membership by five percent. We came into the school year with more than 45,000 members, placing us in the top 20 alumni associations in the nation in terms of dues-paying members. But our goal is to break the 48,000-member level by the beginning of September. So please join us and help us reach our goal. The more members we have, the more resources we have to support student scholarship programs, lifelong learning opportunities and Husky events.
Speaking of membership, June is a great time for families or friends of graduating students to consider giving the perfect graduation gift-a lifetime alumni association membership. Give your graduate the gift that will allow him or her to maintain a connection to their alma mater for a lifetime.
There is no way to put a handle on the value of being a UWAA member. From the fabulous 2001 Rose Bowl events that the UWAA produced (drawing more than 15,000 people), to signing up to take a trip through the UW Travels program (second largest in the Pac-10), to getting a UW library card and many, many other benefits, membership in our association keeps you connected to this world-class University that means so much to you.
We have accomplished many things in the past six months. But there is so much more to do. Thanks to the wonderful job by Sheila Vortman, '69, '85, who served six months as the UWAA's interim executive director, and the vision of John Buller, '69, '71, our new executive director, we expect to do even more. Join us. The best is yet to come.


Patricia "Trish" Bostrom, '72
President, UW Alumni Association