ALUMNOTES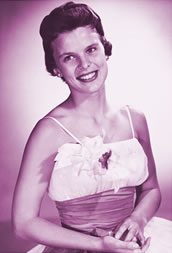 ---

HER ROYAL HIGHNESS: What a year 1959 was for Katherine Johnson. Not only was she voted Homecoming queen, but she was president of Delta Delta Delta and a member of Mortar Board, the national senior women's honorary society. Photo by Jim Sneddon.

---
Margaret Millay Henriksen, '32
Lewiston, Idaho, recently celebrated her 90th birthday. She also enjoyed watching the Huskies win the Rose Bowl on television.
Lloyd J. Knutson, '35
Tacoma, writes to say that he is proud of serving as the honorary captain of the first Husky men's swim team in 1932-33.
Joe Stong, '39
Pasadena, Calif., and his wife, Dorothy, just finished their two-year commitment as "skippers" of their church group.
Richard C. Wright, '50
San Rafael, Calif., and his wife, Marjorie, '51, celebrated their 50th wedding anniversary last October in Hawaii. They have four sons, four daughters-in-law and 12 grandchildren.
Attention, Class of 1951
Our 50th reunion will be held in the Walker-Ames Room of Kane Hall during Homecoming on Oct. 20. Invitations will be mailed in August. If you are interested in serving on the Class of 1951 reunion committee, call Bryan Daisley at 1-800-AUW-ALUM. For Homecoming game ticket information (UW-Arizona), call the Husky Ticket Office at (206) 543-2200.
Bob Fredericks, '52
Bremerton, retired as the nuclear manager at Puget Sound Naval Shipyard after 38 years. He is also president of Kitsap's Bremerton Athletic Round Table, which raises money to support amateur athletics.
Ronald E. Karge, '52
Menifee, Calif., was a Navy pilot for many years, with tours in Korea and Vietnam. He later served as head of astronaut recovery, where he directed the Apollo and Skylab mission recoveries from 1970-74. After starting the management office at the Pacific Missile Range in 1975 and a brief stint as chief pilot for Reserve Oil Corp., he managed six desert airports in San Bernardino County. In 1985, he was appointed aviation director for Riverside County, a position he held for two years before becoming president of Aerospace Consultants.
Charles C. Wynn, '52
San Rafael, Calif., and his wife, Beverly, are embarking on the second part of an around-the-world trip. Beginning in Kyoto, Japan, they will cross Siberia by train to Moscow, cross the Black Sea to Turkey and visit Greece, Egypt, Zimbabwe and South Africa.
Richard W. Schlachter, '53
Portland, Ore., reports that his grandson, Kyle Gibbons, will graduate from Reedsport (Ore.) High School this year and plans to enroll at Oregon State Univ.'s School of Forestry.
John Patrick Cook, '56, '59
Seattle, was presented in March with the Lifetime Achievement Award by the Washington Chapter of the American Board of Trial Advocates. He was a trial lawyer for more than 40 years, specializing in insurance defense.
Aida Kouyoumjian, '56
Mercer Island, recently spent a year in Armenia teaching college-level English under the sponsorship of the USDA and California State Univ., Fresno.
Louise Tobin, '56
St. Helens, Ore., is enjoying working on her parents' farm after teaching at Central Washington Univ. for 20 years.
Roy A. Peratrovich Jr., '57
Bainbridge Island, retired four years ago and now makes bronze and clay sculptures. His sculptures are featured all over the country, including the entrances of Alaskan government buildings and the Smithsonian Institution in Washington, D.C.
Roger V. Kelly, '58
Seattle, retired after 24 years from his position as a partner and senior VP of Kennedy Associates. He is looking forward to taking cross-country trips on his motorcycle.
Attention, Class of 1959
With the help of students, faculty and friends of the University, the Class of 1959 is proud to announce that it is almost halfway toward its goal of raising $90,000 to replace the dying Yoshino cherry trees in the Quad. To get involved with the class project, call Angelica Macklin at (206) 616-3837, or visit the UWAA Web site.
Roland M. Malan, '60, '75
Greenfield Center, N.Y., retired from the position of inspector general for the N.Y. Metropolitan Transportation Authority after a long career in performance-based management, including seven years as King County auditor. He plans to return to the Northwest this year.
Attention, Class of 1961
Our 40th reunion will be held at 10 a.m. Saturday, Oct. 20, in Mary Gates Hall (formerly Physics Hall), prior to the UW-Arizona football game. Invitations will be mailed in August. If you are interested in serving on the Class of 1961 reunion committee, call Asia Rau at 1-800-AUW-ALUM. For game ticket information, call the Husky Ticket Office at (206) 543-2200.
William R. Bulpin, '61
Oak Harbor, and his wife, Gail, have operated Island Drug since 1986. Their son, Rick, works with them in nursing home and pharmaceutical care practice.
Jan Cyr, '61
Scottsdale, Ariz., retired from the golf industry after 22 years and moved to Scottsdale after 35 years in Southern California. She intends to resume her art studies.
Sigvard T. Hansen Jr., '61, '69
Seattle, was honored at Harborview's annual gala in March for his distinguished career and contributions to the field of orthopedics.
Timothy A. Joslin Sr., '62
Des Moines, retired in January as a captain for United Airlines after 35 years of flying. He and his wife, Cheril, live in their dream house on Puget Sound, where Tim enjoys bird watching and rooting on the Huskies.
Bill Helwig, '63
Beaumont, Calif., is a retired U.S. Army major with 20 years of active federal service. Currently, he is a law firm administrator in San Bernardino, Calif.
Leslie S. Hiraoka, '63
Elizabeth, N.J., is a professor of management science at Kean Univ. Her new book, Global Alliances in the Motor Vehicle Industry, was published by Quorum Books.
William H. Pringle, '63
Issaquah, will travel extensively again in Japan this year. He is particularly interested in the history of the Korakuem Gardens in Okayama.
Michael E. Young, '64, '66
Spokane, retired in May after spending 25 years on the music faculty of Whitworth College. His composition Visions from the Apocalypse for choir and wind ensemble premiered in Spokane in May.
Tulin Baydar Idemen, '66, '89
Seattle, is a school psychologist with the Everett School Dist. She plans to attend the Intl. School Psychologists Assoc. convention in France in July.
Diane M. Woolard, '67
Vancouver, Wash., is a Clark County Superior Court judge. She received her law degree from the Northwestern School of Law of Lewis and Clark College in 1985 and was appointed to the bench by Gov. Gary Locke in July 2000. She retained her seat in an election in September.
Max Barnard, '68
Quilcene, is the president of an energy development corporation, Barnard Systems Co., which he founded 21 years ago. He looks forward to developing his patented omnidirectional windmill by 2002 or 2003 with the help of grants from outside investors and the U.S. Energy Dept.
Robert Berkovitz, '69
Mesa, Ariz., is an incident meteorologist with the Natl. Weather Service, giving on-site meteorological support during such incidents as forest fires. Last year, he provided support during several forest fires, including the fire at Los Alamos, N.M.
Beth de Groen, '70
Vashon, is a real estate agent with John L. Scott in Vashon. Her husband, John, '73, has been a commercial fisherman for 27 years. His boat, Primus, fishes in Alaska for pollock, true cod, black cod, herring, halibut and salmon. They have lived on Vashon Island for 25 years and have a daughter, Sophia, who is a sophomore at Smith College.
Ron Gamache, '70
Toppenish, is a Yakima County commissioner who is focusing on the issues of juvenile crime and advocating parental involvement. He also served seven terms as VP of the Washington Farm Bureau.
Ed Kingshott, '70
San Antonio, has retired after a 26-year career at the San Antonio Express-News, where he held jobs ranging from reporter to city editor. He plans to return to the Pacific Northwest in 2002.
Catherine McIntyre, '70
Bellingham, is starting her own business as a fund-raiser for Whatcom County nonprofits. She is also active in the Returned Peace Corps Assoc. She moved to Bellingham in 1994 after 10 years in the U.S. Foreign Service.
Gaylord Reagan, '70, '71
Omaha, Neb., teaches two marketing courses for the Univ. of Nebraska at Omaha, and two business courses for Iowa Western Community College. In his spare time, he was admitted to membership in American Mensa.
G. Franklin Elrod, '71, '84
Starkville, Miss., has been named the coordinator of special education programs at Mississippi State Univ. He is also completing work as co-author of a text on special education leadership.
Jerris R. Hedges, '71, '73, '76
Portland, Ore., was elected to the Natl. Academy of Science's Inst. of Medicine in 2000. He is chief of Oregon Health Sciences Univ.'s emergency department and co-author of the textbook Clinical Procedures in Emergency Medicine.
Shirley Blancher Morrison, '71
Seattle, belongs to a group of local grandmothers who sing songs of political satire. She calls the "grannies" a "great group of women activists" who sing about everything from mental illness to the WTO. She has 14 grandchildren and three great-grandchildren.
Edward Hardwidge, '72
Portage, Mich., is director of quality assurance for Pharmacia Corp. in Kalamazoo.
Marilyn Bennett, '73, '82
Cardiff, Calif., is part of the Univ. of Pittsburgh theater faculty going abroad for the school's Semester at Sea program. The group will visit ports in Cuba, Kenya, Malaysia and Vietnam. Husband Peter Pendras, '74, and their son, Trevor, will join her.
David J. Elsner, '73
Woodinville, was named assistant chief instrumentation and controls engineer at Nepco, an engineering and construction firm in Bothell specializing in combined cycle power plants.
Bill Roe, '73
Bellingham, was elected president of USA Track & Field in December 2000. The founder and past editor of Northwest Runner magazine, he has served as a board member with USA Track & Field for 16 years. He works in educational technology and desktop publishing at Western Washington Univ.'s Woodring College of Education.
Marty Putnam, '74
Bellevue, has been selling real estate on the Eastside for 21 years after spending two decades as a top fashion model. She works with Re/Max Eastside Brokers, is divorced and has two grown children. Her son, R. Kirk Putnam, '75, is a captain with Alaska Airlines.
Dennis K. Ruff, '74, '76
Arlington, Va., was invited to attend the inauguration of President George W. Bush.
Ann Kirkwood, '76
Meridian, Idaho, managed a children's mental health video project that was awarded an Intl. Peabody Award for broadcast journalism. "Hearts and Minds: Teens and Mental Illness" was produced for Idaho Public Television and the Idaho Dept. of Health and Welfare. Ross Mason, '71, provided production assistance on the project. Ann now works at Idaho State Univ.'s Institute of Rural Health, managing another mental health project for teens.
David Kleitsch, '77
Ventura, Calif., has been appointed economic development and revitalization manager for the city of Ventura.
R. Owen Waggoner, '77
Hopewell, Va., received his B.S. in nursing from Old Dominion Univ. in December.
Carol J. Williams, '77
Berlin, is in her 11th year as a correspondent covering Germany and the Nordic countries for the Los Angeles Times. She lives with her husband, Ken Olsen, and two cats, Lewis and Clark.
Ann R. Brashear, '78
Arlington, Va., became a partner at the law firm of Squire, Sanders and Dempsey in January. She has extensive experience in corporate/public law and private sector business and finance.
Mary L. Hart, '78
Studio City, Calif., is an assistant curator in the Dept. of Antiquities at the J. Paul Getty Museum in Los Angeles. Her husband, Tom Gambling, '80, is a systems engineering manager for Boeing on the International Space Station.
James Hirsh, '78
Dunwoody, Ga., is a professor of English at Georgia State Univ. and the author of The Structure of Shakespearean Scenes as well as articles in Shakespeare Quarterly, Essays in Theatre, Modern Language Quarterly. His wife, Kathleen, is a labor-and-delivery nurse. Their two children, Matthew and Elizabeth, are graduates of the Univ. of Georgia.
Kiran Bhatt, '79
Anaheim, Calif., was honored at the spring convention of the Intl. Society of Poets in Orlando, Fla., in March.
Marianne K. Krpan, '79
Clancy, Mont., has been named assistant VP of member services at Blue Cross and Blue Shield of Montana. She and her husband, Mark, have two children, Eron, 12, and Kassandra, 11.
Maria S. Diamond, '80
Seattle, is the 2000-2001 president of the Washington State Trial Lawyers Assoc. She continues her personal injury litigation practice at the Seattle firm of Levinson, Friedman, Vhugen, Duggan & Bland, where she is a shareholder and has practiced since 1983.
Bryan Tagas, '80
Seattle, recently joined the board of trustees of the Seattle Opera.
Mike Ryan, '81
Laguna Niguel, Calif., moved to Southern California in 1983 and earned a master's degree. He was recently promoted to deputy director of Orange County Children and Family Services.
Brian E. Johnson, '83
Buckley, is an engineering manager at Boeing. His wife, Lori J. Pollard-Johnson, '83, '84, returned to teaching after many years of "mommying." Together, they are celebrating the publication of Lori's first novel, The Truth Test.
James B. McKinnon, '83
Seattle, was listed in Who's Who in the World. He was inducted into the Academy of American Poets in 2000.
Maria P.P. Root, '83
Seattle, celebrated the March publication of her new book, Love's Revolution: Interracial Marriage. A former UW faculty member, she is a psychologist and has edited two award-winning books.
Gail S. Jahnke, '84, '86
Issaquah, is in her 15th year as an emergency department social worker. Recently, she worked at Children's Hospital and Regional Med. Ctr., where she honed her foreign language skills.
Peter Morrison, '84
Winthrop, is executive director of the Pacific Biodiversity Inst. and led an analysis of the year 2000 wildfire season in the West. He was also a lead author on the report Conservation Priorities: An Assessment of Fresh Water Habitat for Puget Sound Salmon.
Andrea Coker-Anderson, '85
Olympia, is beginning her 13th year as a staff member in the enrollment services department of The Evergreen State College. She lives with her two sons and her husband, Burke, who will complete his master's degree at UW Tacoma this spring.
Louisa Clayton, '87
Seattle, has run Clayton Commercial Arts, a graphic design/print specialty company, since 1996. She previously worked for Elgin/DDB Needham and Augustavo Burrur.
Asondra Rachele Hunter, '87
Jersey City, N.J., left Vanguarde Media after helping establish Honey Magazine, which was written with black women in mind. She runs her media consulting business, The Media Factory, and has an acting role in the movie Baby Boy, by director John Singleton, due out this summer.
Catherine Croke-Muth, '88
Boca Raton, Fla., and her husband, Robert Muth, welcomed their first child on June 5, 2000.
Anette E. Olney, '88
Bellevue, and her husband, Patrick, announce the birth of their first child, Sebastian Patrick Olney, on Oct. 29. Anette works part-time at AT&T Wireless Services as a senior technical editor.
Isabelle Ochsner, '89
Seattle, and her husband, John, '88, welcomed their third child, David Robert, on Jan. 1. Isabelle just celebrated her 12th year with Farmer's Insurance and has moved her office from Lynnwood to Seattle.
Richard J. Braxton, '90, '92, '97
Madison, Wis., is the director of Wisconsin operations for the SEED Foundation. He is also writing his doctoral thesis at the Univ. of Wisconsin-Madison, in the Department of Educational Administration.
Janet L. Kavandi, '90
Houston, is an astronaut assigned to the crew of a space shuttle mission that is scheduled for a June launch. A veteran of two space flights, she most recently has served in the robotics branch as a spacecraft communicator at NASA's Mission Control. She and her husband, John, have two children.
Veronika Rudolph, '90
Portland, Ore., is entering her fifth year as head librarian at Cascade College. She spent 1991-96 as a missionary in Budapest, Hungary.
Sean Williams, '90
Olympia, has been teaching ethnomusicology, Asian studies and Celtic studies at The Evergreen State College since 1991. Her book The Sound of the Ancestral Ship: Highland Music of West Java will be published by Oxford Univ. Press this summer. She lives with her husband, bassist Cary Black, and their 6-year-old daughter, Morgan.
Attention, Class of 1991 M.B.A.s
Our 10th reunion will be held Saturday and Sunday, Aug. 18 and 19 in Seattle. For more information, contact Scott Fasser, '91, or visit the M.B.A. Class of 1991 Web site.
Mitra Ehsan, '92, '96
Dallas, is finishing her residency in general surgery at Parkland Hospital. She and her husband plan to return to the Pacific Northwest, where she will begin subspecialty training in colon and rectal surgery.
Denise V. Fournier, '92
Tracy, Calif., was ordained as a minister in the Presbyterian Church in August. She and her husband, Kevin, welcomed their first child, Padraig Daniel Fournier, in November.
Jill H. Goldman, '92
Seattle, is president of operations for Minzel and Assoc., an employment agency for attorneys and paralegals.
Mary Meyer, '92
Puyallup, reports that her daughter, Susan, '91, earned a master's degree in environmental policy from Tufts Univ., is employed by King County Metro as an environmental planner and was married to James Schroeder on Aug. 20, 2000.
Raul "Rudy" Sanchez, '92
Toppenish, is the project manager with Concord Construction, a general contractor in Wapato.
Andrew Bodien, '93
Portland, Ore., was recently named "Employee of the Year" for the Portland branch of Expeditors Intl.
Kaneohe, Hawaii, completed an M.S.C.E. from the Univ. of Missouri-Rolla and an M.B.A. from Tarleton State Univ. in Texas and is now serving as a battalion civil engineer at the U.S. Army's facility at Schofield Barracks.
Charles T. Maples, '93
Washington, D.C., is a research administrator and information services analyst at the Univ. of Maryland Baltimore Medical School.
Wendy L. Norris, '93
Kingston, is retired from the Army and married to a senior drill sergeant. She has worked as an advertising production artist for area newspapers. She has a 9-year-old son and 20-year-old daughter.
Janine E. Apter, '96
Miami Beach, Fla., lives with her fiancé, Mike Cuthbertson, in Miami Beach. She is a program coordinator for the Miami Museum of Science.
Roderick E. Smith, '96
Redmond, is the director of Skagit 911 Communications Ctr., serving Skagit County with dispatch service for all police, fire and emergency medical service calls.
Kristine Baxter, '97
Everett, is a Microsoft software test engineer. She has been married to Brad Baxter since 1998.
Greg Damon, '97
Seattle, is a senior consultant for the Business and Information Technology Group of Moss Adams Advisory Services.
Kathleen M. Moore, '97
Lacey, received her juris doctorate from California Western School of Law in December. She lives with her husband of 28 years and is studying for the Washington Bar Exam.
Mike Strohl, '98
Kirkland, and his wife, Jennifer, '98, announce the birth of their son, Colby James, on Dec. 18.
Rebekah Moser, 99
Seattle, is a risk manager in the treasury department at Amazon.com.
Hiroaki Ishii, '00
Sapporo, Japan, is a postdoctoral research associate at the Inst. of Low Temperature Science at Hokkaido Univ.
Heather Weeden, '00
Baltimore, will graduate with a B.S. in nursing from Johns Hopkins Univ. in July. She says the program—in which she will earn a two-year degree in 13 months—has been the biggest challenge of her life.
---
Submit a Class Note
Tell us what major events have happened in your life: a new job, marriage, children, retirement, advanced degrees, you name it.

Submit an Obituary
Please let us know if a UW alumnus has died. Be sure to include date of death, place of death and age along with the UW class year (if known).

Update Your Records
Moving soon or know someone else who has? Let us know so that we can keep Columns coming to you.

Contact Information
Columns Magazine
1415 N.E. 45th Street
Seattle, WA 98105
Phone: (206) 543-0540
Fax: (206) 685-0611.
E-Mail: columns@u.washington.edu