Taylor's personal history was a Roots-like experience. He was born and raised in Brownsville, Tenn., about 60 miles northeast of Memphis. Because it had some of the best soil in Tennessee for cotton, the area was part of the cotton culture prior to the Civil War, a classic, slave-based plantation society. "It looked more like the delta region of Mississippi than it did west Tennessee," he says.
After the Civil War urban blacks in Memphis gained the right to vote and never lost it. But African Americans in the Brownsville region were disenfranchised at the end of Reconstruction. Since blacks were in the majority in that region, whites forcibly kept them out of the voting booth.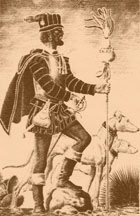 ---

Africans have been in the West since the beginning of European exploration. Seen in this engraving is Esteban, a Spanish slave and explorer.

---
"One of my second cousins was lynched for attempting to vote in the year of my birth-1948," Taylor says.
His father worked on a cotton plantation-"there was even a big white house right in the middle of it"-and the future college professor used to pick cotton in the summer. Growing up in the segregated society, Taylor recalls that he didn't have much interaction with whites.
Courts didn't force integration of the school system until he was graduating from high school in 1965. "Some counselors told me I should repeat my senior year in the white school-that I'd get a better degree, but I wasn't interested. I wanted to get out of there," Taylor says.
Taylor was always one of the smartest kids in school-so bright that he jumped a grade level and ended up graduating when he was 16. At an early age he says he was interested in history. "I remember my mother forcing me to sit down to watch the news and discuss what we saw. We talked about issues of race, but we also talked about other things-the Cold War, Sputnik, you name it."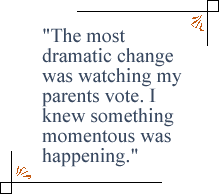 History came alive in a personal way in 1960. "The most dramatic change for me was watching my parents vote for the first time in 1960. I knew something momentous was happening," he says.
He wanted to be part of the momentous happenings himself in 1963, when he begged his mom to let him attend the famous March on Washington. Even though there were charter buses from Brownsville making the trip, the 15-year-old Taylor had to stay behind. "My mom vetoed the trip. She said I was too young to go alone," he says.
Two years later Taylor was ready for college and once again, his parents vetoed his travel plans. "I wanted to go to Los Angeles. I guess the pull of the West was already on me. But my parents decided I was going the other way. I went to live with my sister in Raleigh, N.C., and attended St. Augustine's College," he remembers.
The college is a historically black institution founded by the Episcopalian Church. "It was a fairly urban environment with all these great institutions in the area-UNC and Duke. There was a real intellectual ferment." One of St. Augustine's greatest claims to fame is that the Delany sisters, centenarian authors of Having Our Say, taught there. "I had Julia B., who was younger than Sadie and Bessie. She taught speech and never got the attention the others did."
---

---