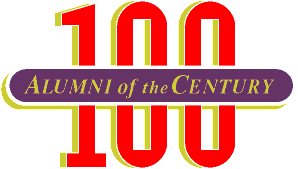 ALUMNI OF THE CENTURY FROM P THROUGH Z
Petersen, Donald, '46

At age 53 he became president and chief operating officer of Ford Motor Co., engineering a turnaround in the 1980s that saw quality and profitability return to the automotive company. In the '60s he was part of the team that developed one of the most popular cars of all time-the Mustang.
Pierce, Don, '38

Music mogul who helped put country music on the map. He started two record labels, signed many big stars, including George Jones, Jimmy Dean and Willie Nelson, and helped found the Country Music Hall of Fame, of which he is a member.
Poneman, Jonathan*

With fellow KCMU DJ Bruce Pavitt, he founded "indie" label Sub Pop, signing obscure local groups such as Nirvana and Soundgarden to their first recording contracts. These rock groups became superstars of the 1990s, making Sub Pop the most influential record company of the decade.
Pritchard, Joel*

Known for his broad smile, his sense of civility and bipartisanship, Pritchard had a long career in public life-12 years in the Legislature, 12 years in Congress and, until his death in 1997, nine years as lieutenant governor. A Republican, he specialized in forging coalitions to get things done on such issues as abortion rights, literacy and campaign reform.
Rice, Norm, '72, '74

After serving three terms on the Seattle City Council, Rice was elected as the city's first African-American mayor in 1989. For eight years, he presided over a rising Seattle economy, worked successfully for stronger schools, economic development and affordable housing. He now is top executive at the Federal Home Loan Bank.
Robinson, Earl, '33

Songwriter and political activist, he wrote "The House I Live In," which celebrated diversity in America and was sung by Frank Sinatra. Joan Baez sang his labor classic "Joe Hill" at Woodstock and Three Dog Night had a #1 hit with his song about racial equality "Black and White.". A friend of Paul Robeson, Robinson was blacklisted for his activities during the McCarthy era.
Rodbell, Martin, '54

Biochemist who shared the 1994 Nobel Prize for Medicine. Rodbell's research into how cells communicate through "G" proteins may lead to breakthroughs in understanding diabetes, alcoholism and cholera.
Rule, Ann, '53

Author of 15 books, including such best-sellers as The Stranger Beside Me, Bitter Harvest and Small Sacrifices. A Rage to Kill-an anthology of 10 criminal cases-was published in July. In November her book on a murder in the Delaware governor's office, And Never Let Her Go, was released.
Seaman, Jill, '79

Named a "Hero of Medicine" by Time, Seaman is a physician in war-torn Sudan whose work on a parasitic disease helped control an epidemic that killed more than 100,000. Her sponsor, Doctors Without Borders, won the 1999 Nobel Peace Prize.
Semon, Waldo L., '20, '24

Chemical engineer at B.F. Goodrich who invented polyvinyl chloride (vinyl), synthetic rubber and synthetic rubber bubble gum. Only UW alumnus to be a member of the National Inventors Hall of Fame.
Simpson, W. Hunter, '49

Headed IBM's northwest operations for 17 years, then became a driving force in the liftoff of Physio-Control Corp., the world leader in manufacture of heart defibrillators. Thousands of lives have been saved worldwide. Also served as mayor of Mercer Island and UW regent.
Skotheim, Robert, '55, '58, '62

President of The Huntington Library, Art Collections and Botantical Gardens near Los Angeles. Library has more than 4 million volumes, including a Gutenberg Bible. President of Whitman College from 1975-1988.
Smith, Charles Z., '55

First African American in Washington to serve as a municipal judge (appointed in 1965 by then Gov. Dan Evans), a superior court judge and as a justice on the Washington state Supreme Court.
Smith, Virginia, '44, '46, '50

President of Vassar College from 1977 to 1986, a 1975 poll placed her among the top 50 influential leaders in higher education. Was also a top official in U.S. Dept. of Education and the Carnegie Commission on Higher Education.
Solheim, Karsten*

Business leader whose company manufactures Ping Golf Clubs. When he was a design engineer for General Electric, he invented the "rabbit ears" antenna for television.
Stigler, George J., '31

Winner of the 1982 Nobel Prize in Economics, Stigler was, with Milton Friedman, a dean of the "Chicago School" of economics. His research showed that many government regulations do not help consumers, but rather hurt them by leading to increased inefficiency.
Sutter, Joseph, '43

Aerospace engineer Sutter was given the task of designing a giant military transport plane for Boeing in the 1960s, but the company lost the contract to Lockheed. That failed transport became the most successful commercial airplane in history-the 747.
Thayil, Kim, '84

A philosophy major at the UW, Thayil was lead guitarist in the seminal Seattle rock group Soundgarden. Before the band broke up in 1997, it had several million-seller CDs, including "Badmotorfinger," "Superunknown" and "Down on the Upside."
Torrance, Roscoe (Torchy), '23

State chairman of the March of Dimes in the 1950s, a founder of the Washington Athletic Club and Northwest Hospital, and an organizer of Seattle Seafair. A printing executive and Seattle Rainiers baseball team vice president, Torchy was a legendary UW sports booster who raised funds to build Husky Stadium in 1920.
Tsutakawa, George, '37, '50

Longtime UW art professor, prolific printmaker, oil painter and sculptor best known for abstract wood sculptures called "Obos" and 75 fountains throughout the U.S., Canada and Japan.
Weeks, Kent, '63, '66

Archeologist who made the most important discovery of ancient Egyptian tombs since "King Tut" was discovered in 1922. Author of The Lost Tomb. He is seen here in the center. At right is his wife, Susan Weeks. At left is ABC News Correspondent Hugh Downs.
Weinmeister, Arnie, '50

A Husky lineman who was a star defensive tackle for the New York Giants (four Pro Bowls, NFL Hall of Fame). Went to work for the Teamsters union in 1956. For 19 years he was international vice president, the most powerful Teamster in the West.
Wells, Dawn, '60

She only played "Mary Ann" for three years ending in 1967, but as long as there is a television signal, someone will be watching Dawn Wells and the rest of the Gilligan's Island crew-in one of 30 languages. "I can't go anywhere in the world without being recognized," she confesses.
Wolfe, Art, '75

Legendary wildlife and nature photographer whose work is recognized for its mastery of color, composition and perspective. He has published more than 40 books and his work appears in magazines worldwide. Major works include Migrations and Rhythms from the Wild.
Wolfle, Dael L., '27, '28

As the executive officer for the American Association for the Advancement of Science (1954-1970) and Science's editor and publisher, he was a guiding force in the post-war boom in American science.
Wright, Howard S., '51

President of Wright Construction, he presided over the region's largest group of construction and real estate companies. He was involved in construction of the Space Needle and the Columbia Bank of America Center, altering the Seattle skyline for generations.
Yamasaki, Minoru, '34

A Michigan architect, he built his reputation as an early crusader against the coldness of modern architecture. His work includes New York's World Trade Center, Los Angeles' Century City Plaza, Seattle's Rainier Tower and the Federal Science Pavilion for the 1962 World's Fair-now the Pacific Science Center.
Columns regrets that we do not have the rights to post certain images of alumni to the Web.
---
Home / Current Issue / Archives / Talk Back / Advertising / Columns FAQ / Alumni Website / Search