Milestones
APPOINTED
Lynn Hogan, '69, was appointed interim vice president for development Nov. 1, following the departure of former Development VP Marilyn Batt Dunn, '81. Dunn left the UW to become deputy executive director for development for the U.S. Olympic Committee. Hogan is currently executive director of medical affairs development. She has a bachelor's degree in English from the UW as well as a master's and Ph.D. from Syracuse University. Hogan was part of the team that ran the Campaign for Washington. In 1992 she left the UW to become vice president for development at Whitman College in Walla Walla. She returned to the UW in 1996.
The new UW director of government relations is Dick Thompson, '68, who has been director of the state's Office of Financial Management since 1997. The Office of Government Relations is responsible for the University's relations with state government. Thompson has served as director of the state Department of Community Development (1985-87) and chief of staff for Gov. Booth Gardner (1987-89). He was also secretary of the Department of Social and Health Services (1989-92). Thompson was president and chief professional officer of the United Way of King County from 1993 to 1997. He holds a bachelor's in political science from Western Washington University as well as a law degree from the UW.
HONORED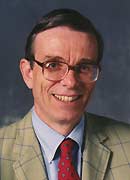 Physiology and Biophysics Professor Bertil Hille was one of three scientists to win the 1999 Lasker Award for basic medical research, the Lasker Foundation announced Oct. 1. Along with University of Pennsylvania Professor Clay Armstrong and Rockefeller University Professor Roderick MacKinnon, Hille won the $10,000 prize for research into ion channels in the cell. These channels are a key to creating electrical signals that serve as nerve impulses. These signals control muscle contraction, heart rhythm and hormone secretion. Of the more than 300 scientists who have won a Lasker Award since its creation in 1946 by philanthropists Albert and Mary Woodard Lasker, 61 have also received Nobel Prizes.