Bastiaan Meeuse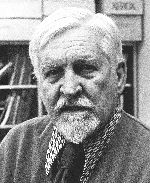 Bastiaan J.D. Meeuse, a UW botany professor whose five decades of research on the exotic but stinky voodoo lily resulted in numerous contributions to science, died July 27 of pneumonia. He was 83.
Born on May 9, 1916, to Dutch parents in Indonesia, Meeuse gained fame in 1961 with his book The Story of Pollination. He also served as a consultant in the making of a documentary, Sexual Encounters of the Floral Kind, which was released in the 1980s.
Meeuse, who joined the UW botany faculty in 1952 after getting his education in the Netherlands, spent most of his time studying the heat-and-stench generating pollination phase of the voodoo lily, a relative of the corpse flower that came into rare bloom in July in the UW's Botany Greenhouse.
"Even my cat, Blackie, won't come near me when the smell of the lily is on my clothes," he said.
In the 1980s, he and colleagues wrote a landmark paper stating that the heat trigger for thermogenic plants is salicylic acid—-a relative of aspirin. Scientists now believe salicylic acid helps regulate growth and development in many plants and that implanting heat-generating genes may help citrus trees avoid frost damage.
Previously, he found a moss enzyme that oxidizes oxalic acid. Today, that enzyme helps monitor blood in people who produce excess oxalic acid, which can cause deadly calcium-oxalate crystals in their kidneys.
As a youngster, Meeuse decided to study biology because his interest was piqued by a famous botanical garden near his home. In addition to his prolific research career (he published more than 200 scientific articles), Meeuse was well known for his caring personality. "He was always helping students financially whenever he saw a need," says Lawrence Bliss, a former chair of the botany department. One student assistant recalled being so poor, he considered selling blood donations to earn extra money. "Dr. Meeuse got me a pay increase as a result because he didn't want me to do this," recalls Bill Erdle, '75, of Tigard, Ore.
Meeuse retired in 1986, though he continued giving speeches and doing research. Survivors include his wife of 57 years, Johanne Meeuse; children Karen and Peter Meeuse; five grandchildren; and a great grandchild. A brother lives in the Netherlands.—Jon Marmor