Letters to the Editor, December 1999
Posting Memories
The article on the tearing down of the goal posts 10 years ago ["Our Back Pages," Sept. 1999] brought back memories (not particularly fond ones). It was my freshman year at UW and my friend and I remained in the stands to watch the commotion on the field below. There were quite a few students around us and we all were just standing there-that is until a police officer looked up at us and sprayed Mace into the stands. Needless to say, this sent everybody scurrying up the stairs to get away from the blinding cloud of Mace. I hardly consider this use of crowd control a safety measure, especially since it ended up harming innocent bystanders. As for that police officer, I can only hope that he is no longer on the force. I am happy to read that there haven't been any riots at the stadium since then.
Rene Showlund, '93
Everett
Things Worth Fighting For
The account of your visit to Dachau ("Prelude," Sept. 1999) was interesting. I was there shortly after it was liberated. What I saw gave me nightmares for years afterwards. It is hard to believe that anyone could be so inhumane to others.
In 1939 I was taking graduate work at Yale with a fellow from Oxford University who had taken the "Oxford Oath," a pledge "not to fight for King or Country." When he took the first boat home after the war started, I asked him how come. He replied, "There are things worth fighting for besides King or Country." Seeing Dachau really emphasized the truth of this statement.
Dwight M. Gowdey, '38
Seattle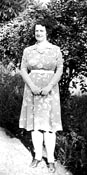 Haller Revealed
In your "Class Acts" story on Professor Mary Haller [Sept. 1999], you note that your staff was unable to locate a photograph of Dr. Haller. Enclosed is a photo taken by my wife in 1943 that you are welcome to use.
I fully agree with the memories and feelings expressed so well by Thomas House. I would only add that Mary Haller was genuinely interested in her students. I remember a photo of her holding our 8-month-old daughter, who I had not yet seen. I was at the time in the South Pacific engaged in the Guadalcanal campaign. What brought these two together? Mary Haller's sincere interest in her former students and the war.
Some of my other memories include invitations to her home prior to WWII, where she gathered small groups of her former students so that we could expand friendships and experience good conversation. Also I remember her letter-writing activities during the war. During my South Pacific duty, I received several long letters from her keeping me posted on the local scene and the activities and whereabouts of many of my former classmates as well as friends from the classes of '38 and '39. She was operating as sort of a central communications center.
... When I look back over 80 years, I can think of only four or five people who had a major influence on my life. Mary Haller is near the top of that list.
Robert A. Pedersen, '40
Seattle
More Arts, Less Sports
I do wish Columns had more coverage of the arts on campus-more meaning anything higher than zero.
What does the School of Music do, rather what can they do, to get your attention? Surely some little notice could be put in about student opera productions and ongoing concerts and master classes. How about the art school? I see evidence around Seattle due to the One Percent for Art program in the city, but no mention of faculty or students who have gained or are gaining recognition.
I don't keep up with "commercial" sports except to know what day there is a game here so that I can stay away from the Montlake area.
Emily B. Marks, '62
Seattle
Editor's Note: For Columns coverage of music and art, see our profile of Music Director Robin McCabe (June 1995), the opening of the Henry Art Gallery addition (March 1997), a profile of art school alumnus Chuck Close (June 1997) and a profile of another art school alumnus Art Wolfe (Dec. 1998).
Correction
The name of English Professor Roger Sale was misspelled in the "Class Acts" article in the September issue of Columns.