Briefings
Huskies Out of the Dawghouse: Basketball Moves to Key Arena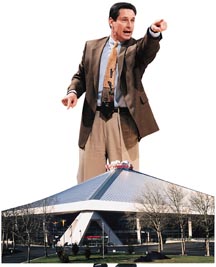 Both the UW men's and women's basketball teams will play at the Seattle Center this season as Hec Edmundson Pavilion undergoes a $38 million renovation.
---

Bob Bender and the UW men's basketball team will call the Key Arena home this season. Bender photo by Joel Capra. Key Arena photo by Jeffree Luke.

---
The men's team will play all of its home games in the Key Arena, home of the Seattle Sonics NBA team. The women's team will play five games in the "Key" and nine games in Mercer Arena, also located at the Seattle Center.
For the men under Coach Bob Bender, the challenge will be to qualify for a third consecutive NCAA tournament berth. While the team lost stars Todd MacCullouch and Donald Watts, three other starters are returning: seniors Deon Luton and Chris Walcott along with sophomore point guard Senque Carey.
"There is no question that people will judge how we respond this season to the loss of Todd MacCulloch and Donald Watts," says Bender. "For us that should be great motivation—to prove that over the past two years, being in the NCAA tournament was not an isolated incident, but something that can become consistent."
Only once in school history has the men's team appeared in three straight NCAA tournaments (1984-86). Washington lost 59-58 to Miami (Ohio) in the first round of last season's NCAA tournament, ending with a 17-12 record.
The women's team will also have a mix of veterans and new faces. Coach June Daugherty will see the return of starters Megan Franza and Julia Gray, along with eight letterwinners. Last season's team earned a 16-13 mark and advanced to the second round of the WNIT.
The UW women hold a streak of 19 consecutive winning seasons, the longest active streak among Pac-10 schools. But these Huskies will face 10 NCAA tournament teams this season, four from the Pac-10.
Both teams will miss playing on campus this season, but look forward to a rebuilt Hec Ed opening in November 2000.
The renovated structure will have clean sightlines, thanks to two new supertrusses holding the roof. Capacity will expand to about 10,000 and the pavilion will hold renovated locker rooms, meeting areas and a new Husky Hall of Fame Room.