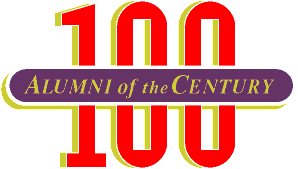 ALUMNI OF THE CENTURY FROM J THROUGH O
Jackson, Henry M., '32

"Scoop" (at left) was first elected to the U.S. Senate in 1952, serving 30 years until his death in 1983. A champion of social programs and strong national defense, he very nearly was John F. Kennedy's vice president in 1960; and Jackson was a credible candidate for president in 1972 and1976.
Jeffs, George W., '45, '48

He won the Presidential Medal of Freedom in 1970 for his work on the Apollo missions to the moon. This top Rockwell International executive developed the concept of real-time management with computers so that split-second decisions could be made.
Johnson, Philip Gustav, '16

The press called him "King of the Air." In 1926, the 31-year-old Johnson became president of Boeing. Five years later he was also running United Airlines. His genius for mass production enabled the U.S. to build WWII bombers at record rates.
Kelley, Kitty, '64

The "queen" of unauthorized biographies, Kelley's revelations about Nancy Reagan, Frank Sinatra, Jacqueline Kennedy Onassis and the British royal family have hit the top of best-seller lists, making Kelley one of America's highest paid writers.
Kennan, Elizabeth, '66

From 1978 to 1995 she was president of Mount Holyoke, the nation's oldest women's college. Kennan was an outspoken advocate for single-sex education during a period when many women's colleges became co-educational.
Ketcham, Hank*

Henry (Hank) Ketcham, who attended the UW art school in the 1940s, created Dennis the Menace in 1950. Today the comic strip appears in more than 1,200 daily and Sunday papers, is translated into 19 languages, and printed in 48 countries.
Kildall, Gary, '67, '72

Software pioneer, he wrote CP/M, the first operating system for personal computers. Legend has it that IBM approached him first before going with Microsoft for its personal computer operating system, but Kildall snubbed the execs from "Big Blue." Later sold his software company to Digital Research for millions.
Lantos, Tom, '49, '50

Hungarian-born Jew who is only Holocaust survivor ever elected to Congress. Now in his 20th year in the House of Representatives (D-Calif.), he was featured in the Oscar-winning documentary The Last Days. Renowned as an expert in foreign policy and human rights.
Lee, Bruce*

Attended the UW from 1961 to 1964 as a drama major and opened his first kung fu studio on the "Ave." The star of four martial arts movies, Lee was the first Asian-American superstar when he died in 1973. Since then, his life has been the subject of more than 25 biographies and one Hollywood film. Of all the former UW students we considered, Bruce Lee is probably the most famous. On the 25th anniversary of his death, The Times of London said that he was "the most recognizable Chinese in the world, after Mao Tse-tung." The Hollywood Reporter called him a "global icon who's as omnipresent in pop culture as Marilyn Monroe, James Dean and Charlie Chaplin."
Lein, John (Jack), '55

Had a major impact on the UW as vice president for health sciences and a major impact on health care in the Pacific Northwest by nurturing a regional medical education program-WWAMI- in Washington, Wyoming, Alaska, Montana and Idaho.
Linder, Benjamin, '83

This mechanical engineer volunteered to work on water projects in Nicaragua during the Sandanista regime. He was shot by the Contras (anti-Sandanista guerrillas) in 1987. His death sparked protests, editorials and even Congressional hearings.
Luckovich, Mike, '82

Political cartoonist for the Atlanta Constitution, he won 1995 Pulitzer Prize for his work. Internationally syndicated, his cartoons have appeared in the New York Times, Time, Newsweek and U.S. News and World Report.
Luke, Wing, '52, '54

Born in China, son of a grocer, Luke became the first-ever Asian American elected to the Seattle City Council. Elected in 1962, he had a bright political future, but was killed in a 1965 plane crash. Seattle's Wing Luke Memorial Museum honors him.
MacLachlan, Kyle, '82

Fresh from the UW drama school, MacLachlan was tapped by Hollywood director David Lynch to star in Dune. His other films include Blue Velvet, The Doors and The Flintstones and his most famous role was "Agent Cooper" on TV's Twin Peaks.
Magnuson, Warren G., '29

"Maggie" (at right) is a political legend. In the U.S. Senate for decades, he was the central force in myriad acts on environmental protection, health care, medical education and research-the National Institutes of Health, protection of Puget Sound from oil spills, Grand Coulee Dam and other hydro and irrigation projects, consumer protection laws.
Malcom, Shirley, '67

Scientist and educator who has dedicated her career to providing science, mathematics and technology education to women and minorities nationwide. She heads the Amer. Assoc. for the Advancement of Science outreach program.
Manning, Harvey, '46

Author of Backpacking: One Step at a Time and co-author of more than 20 books about hiking in the Pacific Northwest, including the popular 100 Hikes and Footsore series. Was a leading activist in preserving the "Issaquah Alps" from development.
McElhenny, Hugh, '52

"The King" is perhaps the best football player in Husky history. Brilliant open-field runner who holds numerous school records and later starred for the San Francisco 49ers. Elected to both the College and Pro Football halls of fame.
Mills, Victor, '26

Chemical engineer at Procter & Gamble who invented Duncan Hines cake mix, Jif peanut butter, Pringles potato chips, Ivory soap-and Pampers disposable diapers. The disposable diaper industry is worth $3 billion a year.
Moon, Warren, '78

Quarterback who led Huskies to 1978 Rose Bowl-their first since 1963-and engineered stunning 27-20 upset of Michigan. Now in his 16th NFL season after starting pro career with six years in the CFL, where he won 5 straight Grey Cup titles.
Morgan, Murray, '37

Author of the definitive popular history of Seattle, Skid Road, his other books on Pacific Northwest history include Puget's Sound, South on the Sound, The Last Wilderness and The Dam.
Nordstrom Family

An enterprise that started with a shoe store in downtown Seattle now has 103 stores and is one of America's retailing success stories. All three second generation Nordstroms-Elmer, '26; Everett, '23; and Lloyd, '32-were UW graduates, as are many third and fourth generation family members.
*Attended but did not graduate
Columns regrets that we do not have the rights to post certain images of alumni to the Web.
---
Home / Current Issue / Archives / Talk Back / Advertising / Columns FAQ / Alumni Website / Search