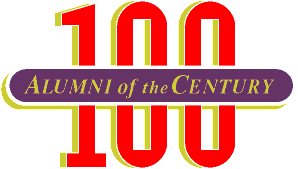 ALUMNI OF THE CENTURY FROM E THROUGH I
Egtvedt, Clairmont L., '17

President and chairman of the board of Boeing, Egtvedt guided the company to build larger and more complex airplanes, including the "Clipper," the "Stratoliner" and the famous B-17 bomber, the "Flying Fortress."
Ekwueme, Alex, '55, '57

Nigerian statesman who has worked tirelessly on behalf of peace and democracy in his native country. He served as vice president from 1979-1983, then was jailed for six years after a coup. Ran unsuccessfully for president in 1998.
Ellis, James, '48

The quintessential civic leader and a successful attorney, he fathered METRO, which saved Lake Washington and our mass transit system. Also spearheaded efforts that created the Seattle Aquarium, Freeway Park and other major projects. Currently presides over the Mountains-to-Sound Greenway, an environmental corridor along I-90.
Ellis, John, '52, '53

Like his older brother, Jim, John is a successful attorney who became active in civic affairs. As chairman of the Baseball Club of Seattle, he helped negotiate the deal with baseball that kept the Mariners in Seattle. Also was board chairman of Puget Power.
Evans, Daniel, '48, '49

Nicknamed "Straight Arrow" for his integrity and independence, Evans was elected to the Legislature in 1956 and became governor, at age 39, in 1964. Through his three terms, he championed environmental protection, human services, women's rights and education. Later president of Evergreen State College (1977-83) and a U.S. senator (1983-89), he is now a UW regent.
Farmer, Frances, '35

Starred in '30s and '40s films such as Ebb Tide, Toast of New York and Rhythm on the Range. Later committed to a mental institution, she is the subject of two biographies, a Hollywood film and even a song by the late Kurt Cobain.
Fleming, George, '64

First made news as a Husky running back, but both in the business and political worlds, he opened doors for other African Americans. He spent 22 years in the Legislature, where he battled for civil rights, housing and minority business opportunities. Remains involved in civic activities today.
Foege, William, '61

In 1966, as a medical missionary in Africa, he developed a new technique for vaccinating populations against smallpox. By 1979, smallpox vanished from the planet. Was also director of the Centers for Disease Control and the Carter Center.
Foley, Thomas, '51, '57

Law school graduate Foley was elected to Congress from Washington's 5th District in 1964. In 1989 he became Speaker of the House of Representatives-the first-ever speaker from Washington. During 30 years in Congress, he led legislative initiatives in economic development, education and other issues. Today he is U.S. ambassador to Japan.
Gates, Mary, '50

Much-honored for her tireless community service and advocacy of women in the workplace, she was most proud of her 18 years as UW regent. Gates served on numerous corporate and civic boards and became the first woman president of United Way of King County in 1975-the same year son Bill co-founded Microsoft.
Gates, William H., '50

Long a successful and respected Seattle attorney, Gates has for years been a community activist and supporter of higher education, as was his late wife, Mary. A co-founder of the Washington Research Foundation, today he is a UW regent and director of the Bill and Melinda Gates Foundation, the nation's largest philanthropy ($17 billion plus).
Geer, Willard, '27

A physicist, in 1943 he invented the process that would make color TV possible. His idea: three beams of electrons-one for each primary color-fired on a screen of small, inverted pyramids. After a battle with RCA, he won patent rights in 1949.
Gordon, Richard, '51

Astronaut, circled the moon in 1969 on Apollo 12 mission and piloted Gemini XI mission in 1966. Spent a total of 316 hours in space, including a three-hour space walk.
Gorelick, Kenny "G.," '78

Called "world's most popular saxophonist" by the New York Times, this pop-jazz musician has sold more than 40 million CDs and LPs. He was Phi Beta Kappa at the UW with his major in accounting.
Gregoire, Christine, '71

Lead negotiator in the largest legal settlement in U.S. history, Washington state Attorney General Gregoire was a key to the 1998 landmark tobacco settlement. The nation's four largest tobacco companies will pay 46 states $206 billion over 25 years.
Guterson, David, '78, '82

Guterson's first novel, Snow Falling on Cedars, won the 1995 PEN/Faulkner Award for Fiction and spent more than a year on the New York Times best-seller list. A film version debuted in December 1999. His newest novel, East of the Mountains, was released in April 1999.
Guthman, Edwin, '41, '44

This 1949 Pulitzer Prize winner won journalism's highest honor for clearing a UW professor of false charges of Communism. Later worked for Robert Kennedy in the Department of Justice, the Los Angeles Times and as editor of the Philadelphia Inquirer.
Haglund, Ivar, '28

A Seattle legend, Haglund was a restauranteur, radio and TV personality, Port of Seattle commissioner and unabashed publicity hound. He bequeathed his restaurant empire to be split equally between the UW and WSU.
Heinrich, Don, '53

One of the greatest quarterbacks in college football history, he was one of the West Coast's first great passers. Played and coached in the NFL for 18 years.
Herbert, Frank*

His masterpiece Dune was called "one of the world-class science fiction novels of all time" by the Washington Post. Published in 1965-after being rejected by 20 publishers-it has been translated into 14 languages, sold more than 12 million copies, made into a $50 million movie and spawned a six-book series.
Hirabayashi, Gordon, '42, '49, '52

When he was a UW senior, Hirabayashi purposely broke a WWII curfew imposed on Americans of Japanese descent, setting up a legal challenge to the curfew and forced internment of 120,000 Japanese Americans. He lost that challenge and others against the treatment of Japanese Americans and spent two years in prison. His conviction was finally overturned in 1986.
Hitchings, George H., '27, '28

Biochemist who shared 1988 Nobel Prize for Medicine. His pharmaceutical research has led to the creation of drugs to treat leukemia, gout, malaria and disorders of the human immunity system. Scientists say his work has saved more than a million lives.
Horsey, David, '75

Seattle Post-Intelligencer political cartoonist, won the 1999 Pulitzer Prize for editorial cartoons, many which lampooned the Clinton-Lewinsky scandals. Syndicated in 450 newspapers.
Houbregs, Bob, '59

Dominating, high-scoring center led the Husky men's basketball team to its only NCAA Final Four appearance in 1953. He also played five years in the NBA.
Huntley, Chester Robert, '42
Teamed with David Brinkley from 1956 to 1970, "Chet" was co-anchor of NBC's Huntley-Brinkley Report, the top-rated news show of its era. The UW drama major covered wars, assassinations, elections and space shots-winning three Peabody Awards and two Emmys.
Hutchinson, William B., '32

In 1975 Hutchinson founded the Fred Hutchinson Cancer Research Center, honoring brother Fred, famed baseball pitcher. "The Hutch" is known worldwide for pioneering in bone-marrow transplants for leukemia and cancer research.
*Attended but did not graduate
Columns regrets that we do not have the rights to post certain images of alumni to the Web.
---
Home / Current Issue / Archives / Talk Back / Advertising / Columns FAQ / Alumni Website / Search